25 Most Underrated Players in Philadelphia Phillies History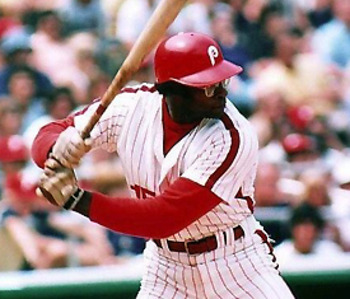 With close to 130 years of existence under your belt, giving each and every player his fair share of respect is a challenging thing to do. As the game progresses and more advanced statistics come to light, it becomes even more challenging. Now we're faced with the reality that some of the game's all-time "greats" were actually no more than all-time "goods," and players that often go unmentioned should be looked upon with greater awe.
The Philadelphia Phillies have watched thousands of players don their uniform. We hear stories about the great ones all the time. Mike Schmidt was probably the greatest third baseman to ever play the game, and Steve Carlton was one of history's best lefties. Robin Roberts strung together one of the most successful stretches of pitching in baseball history, while Pete Alexander was purely untouchable.
Those all-time greats provide the horsepower, but some of the organization's most underrated players steered the bus. Baseball is the ultimate team sport. You can't win with just one man, whether or not he's a pitcher who throws a shut out or a slugger who launches three home-runs. Without each other, there's not much to be done.
In a lot of winning seasons, it is that group of underrated players who often do unmentioned and unrecognized, but without them, history would look very different for the Phillies. It's time to give them the proper respect.
For the sake of this article, the word "underrated" will be easily defined. I'll take a look at each player's statistics (and intangibles, if that's your thing) and assess their value to the club against the attention they received for it. Who's value went unnoticed, though invaluable?
*All statistics refer specifically to the player's Phillies' career, unless otherwise stated.
For up to the minute Phillies' information, check out Greg's blog: The Phillies Phactor.
25. Willie Montanez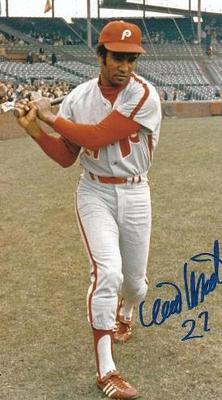 The Line: .266 / .326 / .412, 63 HR, 5.4 oWAR
When fans talk about underrated Phillies, Willie Montanez is usually one of the first players that comes to mind, however, I'm not so high on him.
Acquired from the St. Louis Cardinals in the deal that sent troubled star Dick Allen to the Redbirds, Montanez was supposed to step right in to the Phillies' lineup, patrol the outfield, and be a well-rounded threat at the plate.
All things considered, Montanez had a solid career with the Phillies, but never lived up to those lofty expectations, which I suppose makes him a bit underrated. As we'll see on this list, failing to live up to expectations often leads to the positive outlook on a player's career to go unmentioned.
Regardless, Montanez never could give the Phillies what they were looking for, so they sent him to the San Francisco Giants in exchange for an outfielder who could: Garry Maddox.
24. Larry Christenson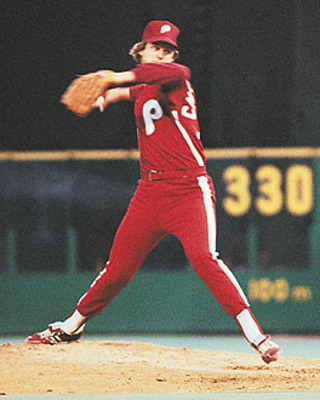 The Line: 83-71, 3.79 ERA, 9.7 WAR
Bonus points for finding a picture of Larry Christenson in that hideous, maroon onesie thing!
Finding a player that spends his entire career with a single organization is a rarity, but that's exactly the case for Christenson, who spent each of his 11 seasons as a member of the Phillies.
A talented right handed starting pitcher, the Phillies selected Christenson with the third overall selection of the 1972 Draft, and like Willie Montanez, he failed to ever achieve those lofty expectations.
However, Christenson was a very solid starter for 11 seasons, and outside of his rookie season, never posted an ERA higher than 4.50, with just five of his 11 seasons even surpassing the mark of four.
23. Ryan Madson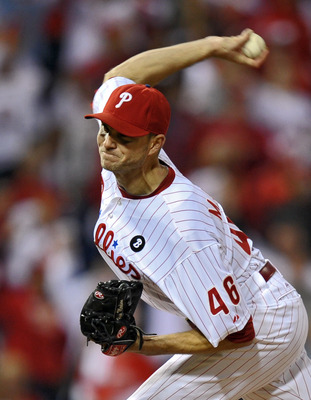 Drew Hallowell/Getty Images
The Line: 47-30, 3.59 ERA, 52 SV, 9.3 WAR
Personally, I think it's hard to consider a lot of relievers "underrated" because, realistically, you know just what you're getting out of them.
Ryan Madson is an entirely different case. After failing at the MLB level as a starting pitcher, the Phillies sent him to the bullpen, made him ditch his curveball, and had him develop his change-up. The results have outstanding.
Throughout his Phillies' career, Madson climbed the depth chart in the bullpen. He developed into a legitimate closer after succeeding as a set-up man, and if you need confirmation that he's underrated, just know that the Cincinnati Reds landed him on a one-year deal.
22. Tony Taylor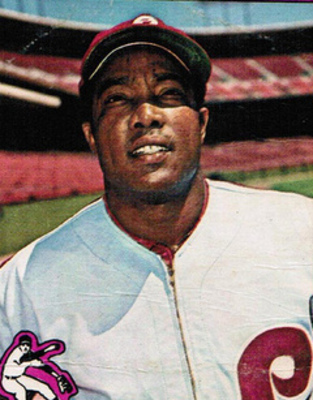 The Line: .261 / .322 / .346, 51 HR, 11.9 WAR
The 1960s, highlighted by the epic collapse of the 1964 club, weren't kind years for the Phillies. For that reason alone, a lot of good players are often passed over in fear of rekindling some kind of awkward, horrible memory.
One of those players was Tony Taylor, a solid infielder who played several positions and contributed offensively.
After spending an entire decade with the club and failing to reach the postseason, the Phillies traded Taylor to the Detroit Tigers. Though he would later re-sign with the Phils, by the time the club made the postseason again in 1976, Taylor was on his way out.
21. Ron Reed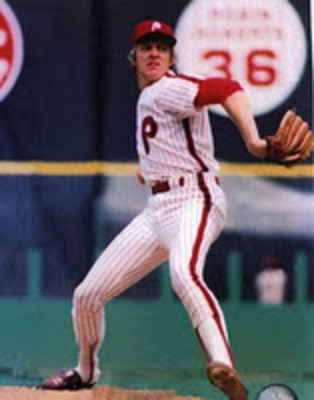 The Line: 57-38, 3.74 ERA, 90 SV, 9.9 WAR
I don't know how to be more direct than by saying that Ron Reed was, plain and simple, the most underrated reliever in the history of the Phillies' organization.
After acquiring him from the Atlanta Braves, the Phillies converted him into a full-time reliever and Reed had an immediate impact. For years he was the unsung hero of the 'pen, closing at times, but primarily serving as Tug McGraw's set-up man.
20. Ken Heintzelman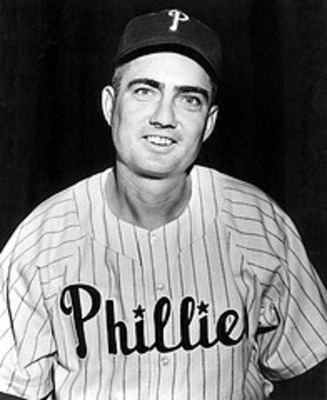 The Line: 40-55, 3.75 ERA, 11.3 WAR
Speaking of unsung heroes, how about Ken Heintzelman?
The Phillies purchased him from the Pittsburgh Pirates during the 1947 season, and in a couple of years, he would be the club's third starter in a rotation that featured Robin Roberts and Curt Simmons—the rotation that led the "Whiz Kids."
Heintzelman's record is ugly, but he pitched much better than that. He won 17 games and led the league in shutouts with five in 1949, and a year later, was a solid starter in a rotation that helped lead the Phillies to the World Series.
19. Carlos Ruiz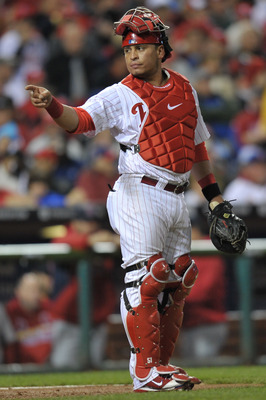 Drew Hallowell/Getty Images
The Line: .265 / .357 / .393, 36 HR, 10.5 WAR
Carlos Ruiz is certainly one of the most underrated players in the history of the Phillies' organization.
However, just how underrated he is something I went back and forth on for quite a while trying to rank him on this list. From a national media standpoint, sure, Ruiz is certainly underrated. He doesn't have much power, but is an on-base machine and a rock behind the plate.
There's certainly an argument to be made that he's the second best defensive catcher in baseball behind Yadier Molina.
From a Philadelphia-area standpoint, Ruiz may not be underrated at all. Fans know what to expect out him, and in some parts of the fan base, he may actually be a bit overrated.
So I'll put him here, but if you'd like to move him up, I wouldn't put up much of a fight.
18. Curt Simmons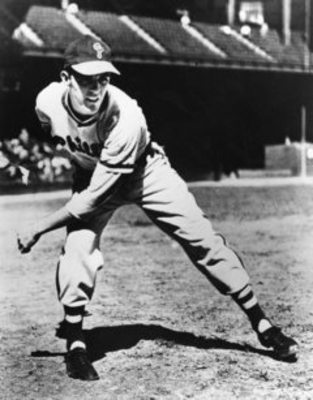 The Line: 115-110, 3.66 ERA, 24.4 WAR
Curt Simmons was one half of a dynamic one-two punch at the forefront of the "Whiz Kids'" starting rotation, but even then, played somewhat in the shadow of ace (and future Hall of Fame) teammate Robin Roberts. Let's be honest: Roberts cast a big shadow.
The Phillies signed Simmons out of high school and he spent 13 seasons in Philadelphia before moving on to the St. Louis Cardinals. He was never too flashy, but always effective.
17. Kid Gleason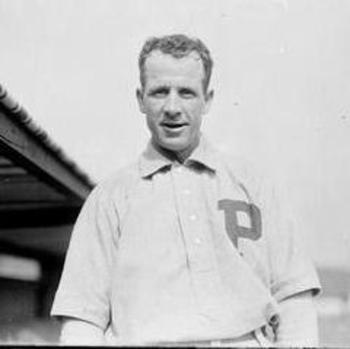 The Line: .246 / .296 / .297, 2 HR, -0.2 WAR; 78-70, 3.79 ERA, 16.4 WAR
Kid Gleason was a spectacular ball player by many standards, even for the way the game was played way back in the day. How often do you see a switch-hitting second baseman that also pitches? I'll bet the answer is not often.
Sure, Gleason left something to be desired at the plate, but he was a solid defender in a day where you didn't have to be a spectacular hitter at a position like second base to have an impact.
His biggest impact, however, was on the mound. Gleason was one of the best pitchers the Phillies have ever had, and had he spent more than four seasons in Philadelphia, he may have been on track to be in the top five in that regard.
The man won 38 games in 1890!
16. Terry Mulholland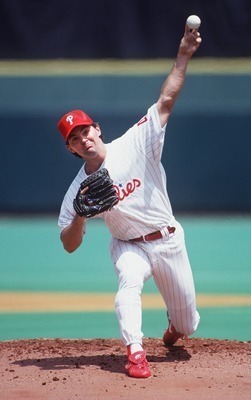 The Line: 62-57, 3.81 ERA, 11.9 WAR
For most of his career, Terry Mulholland was known as a "journeyman." He never spent too much time in one place. In fact, he spent parts of his 20 season career as a member of 11 different clubs and worked as both a starter and a reliever.
However, before he took to the road, Mulholland spent six seasons in Philadelphia—the longest stop of his career. During those six seasons, most of which took place during the early 1990s, Mulholland had some of the best years of his career, including during the 1993 season, where he won 12 games in the Phils' rotation.
15. Jack Clements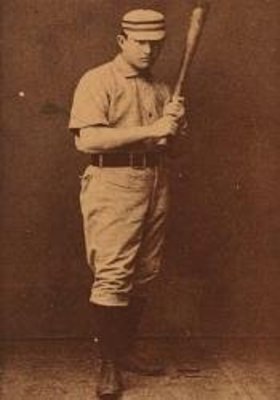 The Line: .289 / .352 / .426, 70 HR, 23.3 WAR
Part of the reason that I didn't feel inclined to move Carlos Ruiz further up this list was the fact that I believe he's not even the most underrated catcher in the history of the Phillies' organization.
That honor, I believe, belongs to Jack Clements, who spent 14 seasons with the Phillies from 1884-97. Clements was one of the best hitting catchers of his day, and behind the plate, was more than solid.
Sadly, he's not often mentioned in discussions about Phillies' catchers, with the normal suspects like Bob Boone stealing the spotlight.
14. Shane Rawley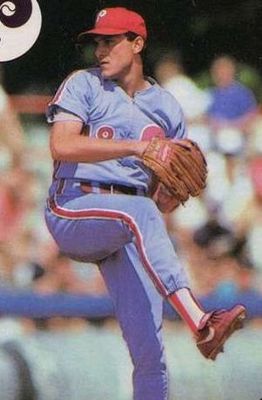 The Line: 59-48, 3.88 ERA, 10.6 WAR
There wasn't a whole lot going on for the Phillies in the latter half of the 1980s. The teams weren't very good. Games were played in Veterans Stadium. Mike Schmidt was on his way out. There just wasn't a whole lot to be excited about.
That alienated a lot of fans and helped guys like Shane Rawley fly under the radar. Rawley spent just five seasons with the Phillies, replacing Marty Bystrom (who was traded for Rawley) on the Phils' pitching staff. With little competition, he took over as the team's ace, and even won 17 games in 1987.
13. Jim Eisenreich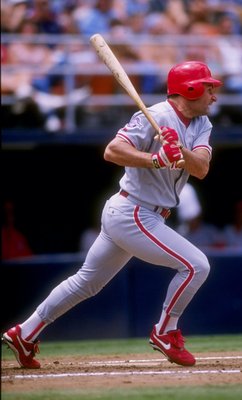 Stephen Dunn/Getty Images
The Line: .324 / .381 / .453, 24 HR, 8.9 WAR
Jim Eisenreich spent just four seasons with the Phillies, but had to overcome a tremendous obstacle just to reach the MLB. Eisenreich suffers from Tourette Syndrome, and was forced to take a leave of absence from the game several times during his career.
Regardless of that, Eisenreich battled. He had some of the best seasons of his career as a member of the Phillies, helping to lead the club to the National League pennant in 1993.
He never won a major award or led the league in a given statistic, but Eisenreich was a team player who played the game hard, and that's probably he was so successful in Philadelphia.
12. Kevin Gross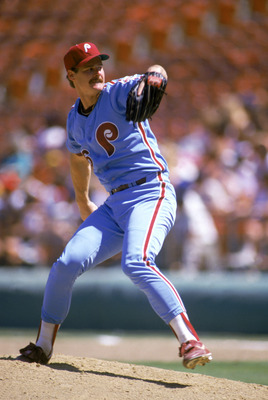 The Line: 60-66, 3.87 ERA, 13.5 WAR
The Phillies drafted Kevin Gross with the 11th overall pick in the 1981 Draft, and just two seasons later, he was the fifth starter in the club's starting pitching rotation, helping to lead the Phillies back to the World Series, though they'd ultimately be defeated by the Baltimore Orioles.
Just 22-years-old then, Gross was one of just a few rookies to crack the "Wheeze Kids'" roster. After 17 starts, Gross looked like a solid piece of the club moving forward, but the rest of the roster crumbled around him.
The Phillies would change a lot over the next couple of seasons, and though Gross would be solid, the Phillies would eventually cave and trade him to the Montreal Expos after six seasons.
11. Chris Short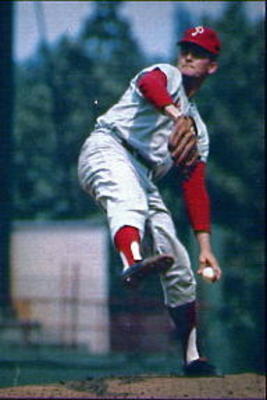 The Line: 132-127, 3.43 ERA, 36 WAR
Chris Short was one of the best player on the Phillies' roster for years, and nowadays, is just an afterthought to some of the star power that those rosters contained.
Signed as an amateur free agent in 1957, Short would make his MLB debut two seasons later before having any significant impact in 1960. That season he worked primarily out of the bullpen, making 42 appearances, but just 10 starts.
That would pretty much define the pace of Short's career. He became known as a great teammate that was willing to pitch in any role. He enjoyed pitching, and that showed.
Short would spend 14 seasons with the Phillies before playing just one year with the Milwaukee Brewers, and though his flexibility in roles kept him from amassing single statistics like wins or saves, Short was one of the best pitchers the Phillies have ever employed, and very rarely is he credited as such.
10. George McQuillan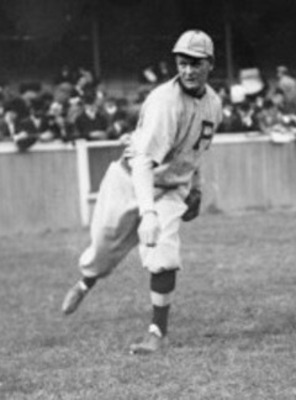 The Line: 54-49, 1.79 ERA, 16.1 WAR
Speaking of former Phillies' pitchers who never got enough credit for their work, how about George McQuillan?
Granted, McQuillan played for the Phillies just after the turn of the 20th century, so his name may be lost to some younger fans. That isn't an excuse to not become acquainted with one of the greatest Phillies' starting pitchers of all-time, however.
McQuillan spent just five and a half seasons with the Phillies, and his best was in 1908, when he won 23 games and posted an ERA of just 1.53. Like Chris Short many years later, McQuillan wasn't afraid to come into a game in relief either, and in just under six seasons, accomplished more than a lot of pitchers to wear the Phillies' uniform have in their careers.
9. Tony Gonzalez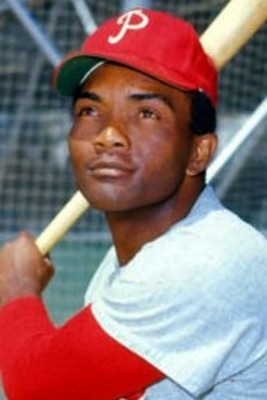 The Line: .295 / .359 / .433, 77 HR, 24.2 WAR
After acquiring him from the Cincinnati Reds, the Phillies plugged Tony Gonzalez right into their outfield. Though he was never the smoothest of defenders, Gonzalez made a significant contribution at the plate—one that often goes unnoticed.
He was never the brightest star on the Phillies' roster during his tenure during most of the 1960s, but was one of the most consistent hitters the Phils' lineup boasted during that stretch. Twice he received votes for the MVP Award with the Phillies, and though he never realistically came close to winning, there is a strong case to be made that he was the club's MVP in several seasons.
8. Von Hayes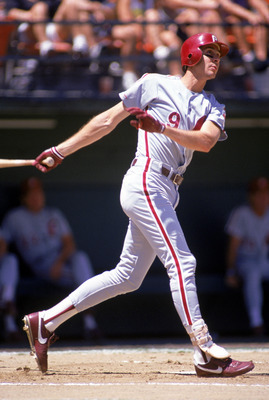 The Line: .272 / .363 / .427, 124 HR, 27.1 WAR
I know what you're thinking. Von Hayes isn't the most conventional of choices for a list like this. However, if you'll give me a moment to explain my thought process, I think you may be convinced that Hayes was actually a bit underrated.
The Phillies acquired Hayes in the infamous "five-for-one" deal with the Cleveland Indians that sent five former Phils to the Tribe in exchange for the supremely talented Hayes. He was billed as the player that would lead the next phase of Phillies' teams into the postseason, and hopefully, capture a number of World Series titles.
Obviously, that never happened.
Hayes was never able to live up to his talent and ultimately, never collected a single hit in a postseason game. However, that isn't the same as saying that Hayes wasn't a very good player.
In fact, he was. Like I said earlier in the slideshow, being unable to live up to your potential may actually make you a bit of an underrated player. Because Hayes was unable to be that superstar that he was hyped up to be, fans began to overlook him.
Now, utilizing hindsight, it isn't hard to see that the Phillies had quite the player on their hands, and Hayes became one of the Phillies' best offensive players of all-time.
7. Del Ennis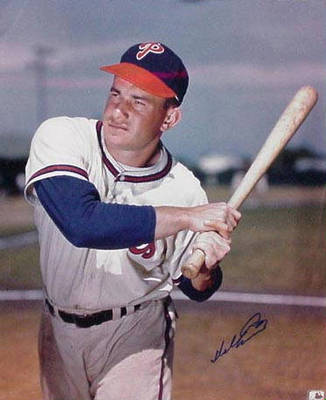 The Line: .286 / .344 / .479, 259 HR, 31.7 WAR
The Phillies are an organization that has employed a number of tremendous power hitters in their history. Mike Schimdt was one of the greatest power hitting third basemen of all-time. Gavvy Cravath was one of his day's premier sluggers, and we're all familiar with the outstanding power of Ryan Howard.
However, one of the strongest players to ever wear a Phillies' uniform is often overlooked. That man is Del Ennis, who after joining the club as an amateur free agent in 1943, would spend 11 seasons in Philadelphia and help anchor the middle of the order.
Ennis was named to the All-Star Game just three times as a member of the Phillies, but the man could flat out hit. He wasn't the one dimensional power hitter that would arise later in the game, but a well rounded hitter who was as strong as an ox.
He led the league in RBI as a key member of the Whiz Kids in 1950, and received votes for the MVP Award in seven different seasons with the Phillies.
6. John Denny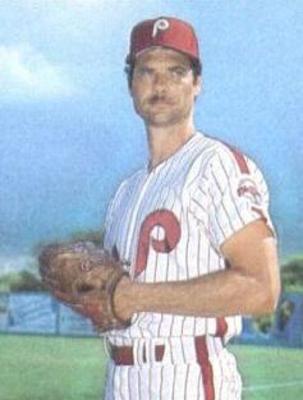 The Line: 37-29, 2.96 ERA, 13.1 WAR
It's kind of hard to call a man who won the National League Cy Young Award with the Phillies underrated, but I'm going to do it anyway.
The Phillies acquired John Denny in 1982, but he made just four starts at the end of the season, so realistically, the right handed starter spent just three seasons with the Phillies.
In his first full season (1983), Denny was excellent. He won 19 games and captured the Cy Young Award, as half of a dynamic one-two punch that also included Steve Carlton.
But while the fan base certainly appreciated Denny, I'm not sure that he ever got enough love for just how good he was during his tenure in Philadelphia. Even including a down year in 1985, Denny posted WHIP of just 1.225 and pitched 650 innings.
5. Cole Hamels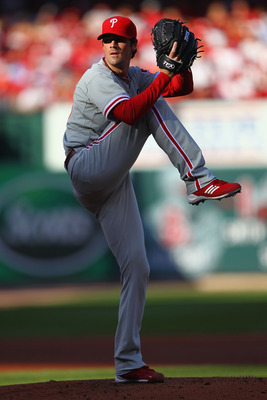 Dilip Vishwanat/Getty Images
The Line: 74-54, 3.39 ERA, 22.5 WAR
After a sensational 2011 season and a contract on its final leg, Cole Hamels is finally starting to get the respect he deserves. As we look back over his Phillies career, however, the numbers tell us that Hamels has been one of the most underrated pitchers in baseball for quite some time.
A two-time All-Star, Hamels has finished in the top 10 for the NL's Cy Young Award voting twice. That's somewhat surprising consider that in his six-year career, 2009 included, Hamels has never posted a WHIP higher than 1.286.
Earlier in his career, some people question Hamels' passion for the game and his intensity. You won't catch many people doing that nowadays, but my, how far we've come.
4. Charlie Ferguson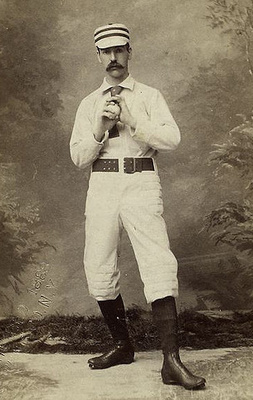 The Line: 99-64, 2.67 ERA, 23.9 WAR
The next pair of pitchers didn't spend much time with the Phillies, but looking at their career statistics alone would lead you to assume that they spent at least a decade with the club.
The first is Charlie Ferguson, who spent just four seasons in the MLB, all with the Phillies. However, in those four seasons, he never won less than 20 games. In 1886, he won 30 games and posted an ERA under two, and the highest WHIP of his career was 1.286.
Health complications forced him to retire early, leading us to wonder just what could have been.
3. Charlie Buffinton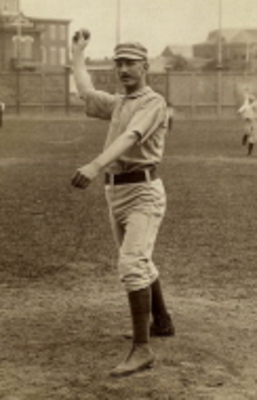 The Line: 77-50, 2.89 ERA, 23.4 WAR
Charlie Buffinton had a much longer career than Charlie Ferguson in the MLB, but he spent just three of those seasons in Philadelphia.
However, in those three seasons, Buffinton won 28 games twice and 21 in the third. In three seasons, he pitched 1,112.2 innings and tossed 115 complete games. Those are the types of numbers you usually see in long careers.
I repeat: Buffinton pitched with the Phillies for just three seasons!
For comparison, Roy Halladay would have to win 37 games in 2012, his third season with the Phillies, to match Buffinton's mark of 77.
2. Dick Allen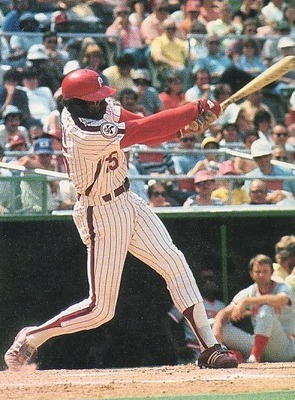 The Line: .290 / .371 / .530, 204 HR, 37.1 WAR
Dick Allen is one of the greatest players to ever wear a Phillies' uniform, and until he is widely regarded as such, he will forever be considered one of the organization's most underrated players in my mind.
In fact, I think you can extend that comment to the sport of baseball in general. Allen is one of the most underrated players of all-time.
Frankly speaking, the man should be in the Hall of Fame. He won the NL Rookie of the Year Award with the Phillies and was awarded with an MVP with the Chicago White Sox in 1972.
In his Phillies career, Allen was named to the All-Star Game three times and received votes for the MVP Award in four different seasons. However, the defining characteristics of his career have always been off-the-field.
Until his on-the-field accomplishments define his career, Allen will be one of the most underrated players in the history of the game.
1. Sherry Magee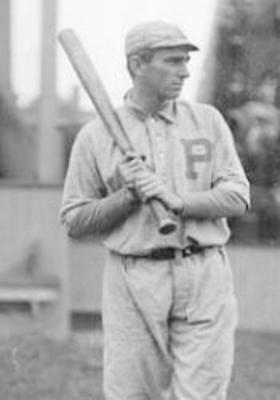 The Line: .299 / .371 / .447, 75 HR, 47.6 WAR
The fact that Sherry Magee was able to put up the numbers he did in 11 seasons with the Phillies and go basically unrecognized today is astounding.
From 1904-14, Magee patrolled left field and manned first base for the Phillies, but his most significant contributions came at the plate. In 11 seasons, Magee recorded 6,314 plate appearances, and 2,193 resulted in either a hit or a walk.
In 1910, Magee had one of the most dominating seasons in history. That year he led the league in runs, RBI, batting average, on-base percentage, slugging percentage, OPS, OPS+, and total bases.
Magee, one of the best offensive players in the history of the Phillies' organization, should receive far more credit than he does.
Keep Reading

Philadelphia Phillies: Like this team?