Chicago Bulls: Can They Beat the Miami Heat Without Luol Deng?
January 28, 2012

Mike Ehrmann/Getty Images
Of all the playoff rematches on this season's NBA schedule, there is none more anticipated than the Chicago Bulls versus the Miami Heat.
The Miami Heat was deemed an instant contender when they landed the biggest prizes of the 2010 NBA offseason.
The Chicago Bulls were merely discussed as a team that made improvements, but were still a long way from being legitimate challengers for the NBA crown.
No one predicted that these two teams would be meeting each other in the Eastern Conference Finals with Chicago having both the top seed and best record in the league.
Still, the untested Bulls fell in five games to the more playoff-seasoned core of the Heat.
Now, the Bulls and the Heat face each other for the first time since that conference finals contest.
Each team is still considered among the top title contenders, but each team also has their share of injury issues coming into their first contest.
Deng is Chicago's answer for containing LeBron James, and despite talk of him returning for the first rematch, those speculations have been quelled.
Still, if Deng had returned it would be hard to say if he could have been an effective defender as that wrist injury definitely would have hindered his ability to play James aggressively.
The same can be said for Dwyane Wade and his ankle. He is sure to be guarding Derrick Rose at certain points during the game, and that proves to be a difficult task for someone with a recurring ankle problem.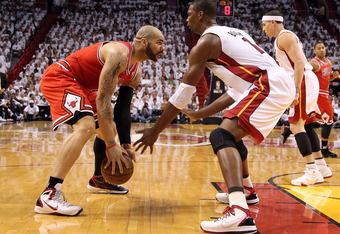 Mike Ehrmann/Getty Images
Both the Bulls and the Heat have chips on their shoulders that come from how each of them exited last year's playoffs. The Bulls' chip may be a bit bigger because their exit was courtesy of the Heat.
Even though this is just the first of what will be four regular-season showdowns, each team would love to be the one to draw first blood.
There are factors present here that make the debate for who wins virtually neutral.
Miami's strong reliance on their superstar trio has served them well enough to give them a 13-5 record, putting them in second place behind Chicago who stands at 16-4.
It must be noted, though, that the Heat have struggled against some of the more cohesive teams in the league. Losses to the Golden State Warriors, Atlanta Hawks and Denver Nuggets are evidence that teams with deep rosters can give them trouble. The Bulls are such a team.
Chicago is not without their own weakness. Two for the aforementioned teams, the Warriors and Hawks, have given the Bulls two of their more decisive losses this season. Each team's athleticism proved to be too much for Chicago to handle. Miami's core three are about as athletic as they come.
If both teams were coming in with their complete player personnel, hobbled or not, the Bulls would have the advantage coming into this first contest based on the kind of basketball each team has played so far this season.
However, with Deng definitely out, the Bulls will have their hands full.
The whole "Beat the Heat" mantra was dependent on all hands being on deck for Chicago.
Sure, Ronnie Brewer, who's been starting in Deng's place, is good defender, but no one is backing him up who's good enough to keep the pressure on James.
If Thibs decides to try his luck with Jimmy Butler, James will most certainly take advantage of Butler's inexperience and give him a rude awakening to the perils of the NBA game.
Elsewhere on the Bulls roster, Richard Hamilton is trying to get over a thigh bruise. His presence may help on Sunday, but that will hinge on just how healed Hamilton will be.
The biggest thing the Bulls have going for them is their supporting cast; in fact, it is the bench that will be Chicago's primary advantage over Miami.
If the Big Three are out of sync, the Heat have very few options for someone else coming in and filling it up.
Chicago has had big games from a number of their reserves this season, and have even had some bench players start and play like they've been in that role for years.
But all of that aside, you can't discount the fact that when Miami's Big Three are on, they are completely on and very hard to beat.
Without Deng, James will most certainly be looking to have a big game, and there may be very little the Bulls can do to stop him. That doesn't mean all hope is lost, though.
Let LeBron loose—he can't beat a team by himself. Chicago is more than capable of shutting down just about everyone else on the court.
Also, Miami has shown that they can give some games away, and Chicago is coached well enough to capitalize on the mistakes that Miami has be making this season.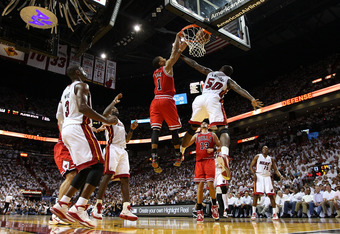 Mike Ehrmann/Getty Images
Let's not discount the fact that the Heat have gotten lax on the defensive end as well. They have gone from being a top-five defense last season to 22nd in the league allowing nearly 97 points per game.
One thing is for sure: This game, and all of the subsequent games, is bound to bring out the best in both teams.
Chicago and Miami are on a mission to prove that they are championship material. They both think that the roads of their championship quests converge on each other and no other team. They are going to use each of these games as a "can you beat this" statement.
As Chicago tries to walk the walk of a team that is confident in their championship capabilities, it will be games like the ones against Miami that will gauge just how serious they are.