Extremely Early Predictions for the 2013 Super Bowl Matchup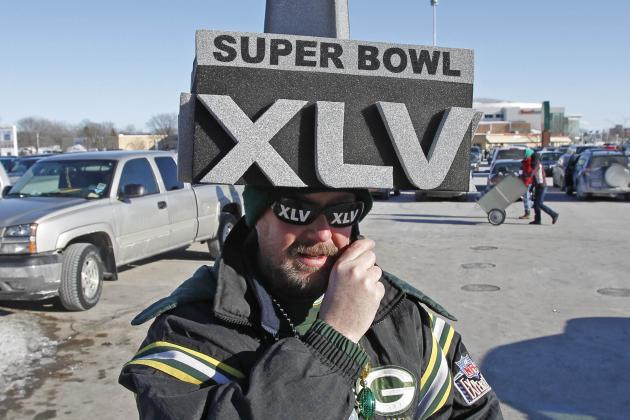 Matt Ludtke/Getty Images

It's one week from the biggest Sunday on the NFL calender and I'm already thinking about next year.
If Giants-Patriots doesn't whet your palette, take a gander at these eight potential Super Bowl matchups for 2013. Each game comes with a theme, a sort of one-touch summary that best captures the narrative that showdown would inspire.
Because it's always fun to project.
Because it's always fun to tickle the fancies of those 30 fanbases already eliminated.
Because the prognosticating never ends (ominous music).
Begin Slideshow

»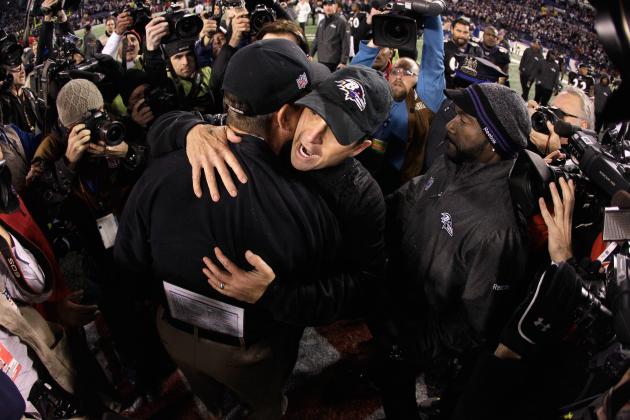 Rob Carr/Getty Images

Who: San Francisco vs. Baltimore
Why the Name: Because Jim Harbaugh coaches the San Francisco 49ers and John Harbaugh coaches the Baltimore Ravens. They are brothers.
Why We'd Watch: Because they are brothers.
Why it Could Happen: Both teams have great defenses and both made their respective conference championships this year. So, yeah. It could happen.
The Outcome: Baltimore 10, San Francisco 6
After a few dozen punts and a few hundred concussions, the Ravens "pull away" thanks to a 45-yard catch and run by Ray Rice.
Pundits take to calling it the "Boring Bowl." SEC fans demand a rematch.
Kevork Djansezian/Getty Images

Who: Philadelphia vs. San Diego
Why the name: The talent is there. Both teams finished among the league's Top Six in offense and both posted the best point differential in their respective divisions. Neither made the playoffs. Maybe their luck evens out?
Why we'd watch: Because neither franchise has won a Super Bowl and both fanbases would combust if their teams fell short yet again. The losing coach would probably get canned in the post-game presser.
Why it could happen: Like I said above, there's enough talent on both sides to see this idea out. Or if you'd prefer that notion in list form: Michael Vick, Philip Rivers, DeSean Jackson (maybe), Vincent Jackson, LeSean McCoy, Ryan Mathews, Jason Babin and Antwan Barnes.
The Outcome: Philadelphia 37, San Diego 34
An epic 38-yard scramble by Michael Vick sets up the winning field goal. Philadelphia goes nuts. Michael Vick cries actual tears. Andy Reid replaces "Disney World" with "Outback Steakhouse" in postgame declaration.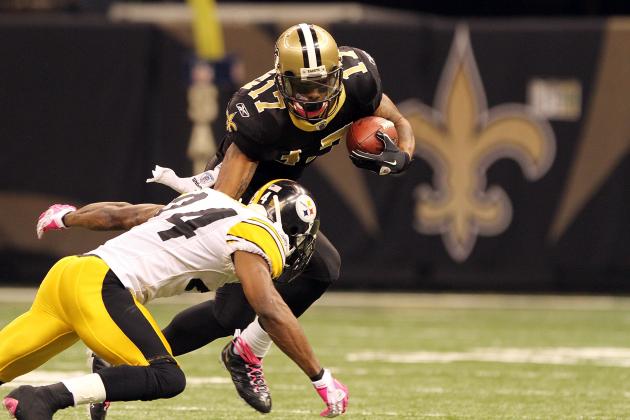 Matthew Sharpe/Getty Images

Who: New Orleans vs. Pittsburgh
Why the name: The 2013 Super Bowl is in New Orleans. If Drew Brees plays in that game, the entire Gulf Coast will lose its mind.
Why we'd watch: If the idea of Drew Brees leading his team into the (Mercedes-Benz) Superdome for the biggest game of the year doesn't give you goosebumps, then you have the heart of Idi Amin (and probably his understanding of American Football).
Why it could happen: Drew Brees is the most prolific passer in NFL history. The Steelers play in this thing like every other year. Sounds reasonable to me.
The Outcome: New Orleans 41, Pittsburgh 28
You think I'm picking against Drew Brees in this game? Pittsburgh keeps it close through three quarters, but succumbs to Brees, destiny and a Rashard Mendenhall fumble in the final frame. A weeping Terry Bradshaw breaks onto the CBS set and hands Brees a Lombardi Trophy replica he made out of cheese wax.
It bums everybody out.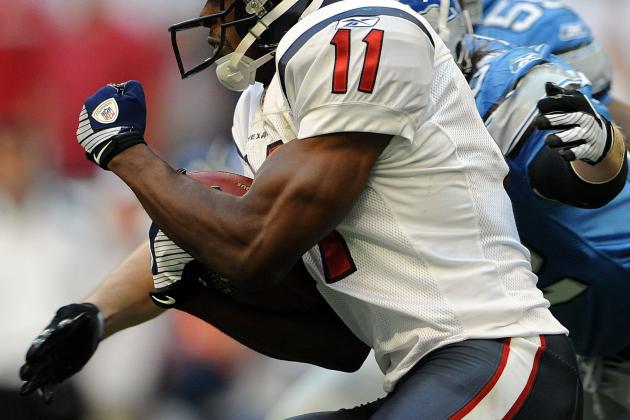 Ronald Martinez/Getty Images

Who: Houston vs. Detroit
Why the name: These two teams are on the rise, broke long playoff droughts last year and look to take the next step forward in 2012.
Why we'd watch: Last time these two team met, the Lions were in the middle of an 0-16 season and the Texans were everyone's favorite joke about mediocrity. Things can change quickly in the NFL, and that's pretty cool.
Why it could happen: Detroit's offense is elite. Houston's defense is elite. Both teams figure to get better on the other side of the ball with health and maturation.
The Outcome: Houston 27, Detroit 20
Andre Johnson and Megatron go catch-for-catch down the stretch. Johnson's four-yard haul on a fade pattern proves the difference. Side note: Both metropolises are among America's fattest cities. Should make for great tailgating and redundant smack talk.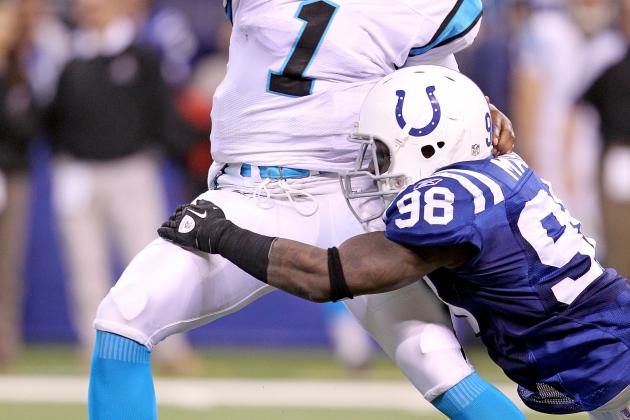 Andy Lyons/Getty Images

Who: Carolina vs. Indianapolis
Why the name: Assuming Andrew Luck, not Peyton Manning, is the next quarterback of the Indianapolis Colts, this game would pit two of the best quarterback prospects in decades against each other. Awesome.
Why we'd watch: Because we'd watch any game with Cam Newton. Stir in the intrigue of two young quarterbacks jostling for championship validation and early-career bragging rights and you have the recipe for a rating bonanza.
Why it could happen: We already know one of them is really good and the other is supposed to be really good. But yeah, this is a long shot.
The Outcome: Carolina 24, Indianapolis 14
Both youngsters struggle with the yips early on, but Newton's legs prove the difference. He keeps the chains moving on two crucial fourth-quarter fourth downs and announces himself as a sports icon in the process.
Newton's face appears on every imaginable form of cheap, plastic crap over the rest of his adult life.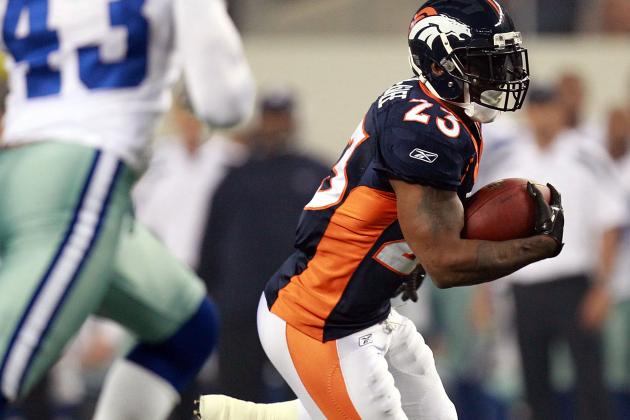 Ronald Martinez/Getty Images

Who: Denver vs. Dallas
Why the name: TEBOW!
Why we'd watch: TEBOW, TEBOW, TEBOW, TEBOW, TEBOW, TEBOW, TEBOW!!!!
Why it could happen: God, miracles, Jesus, etc.
Also, Dallas makes a good stand-in for Satan in the Tebow narrative.
The Outcome: Denver 18, Dallas 12
I have no idea. I picked impossible scores because this game is impossible to begin with. I guess Tebow does something crazy in the fourth quarter. I don't know. The end of this game brings the rapture.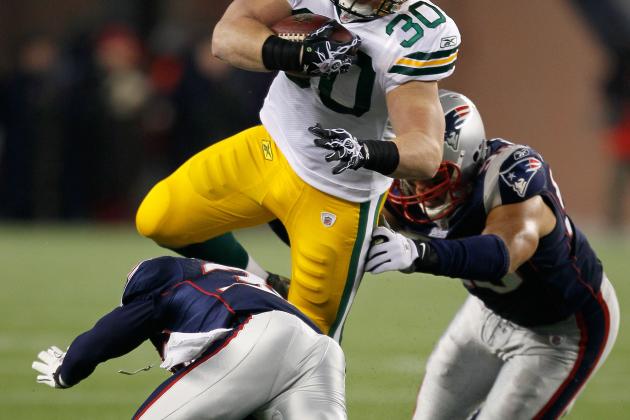 Jim Rogash/Getty Images

Who: Green Bay vs. New England
Why the name: Because these teams went a combined 28-4 last season. Pitting them in next year's Super Bowl against each other requires no imagination.
Why we'd watch: Tom Brady. Aaron Rodgers. The chance that you might never see a football game this perfect ever again.
Why it could happen: If you don't get it by now, nevermind.
The Outcome: New England 42, Green Bay 39 OT
The greatest game in Super Bowl history comes down to a missed field goal by Mason Crosby. Stupid football. At least we can say we were there.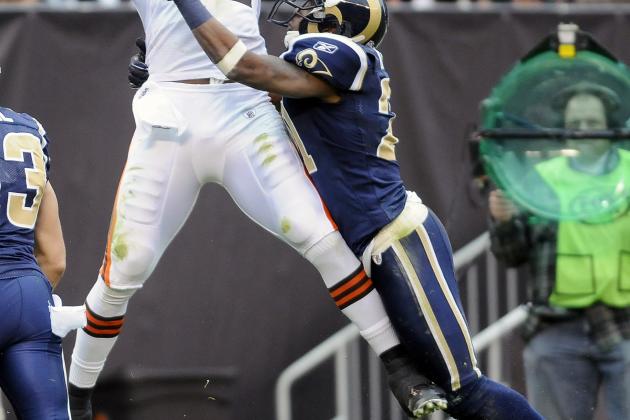 Jason Miller/Getty Images

Who: Cleveland vs. St.Louis
Why the name: Because I have no idea how this could possibly happen.
Why we'd watch: We'd watch to see what a blown mind looks/feels like.
Why it could happen: Again, I have no idea. Football is crazy. Maybe the other 30 teams died.
The Outcome: Cleveland 2, St.Louis 0
Ubaldo Jimenez goes eight strong innings before...
Yeah, right. I really have no idea. The only thing crazier than this matchup is Cleveland actually winning it. Cleveland never wins. But what the heck, they deserve it. Go crazy, Cleveland. Your day is coming.