Peyton Manning Trade Rumors: Colts Would Be Foolish to Simply Release No. 18
January 27, 2012
Rob Carr/Getty Images
The Indianapolis Colts are facing a huge dilemma this coming offseason, but deciding to let Peyton Manning go without getting any value in return would be a horrible decision. 
Per RotoWorld, Adam Schefter of ESPN said on SportsCenter that people around the league expect the Colts to release Manning before his $28 million option bonus that is due on March 8.
"Most people around the league now expect (Manning to be cut)," Schefter said. "It's a near-certainty."Manning is not expected to be healthy before the payout comes due, and he isn't worth the $35.4M gamble (roster bonus plus salary) when the Colts will be drafting his successor with the No. 1 overall pick in April, anyway.
"Every single sign points to Peyton Manning leaving Indianapolis," Schefter reiterated. Look for the Dolphins and Cardinals to be the NFL's two most interested teams once Manning hits free agency.
If indeed the Colts do simply release Manning, they would be making a huge mistake. As those who watched the NFL this past season saw, the Colts are a struggling franchise. 
Even if Manning had been healthy enough to play, the defense was atrocious and it would have made life much more difficult for Manning and the offense. 
Indianapolis is an aging team and its best move is to get younger across the board. They need help all over, and getting something in return for Manning is a fantastic idea. 
The first step is drafting Andrew Luck with the No. 1 overall pick. ESPN's Chris Mortensen reported earlier this month that Colts owner Jim Irsay has already decided to pick Luck. 
Clearly the Colts would be insane if they didn't take Luck, which spells the end for Manning. This means trading him to another team for more draft picks or quality players is the smartest move they could make. 
Of course, the problem is that the Colts would have to pay Manning the money, as they can't trade him before it's due. This is a hit they will just have to take because trading Manning is more beneficial to the team than letting him walk away. 
Despite his health concerns, teams are going to leap at the chance to get Manning. The market will be high, which is why the Colts would be ludicrous not to trade him. 
As Schefter points out in a recent tweet, this coming NFL offseason will be all about Manning.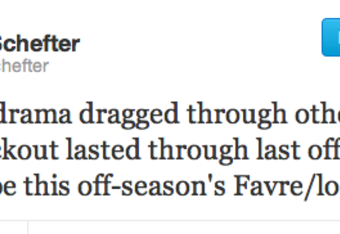 However, it doesn't have to be that bad if the Colts just do the right thing and trade him away. 
Bob Kravitz of the Indianapolis Star quoted manning saying, "I'm not in a very good place for healing, let's say that. It's not a real good environment down there right now, to say the least."
Things aren't good for Manning right now with all the recent changes taking place in Indianapolis. His time has out with the Colts and trading him away is their best bet.
Manning had a superb run with the Colts, but since they're extremely like to draft Luck and focus on the future, it's time the Colts make a move and get top talent in return for No. 18.