2012 NFL Free Agents: Why the Texans Must Keep Mario Williams
January 29, 2012

Mike Ehrmann/Getty Images
The Houston Texans have an outstanding linebacking corps, regardless if they keep Mario Williams or not.
They have Connor Barwin and Brooks Reed starting at outside linebacker and DeMeco Ryans and Brian Cushing in the middle.
With all that talent at the linebacker position, it's tempting to believe that they should let Williams walk this offseason in free agency.
But, that's not the case. If they lose Williams, they'll lose a significant piece of their defensive identity under Wade Phillips.
Williams, the No. 1 pick of the 2006 NFL draft, has been huge for the Texans at outside linebacker.
Before his injury in 2011, he had racked up five sacks in just five games. That's an amazing output for an outside linebacker.
Who knows how many sacks he would have amassed had he played a full season?
Reed only had six sacks in 16 games. That's an impressive total for a rookie, but Williams is more productive.
Here's an option that the Texans should explore: moving Reed to defensive end and re-signing Williams to take back his outside linebacker position.
Current defensive end Antonio Smith only had 6.5 sacks this season, something Reed could probably top.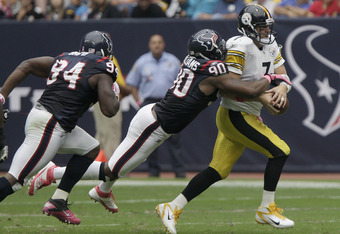 Thomas B. Shea/Getty Images
Keeping Smith as a backup would be a great move for a defense that experienced one of the biggest turnarounds in NFL history under Phillips.
Another reason the Texans should keep Williams is in case of another injury.
What if Reed or Barwin were to suffer a similar injury in 2012? Then the Texans would have to rely on someone less talented than Williams if they don't re-sign him.
Depth is incredibly important for high-caliber defenses, just ask the 2010 Green Bay Packers.
Despite suffering through injuries to Nick Barnett, Morgan Burnett and others, the Packers managed to make it to and win the Super Bowl, thanks in large part to their defensive depth.
If the Texans don't re-sign Williams, they aren't only sacrificing talent, they are sacrificing depth as well.