NBA 2012: Rating the Top 5 Benches in the League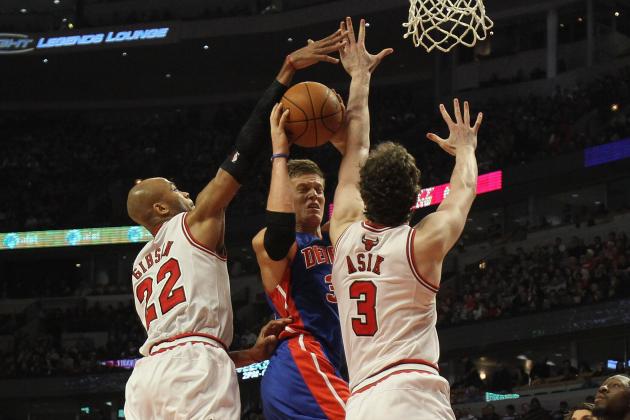 Jonathan Daniel/Getty Images

To be a contender in the NBA, a team needs a lot of things to fall into place. They need to be able to avoid the injury bug and be able to ride their momentum to obtain win streaks.
But the one constant on most teams that compete for a championship is the fact that their talent doesn't stop at the starting five.
While teams like the Portland Trailblazers and the Miami Heat will be able to get by with an average bench, the teams that will truly have a shot at getting the Larry O'Brien Championship Trophy this year will need more than five or six guys to win.
The teams that I picked are not only strong with their starting lineup, but who comes off their bench makes them even stronger.
Begin Slideshow

»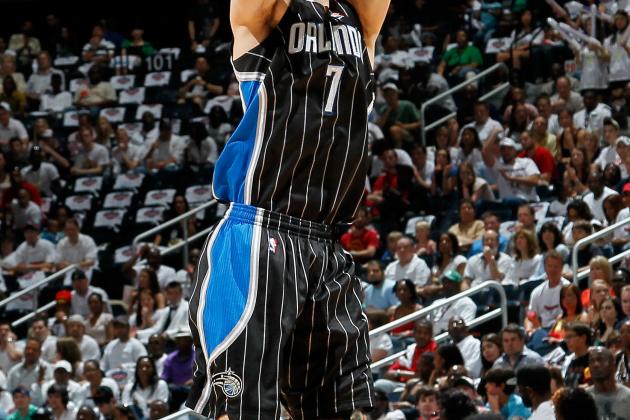 Kevin C. Cox/Getty Images

Some people may have these two teams in their top five, but the reason they're not in mine is, simply, lack of production.
The Hawks have trouble either holding the lead or closing a gap when their bench is in. Adding Tracy McGrady to the bench was a good move, but he isn't the same player he used to be. And Vladimir Radmanovic, who averages about 20 minutes a game, only scores 6.3 points a game. While this bench has been struggling to find themselves, the addition of Kirk Hinrich could save them.
The Magic bench, while looking great on paper, aren't as good as one would think. When their bench comes in the game, they lack the scoring production that it would seem they would have. While the team scores an average of 94.2 points a game, the bench lowers that average to 72 points a game according to NBA.com.
Now, not to take away from these benches, they are still better than the other 23 teams' benches, they just aren't talented enough to make the top five.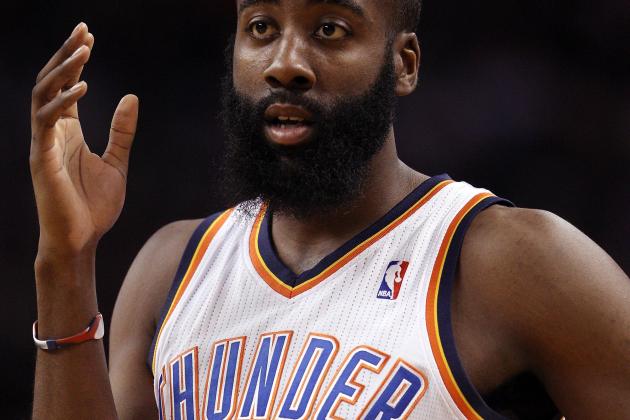 Elsa/Getty Images

James Harden: 29.3 Min/16.8 PPG
Nazr Muhommad: 13.2 Min/3.2 PPG
Nick Collison: 19.8 Min/5.5 PPG
When the potential Sixth Man of the Year is coming off the bench, it's hard to discredit what's happening in Oklahoma City.
While the numbers aren't as good as some might expect, the Thunder bench is filled with players who can step in and play a quality game. As good as Kevin Durant and Russel Westbrook are, the Thunder would not be 15-3 without some help from the bench.
Along with those three, the Thunder also have Daequan Cook and Eric Maynor to come off the bench.
This is a group of players that have a strong will to prove themselves and win games.
Don't underestimate the backups on this Thunder team. Most teams do.
And that's why they have the best record in the NBA.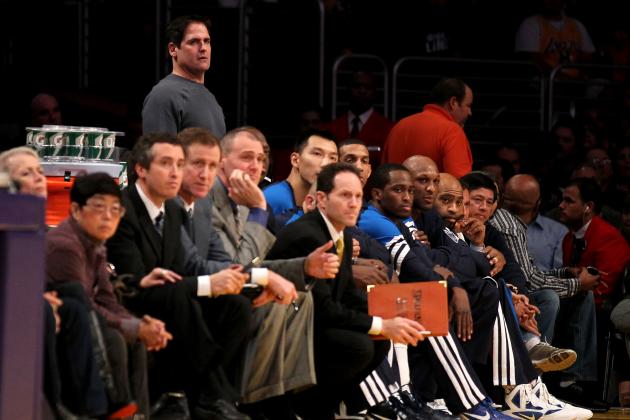 Stephen Dunn/Getty Images

Jason Terry: 29.4 Min/13.9 PPG
Vince Carter: 21.4 Min/9.5 PPG
Lamar Odom: 21 Min.7.7 PPG
Brandon Wright: 8.9 Min/5.7 PPG
The defending NBA champions haven't slowed a beat when it comes to bench talent. Over the offseason, the picked up high-flying Vince Carter, who plays a significant amount of minutes for someone his age (34).
They also were able to acquire Lamar Odom for almost nothing, which, now that Dirk is having injury trouble, looks like a good move.
The problem they have right now is with Dirk and Carter both out with injuries, their bench is a little more depleted than usual.
For this aging Mavericks team, the only way they will be able to repeat is if they can have quality players coming off the bench to help rest some of the older starters.
If they limit the injuries, this bench is good enough to carry them through the playoffs.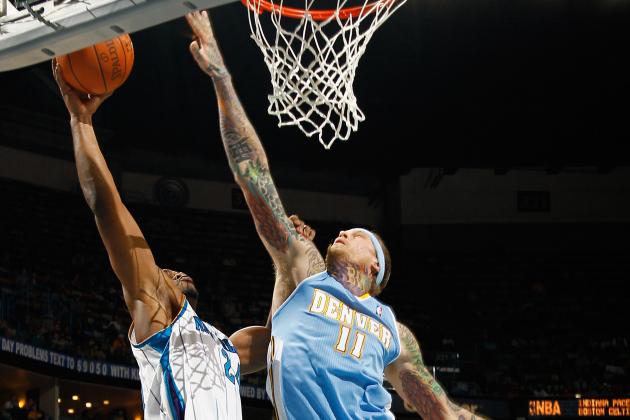 Chris Graythen/Getty Images

Al Harrington: 25.4 min/15.2 PPG
Andre Miller: 29.8 Min/10.4 PPG
Rudy Fernandez: 23 Min/8.3 PPG
Corey Brewer: 16 Min/8.2 PPG
Chris Anderson: 13.8 Min/4.8 PPG
While the Carmelo Anthony trade had a lot of people counting the Nuggets out, the trade seems to have worked more in their favor than the Knicks' lately.
The trade has allowed Denver to become more of team than they were with Melo. Now, the Nuggets lead the league in points per game (106.4) and are more of a force in the West because of their depth.
While their starters get the job done, their bench players, as you can see by the stats, get lots of minutes and take advantage of their minutes offensively.
Al Harrington is an early contender for Sixth Man of the Year as well, and is an interesting opponent for James Harden in OKC. And not only him, but this whole bench is a big reason that Denver is 13-5 right now.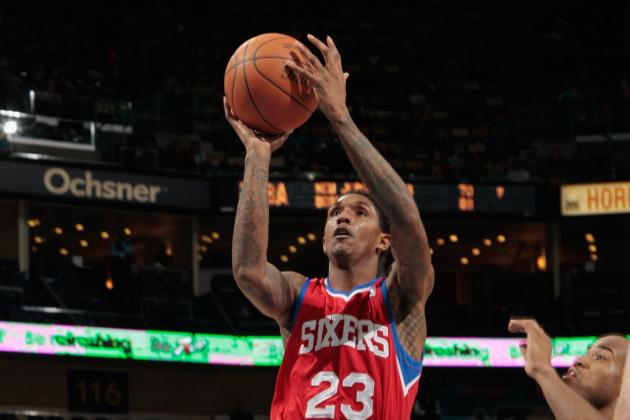 Chris Graythen/Getty Images

Lou Williams: 25.2 Min/15.5 PPG
Thaddeus Young: 27.1 Min/12.4 PPG
Evan Turner: 26.5 Min/10.3 PPG
Nikola Vucevic- 15.3 MIN/5.2 PPG
While the 76ers have been the surprise team in the NBA this year with a record of 12-6, this fast start has come as no surprise to the players wearing the 76ers jerseys.
With an already dominant starting lineup, the 76ers talent is never off the court. When the starters need a breather, their bench provides the same level of competition.
As indicated by the stats, the bench players have almost starters minutes; all of them average double-digit points a game.
This Philadelphia team has no shortage of talent, so if you're still amazed that they are this good, believe it because this 76ers team is for real.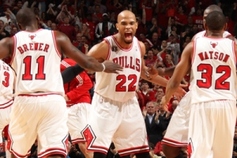 C.J Watson: 19.6 Min/9.5 PPG
Ronnie Brewer: 25 Min/7.8 PPG
Taj Gibson: 19.4 Min/7.2 PPG
Kyle Korver: 19.9 Min/6.2 PPG
Omer Asik: 17.7 Min/3.9 PPG
The Bulls have three if not four potential starting players sitting on their bench.
And while the scoring may be a little slim on their part, their opponents' ability to score is even slimmer when the "Bench Mob" in on the court. Anchored by the seven-foot Omer Asik down low, this lineup is probably one of the hardest lineups to score against in the NBA. The defense that they play is suffocating, especially in the paint with Asik, Gibson and Ronnie Brewer.
Offensively, Brewer is one of the best baseline players in the game, and C.J Watson has shown the ability to take over a game like against Phoenix when he went off for 23 points. The fact that the great Stacey King calls Taj the "hard hat and lunch pale type guy; always coming to work," shows how well-regarded players on this lineup are.
The Bulls have their eyes on the championship, and they are as close as ever, but the one team that will end up standing between them and the Larry O'Brien Championship Trophy are the Miami Heat. And the only way for the Bulls to beat the Heat is with their depth.
With a lineup like this, a championship parade through Grant Park seems closer and closer everyday.