"You're never as good as everyone tells you when you win, and you're never as bad as they say when you lose," Lou Holtz.
The quote above exemplifies what Joe Paterno was about.
The media strayed from this concept while covering and explaining everything about Penn State recently.
The last few months have been a roller coaster of overreaction filled with accusations of horrific actions, and currently, a coach's legacy.
Since Paterno passed away, stories from politicians, faculty, former players and even everyday students filled the airwaves, social media and news networks.
In many cases, Paterno's legacy gained momentum when he passed.
Those infatuated with Paterno learned something devastating this past Sunday morning.
Joseph Vincent Paterno was human.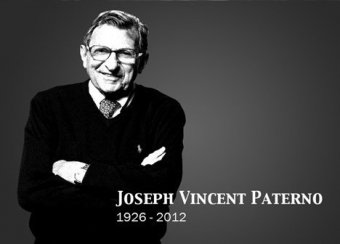 The man that turned boys into men and gave money to the university to better the country's youth took his last breath and proved he was, in fact, mortal.
Should Paterno's death vault him back to legendary status?
Probably not.
Paterno influenced thousands of young people and inspired adults along the way too. That should be rewarded.
But, not many people really "knew" Paterno and still don't. We know what is reported and said about him. It is difficult to continue to place him on the pedestal as the media is right now.
Take a breath, relax and think about it for a second.
There are petitions to change street names to Paterno Way, to change Beaver Stadium to Paterno Stadium and to change State College, Penn. to Joe, PA.
Paterno was once late for a football meeting because he could not find parking, but refused to have a reserved parking spot. Paterno did not say a bad word when his name was taken off of the new Big Ten trophy. Paterno still gave money to the university after he was fired by a phone call. Paterno never complained about Penn State when he was fired even though so many thought he deserved better.
No names on the back of the jerseys. Clean cut. Black shoes. Plain blue and white uniforms.
Do you really think Paterno wants his name on everything?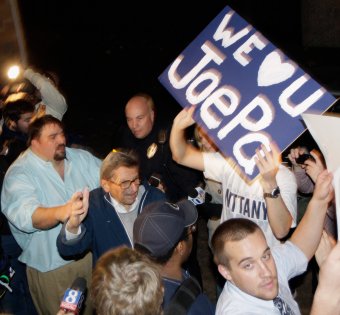 Rob Carr/Getty Images
***
The Jerry Sandusky situation might be the downfall for Paterno.
Here is the overreaction.
People always preface, it's about the victims. I feel for them and their families.
The next sentence is: Joe Paterno could have done more.
Paterno admitted that he wished he had done more. Any man who has a chance to make a difference like that in hindsight would have made the necessary change to protect children.
Let me tell you, when someone begins explaining the situation with that preface, they actually do not care about the victims.
The victims are only important to the person who begins the story that way because the victims are the evidence that Paterno was not the perfect image he projected.
Sandusky is the name that should appear first and bear the burden of explanation. When telling the story, Paterno should be involved, but sensationalizing the story by making Paterno the focus is poor reporting.
Some people want to disregard all of the fathering, influence and philanthropy that Paterno has done over his life. These same people have their DVR set so they might catch Tim Tebow cuss as he is leveled by an All-Pro linebacker on a bootleg.
Misery loves company, and those people were salivating to hear the news that Paterno really was not perfect.
Did the media do a fair and balanced job while reporting about Joe Paterno?
Like the quote, Paterno won a lot more than he lost both on the field and off of it. It would be nice to see that type of reaction in media coverage, but often times, the media whiffs on this and rides the wave of emotion.
The thought of Paterno being as polarizing as politics is absurd, but that's what the country endured throughout this process.
In the end, the result remains the same, though. Paterno was not a legend or perfect. Simply, Paterno was a better human being and coach than most and wanted to make a positive impact and succeeded.