Giants vs. Patriots: The Casual Fan's Guide to Super Bowl XLVI
January 26, 2012

Unless you're from the New York or New England areas—or a female with a crush on Tom Brady—you probably don't have a rooting interest in Super Bowl XLVI.
So aside from the ads, squares pools, and hoping for no wardrobe malfunctions on 53-year-old Madonna, what might interest the average viewer in actually caring about the game?
Here are a few suggestions.
Root for the underdog: the Giants
The Patriots are three-point favorites to win the game, which isn't a big margin.
But they've cemented their status as the elite team of the last decade, going to five of the last 10 Super Bowls, winning three of them.
And here they are again, as favorites no less.
The Giants, then, are more of an underdog than just the point spread.
Root for the underdog: Eli trying to emerge from Peyton's shadow
When he plays in Super Bowl XLVI, Giants quarterback Eli Manning will actually tie his older brother Peyton in Super Bowl appearances.
Both Eli and Peyton have led their teams to Super Bowl victories.
And both Eli and Peyton have won Super Bowl MVPs.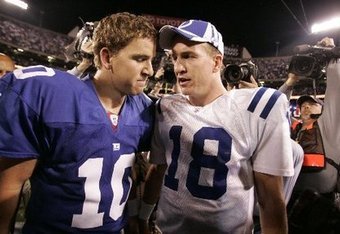 But Eli can actually one-up his more celebrated brother by either winning another MVP or by leading his team to a second Super Bowl win.
Root for the underdog: Victor Cruz
Eli's teammate Victor Cruz is one of the top wide receivers in the NFL.
Receivers are considered to have a great season if they get 1,000 or more receiving yards—and Cruz amassed 1,536 yards receiving, ranking him third in the NFL.
He led the team with 82 catches—good for ninth in the league. Cruz also led the team with nine receiving touchdowns, ranking him tied for sixth in the NFL.
Against the 49ers in the NFC Championship Game, he had ten catches for 142 yards.
Yet Cruz was not a first-round pick. He actually went undrafted.
Cruz represents everybody's aspirations to go from a nobody to a force to be reckoned with.
Root for the dominant Super Bowl quarterback of our era: Tom Brady
Bart Starr won two Super Bowl MVPs to rule the 60s.
Terry Bradshaw ruled the 70s with two Super Bowl MVP awards.
Joe Montana dominated the 80s with three Super Bowl MVP distinctions.
No player had multiple Super Bowl MVP awards in the 90s.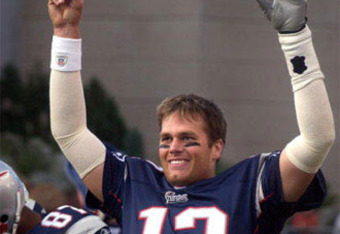 Brady, a former 6th-round pick, has won two MVP awards in the new millenium and is seeking to tie Montana for most Super Bowl MVP awards by trying to win his third on February 5th.
Root for an offensive explosion
The over/under is set at 53 points, which is almost 27 points each team. So oddsmakers expect a decent amount of scoring.
With two talented offenses, the two teams certainly have the potential to go over 53 points.
But the Giants have a defense that has been very strong in the postseason. That threatens to make the under look very attractive.
However, most casual fans don't find defense attractive. They don't even care for field goals, even though field goals put points on the board. The average fan wants to see touchdowns.
If you don't have a rooting interest in any particular team, just root for a high-scoring affair.
Root for Rob Gronkowski to be healthy
Patriots tight end Rob Gronkowski is 6' 6" and 265 pounds. Tackling him is like trying to tackle Godzilla.
If you've watched the regular season, you've seen how amusing it is to see grown, muscle-bound men still flail—and fail—while trying to bring down Gronkowski.
Gronkowski is currently in a walking boot after injuring his left ankle in the AFC Championship Game. He is expected to play, although how agile he will be is uncertain.
You'll want to root for Gronkowski to be injury-free during the Super Bowl because watching him run after the catch will be better entertainment than anything Madonna cooks up at halftime.
Your turn
Those are six possibilities for a casual fan to be into the game itself. If you're not a serious football fan whose home team isn't playing, do you have any different reason to watch the actual Super Bowl game?