Joe Paterno: The Ironic Death of a Legend
January 25, 2012

Patrick Smith/Getty Images
Former Penn State head football coach Joe Paterno passed away this past weekend due to complications involved in his cancer treatment.
During his 60-plus years with the University, Paterno embodied the characteristics of a father, friend and coach for the thousands and thousands of young persons who had the privilege of encountering him.
His career at Penn State came to an abrupt and unfortunate end, as he was admonished for not doing enough with the information he was given regarding the alleged child molestations committed by his former assistant coach, Jerry Sandusky.
As a knee-jerk reaction, he is being eulogized in the media as a man who lived a life of honor and dignity, but there's that one terrible footnote that must be mentioned in his epitaph. He didn't do enough to protect an endangered youth, or youths, when he had the opportunity.
Paterno is being portrayed as having committed a sin of apathy. In the public eye, this as being just as bad as committing the alleged molestations himself. The problem is, he does bear guilt, or did, by association. Paterno himself expressed that he didn't do enough to stop it.
The question is; Do the good works of 60-plus years of Joe Paterno get trumped by the inaction of the final chapter of his life?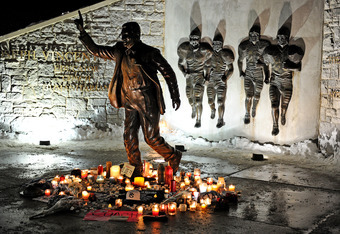 Patrick Smith/Getty Images
If you'll pardon my waxing philosophic, we live in forgiving society. America loves a comeback story almost as much as it loves a rags-to-riches story. From convicted animal-crulest Michael Vick to perennial ne'er-do-well Mike Tyson, Americans want to forgive—kind of. We tend to not forgive murderers, wife beaters and molesters. There are others, but I'll call this the unholy trinity of American sin.
Both Vick and Tyson combine the two stories of rags-to-riches and the comeback, which makes them endearing to the public. I wouldn't go as far as to say they're warm and cuddly, but both of them have made the transition back to decent society. They were afforded this ability because they had the gift of time. Time heals all wounds. If you put enough years behind most social infractions, people will find a way to forgive and forget.
Joe Paterno was not afforded this opportunity, at least not yet.
In a cruel twist of fate, Paterno's life and deeds resembled that of a college football team.
In college football, each team is only deemed as good as its most recent game. It's more, "what have you done for me lately?" than it is, "what have you done?" A college football team can lose a game early in the season and fight its way back to a top ranking and even a national championship, just like Alabama did this year. A top-ranked team that loses its last regular season game is essentially banned from national championship consideration.
Joe Paterno was the latter. He lived a top-ranked life, and in the final game, he made a mistake, and he paid dearly. The millions of dollars he donated and thousands of lives he touched are being overshadowed by this final act.
Just like college football, it's not fair.
When it comes to children being put in harm's way, we don't have a lot of tolerance for inaction. When remembering Paterno's life, it's OK to remember this terrible scandal in which he was involved. It just shouldn't be in the forefront.
Joe Paterno took the guilt of the situation to grave with him. The weight of that guilt should keep it in the grave and not on his tombstone.