Denver Broncos: 5 Offseason Adjustments Team Must Make for 2012 Season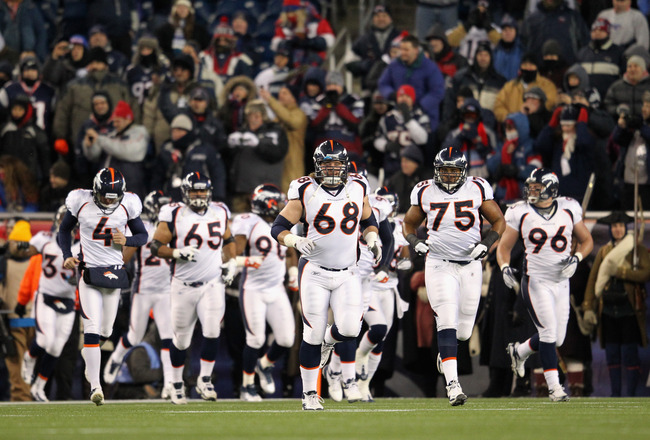 Jim Rogash/Getty Images
The defending AFC West champions have got an interesting offseason ahead of them.
The Denver Broncos have just lost their defensive coordinator who helped turn an underperforming squad into contenders and will be tasked to find his replacement.
Free agents must be wooed and signed, draft prospects evaluated and selected and the expectations of another great season must be managed.
Whatever happens, the eyes of the media will be on Denver even more so than they were last year, so the John's, Timmy, Champ and everyone else need to be ready.
Find a Replacement for Dennis Allen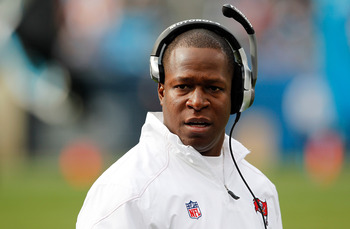 Streeter Lecka/Getty Images
This one is the most apparent of the bunch, but not a guarantee until just Tuesday when Dennis Allen was hired by rival Oakland Raiders.
There are many who might be begging that the Broncos find a replacement who will stay longer than one season, considering this will be Denver's seventh coordinator on defense in as many seasons. However, losing Dennis Allen is a lot different than the circumstances of losing many others during this stretch.
If the Broncos can find another defensive coordinator on the verge of becoming a head coach, then so be it. It's a great problem to have a head coach and front office who find coordinators on the verge of becoming head coaches.
A name like Raheem Morris brings to mind a very successful situation that is currently unfolding in New York. Perry Fewell was given a chance to be a head coach in Buffalo but wasn't quite ready for it yet. After being let go from that job, he is finding great success in New York as the defensive coordinator.
It would be worth the effort to see if Morris is actually a person capable of resurrecting his career in the same manner.
Solidify the Middle Linebacker Poisition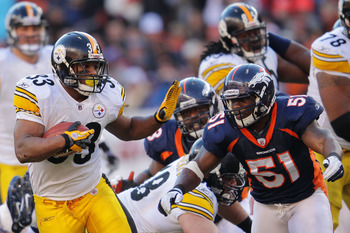 Doug Pensinger/Getty Images
The gaping hole in the middle of the linebacking corps became painfully clear in the playoffs when Isaac Redman ran wild through the middle on third-and-short situations.
The solution may already be on the roster in Nate Irving, but Denver definitely hoped that he would have found his way into the lineup a lot sooner. The fact that he couldn't beat out Joe Mays is highly questionable.
In April the solution may come via the draft, or perhaps the hiring of a new defensive coordinator will bring about new ideas for how to maximize the abilities of the players already on the roster.
Make Denver a Place That Receivers Are Not Scared of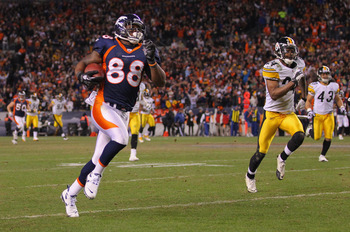 Doug Pensinger/Getty Images
The word on the street is that receivers may be scared of coming to Denver with Tim Tebow at the helm of the offense.
Assuming that to be true, the Denver Broncos may want to have a meeting with their PR director, Jim Saccomano, and discuss ideas of how to sell Denver as a destination for premium wide receivers.
If not, they will only be able to lock up receivers through the draft and keep them for the life of their rookie contracts.
Drop the "Re-Building" Tag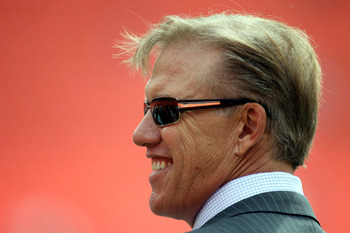 Marc Serota/Getty Images
Denver did the absolute right thing last year by calling the situation what it was and admitting to be a below-average team in the process of fixing things.
A team in "re-building" does not enter the next training camp on the heels of a playoff run, even if it was a huge surprise. That team is now defending its division crown and should enter the offseason and then training camp with that mentality.
Winning the AFC West gave John Elway, John Fox and the entire Broncos organization a violent shove out of re-building. Having a great draft, signing quality free agents and hiring top-notch coaches is imperative because there are no more excuses for poor play.
Embrace the "Tebow Thing" or at Least Be Prepared for It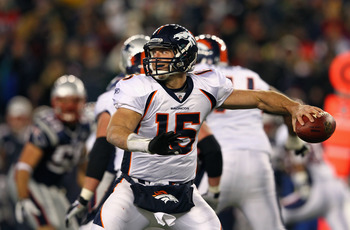 Al Bello/Getty Images
If Brandon Lloyd only knew what the "Tebow Thing" would become when he uttered those words so long ago he might have changed his mind and been on the receiving end of the 80-yard overtime winner in the playoffs.
That theory may be a stretch, but everyone in the free world now knows what the "Tebow Thing" has the potential to become.
It definitely won't be a surprise when national media pundits park themselves permanently at Dove Valley, much like they did last year, but maybe this year Denver can do a better job of controlling the message.
The free-agent period and draft are going to determine who is on the roster at QB with Tebow and that may result in another "competition" for the starting spot, but considering what we all saw this year is there any way that Tebow can win a job in practice?
If Denver does enter training camp without a clear starter in mind, understand what that means for the media and what that potentially will put the team through again.
Keep Reading

Denver Broncos: Like this team?