Arsenal: After the Dark Days of Manchester United and Swansea, What Happens Now?
January 25, 2012

Clive Mason/Getty Images
These are the dark days at Arsenal.
Losing three Premiership games in a row has not happened since the 2005-2006 and 2006-2007 seasons. In December of 2005, Arsenal endured a three-match losing streak—2-0 against Bolton Wanderers, 1-0 against Newcastle United and 2-0 against Chelsea.
In March and April of 2007, Arsenal lost another stretch of three matches—1-0 away to Everton, 4-0 away to Liverpool and 1-0 at home to West Ham United.
In both of these seasons, Arsenal piped Tottenham Hotspur for fourth place, finishing with two points better than their rival at 67 points in the former season and with eight points better at 68 points in the latter season. In both seasons, Liverpool bested Arsenal for third place—albeit on goal difference in the latter season.
At the end of both losing streaks, Arsenal were behind Tottenham Hotspurs. But eventually, they managed to best their rival for fourth place in the two seasons.
The same thing is on hand this season. It is as though history was having a joke. The big question; however, is: Can Arsenal manage the same feat again?
"Yes," says Szczesny. "I am confident we will pick ourselves up. We will win games, and will get our position in the Champions League." 
Many Arsenal fans are not so sure, though.
After the defeat against Manchester United, some fans have had enough. They want Arsene Wenger sacked, no matter that the situation leading to this current set back is not completely of his making.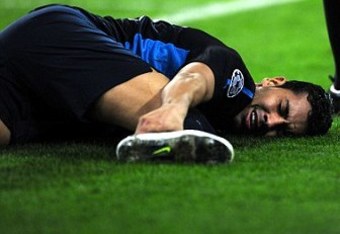 Injuries have decimated Arsenal's ranks, making it difficult for the manager to have his preferred players in their preferred position.
Moreover, Arsenal's policy of fiscal responsibility has constrained Wenger to make do with promising, but middling players these past six years. For some fans, though, no amount of reasoning can change their minds. Nothing less than someone's blood can appease them.
It is safe to say that right now Andrei Arshavin and his embattled manager are not safe.
Sensing a final fallout between the manager and the North London club, Real Madrid that had sought to lure Arsene Wenger away from Arsenal in 2009, have renewed their interest in the manager according to reports. 
Allegedly, they have lost confidence in their own manager, Jose Mourinho, for his failure to beat bitter rivals—Barcelona, despite many attempts.
For those fans who want Wenger's head on a platter right now, there can't be better news. For others, this could be the foretaste of disaster for the club.
But what stands out in all of these is the irony of the situation. Someone's poison seems set to become another's medicine. It is also rumored that Manchester United are eyeing Jose Mourinho and that the interest is mutual.
What is sure, though, is that nobody knows what is to happen in the next three months.
Will Wenger and the players pick themselves up and start winning again?
Is the precedent of history an indication of what is to happen in the coming months? 
Will Wenger and the club finally part ways?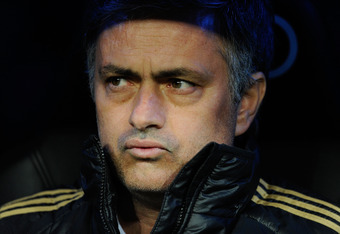 Denis Doyle/Getty Images
The answers to these questions are hidden by the veil of the future.
What seems wise at this point is to allow each set of fans to wallow in their chosen emotions. If rage, then rage. If despair, then despair. If hope, then by all means.
For the players, there's little choice but to hope. Accordingly, the team's captain has this to say about Arsenal's chances in the remainder of the season:
We are all committed to doing the very best we can to bring success to The Emirates. We are not giving up on a top-four finish, no way.
Losing to Manchester United was a setback - but it is not a knockout blow. The way this season is going, I think it's pretty safe to say there will be a lot more surprises before the Premier League season is over.
There are plenty of games still left, we have recovered from reverses like this before and we will win again. So anybody writing us off is making a mistake. This could still be a good season for us.
We have the FA Cup to look forward to and the Champions League. We will all be giving 100 per cent to make sure we bring one of those trophies home, hopefully both of them," he said.
Sunday's FA cup match against Aston Villa could be the beginning of the healing process for Arsenal. It is an opportunity to begin again.