Stevan Ridley: Bill Belichick Must Play Him in Super Bowl XLVI
January 26, 2012

Jim Rogash/Getty Images
As Super Bowl XLVI approaches, questions linger over whether Stevan Ridley will return to the backfield.
Ridley was placed on the inactive roster against Baltimore presumably in response to fumbles committed in back-to-back games—one against Buffalo in the last game of the regular season and one recovered by Denver in the postseason.
Bill Belichick's decision on Sunday was understandable. It's no secret that players are targeted for their weaknesses, just ask the Giants' Jacquian Williams.
So just as sure as the Giants will aim to land on Rob Gronkowski's ankle, they will also look to light up the rookie running back—whom they perceive as prone to coughing it up.
But just because No. 22 has been deemed a turnover liability, does not mean he should sit out the Super Bowl.
The Patriots need Ridley on the field if they want to win on Super Sunday.
While the Pats have a reliable back in BenJarvus Green-Ellis (this guy has yet to commit a fumble in his NFL career), he cannot be tasked with carrying the whole ground game.
The Pats need someone explosive to burst from the backfield—and they have no better option than Ridley.
They could look to veteran Kevin Faulk, but he has slowed with age and has difficulty turning the corner.
Aaron Hernandez, who has taken snaps at RB throughout the postseason, would be a viable option, but with Rob Gronkowski injured, the Pats need him at tight end more than ever.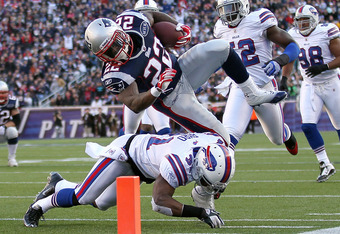 Jim Rogash/Getty Images
Danny Woodhead makes good cuts and is a solid player, but after fumbling a kickoff return on Sunday, it's hard to argue in favor of expanding his playing time for the second game in a row to cut Ridley out of the equation entirely.
Ridley has been compelling in his rookie year, finishing the regular season with the team's second-most total rushing yards and averaging the most yards-per-carry among Pats' rushers with more than five attempts.
And those fumbles against Buffalo and Denver? The first and second of his NFL career.
For these reasons alone, Belichick should let him play in Super Bowl XLVI.
But there are also ripple-effects of listing Ridley as inactive in the Patriots' first Super Bowl appearance since the 2007 season.
Benching him after two fumbles may be devastating to a young man still trying to build his confidence and find a place in the organization.
Belichick should refrain from doling a psychological blow to a rookie who will likely be the future feature back of the New England Patriots.
Sure, playing Ridley puts a target on his back and exposes a team weakness, but Belichick must place Ridley on the active roster on February 5 to avoid severe short and long-term consequences.