Giants vs. Patriots: Which Team Has the Edge in Each Phase of the Game?
January 24, 2012

Elsa/Getty Images
OFFENSE
Tom Brady vs. Eli Manning. That's what this Super Bowl will be about. The rematch of the 2008 Super Bowl will feature heavy commentary surrounding the two, and any objective fan will tell you that Brady is the far better quarterback than Manning. Hands down.
Brady is great—we all know that Brady is the best quarterback ever in my book—but it's the play of the New England tight ends that will dominate this game.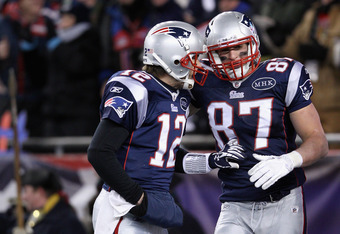 Elsa/Getty Images
How do you cover Aaron Hernandez and Rob Gronkowski with the New York linebackers and safeties? The answer is, you don't. Antrel Rolle is a "name" player, but he's horrible in coverage and cannot be asked to take on one of the Patriot safeties.
And if you think the Giants' linebackers can cover these two, look back to Week 9 and see that both tight ends were open routinely. It's just giving Brady enough time to find them that counts.
Advantage: New England Patriots
DEFENSE
One look at the defenses in this game and it's pretty obvious who holds the advantage.
I know, I know...the Patriots have a "bend-don't-break" defense. I've heard the excuses and rationale. I don't buy it.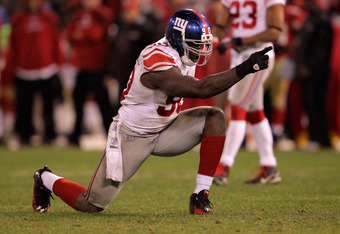 Doug Pensinger/Getty Images
The Patriot defense isn't great, even if they have moments of playing very well. Vince Wilfork is a beast to handle, Pat Chung can make bone-crushing hits and it seems like the rotating players at cornerback can do a decent job against Lee Evans and Anquan Boldin. Against the Giants' receivers? Don't think so.
New York holds the advantage due to their play in the front four, with Justin Tuck and Jason Pierre-Paul being unstoppable at times, and with a solid group in the secondary. Both units will be tested for sure, but the advantage still slants heavily in the favor of the G-Men.
Advantage: New York Giants
SPECIAL TEAMS
Neither the Giants nor the Patriots stand out as a great special teams unit, but that is only because neither team features an elite return man. There's no Devin Hester here, and the return game may be less exciting than in years past, but special teams in general will be key to this game as in any big game.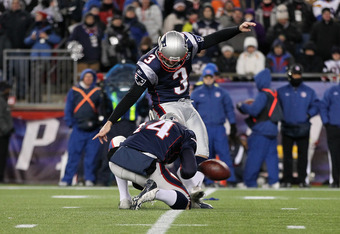 Jim Rogash/Getty Images
The Patriots have won three Super Bowls thanks to big plays in big spots from their kicking game. Why would this year be any different? Stephen Gostkowski is one of the best kickers in the game, 85 percent of his field goals and a crazy 82 percent when the distance is between 40 and 50 yards. Gostkowski is dependable, accurate and used to playing under the spotlight.
The Giants have their own special teams aces—look at Pierre-Paul's blocked kick against the Dallas Cowboys to secure a lead. The Patriots are better suited to score through special teams, but the Giants play an almost defensive special teams that makes it hard for the opposition to move the ball on kick and punt returns, and they are even damn good at blocking kicks.
Advantage: New England Patriots