Bill Belichick and John Calipari: The Last of a Dying Coaching Breed
January 24, 2012

Elsa/Getty Images
Imagine Hannibal Lecter and Darth Vader as long-lost brothers. That's the most operative-buzz analogy connecting the great polarizer and his anarchist doppelganger.
If you're not a fan of their teams, then you hate these cold-hearted and arrogant souls with every bone in your high and mighty body. You hate them because they win gracelessly, they win thanklessly and they win very—very often. 
But without merciless, loophole-pushing villains like John Calipari and Bill Belichick, the sporting narrative just wouldn't be all that compelling. That is why we must call attention to these Vaderian disciples in an effort to resuscitate their dying breed: The genius, love him or hate him coaching anti-hero. 
It's fitting to compare "Slick Cal" and the "Hoodie" on a week when their genius-level coaching acumen is once again—front and center for the world to see. Yesterday, in the latest edition of college basketball's top-25 polls, Calipari's Kentucky Wildcats re-ascended to their familiar position atop the figurative mountain. 
If it weren't for an answered grace of God prayer down in Hoosierville in early December, Cal's latest All-Star band of underclassmen would have a realistic shot at a perfect season. As for Belichick, his Patriots advanced to their fifth Super Bowl in 11 seasons—the most of any franchise in such a short time period—by beating the Ravens in Sunday's AFC Championship game.
But this time Belichick did it with a historically shoddy defense, in what was likely his best coaching job to date. 
It's consistent, perennial accomplishments like these that remind us what these two leaders bring to the poker table: An all-in mindset centered on giving his team a strikingly realistic shot at winning a championship every single year. Think about it. 
How many fans can honestly say they expect their team to win a championship at the outset of every season? 
Unless you cheer for a pocket-filthy baseball franchise (ahem—Yankees, Red Sox) or a team where glamour is the selling point (LA Lakers, UNC basketball, and a few others), the answer is a select group about as large as the "Herman Cain for President" supporters.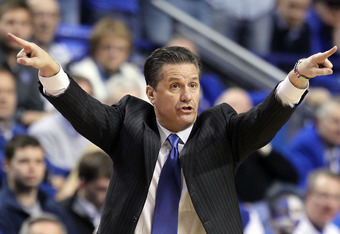 Andy Lyons/Getty Images
This is the same reason Calipari and Belichick are almost unanimously despised by fans who don't root for Kentucky basketball or the Patriots. We are jealous that a down season is earning a number one seed and losing in the divisional playoffs or Sweet 16. We also resent the mini-golf cup sized loopholes they exploit to get every seemingly unnecessary edge. 
We'll never know for sure if a hired gun took Derrick Rose's SAT in 2006, or if the Patriots had video evidence of the Eagles' blitzing signals in Super Bowl XXXIX. We'll never know how much the hiring of Milt Wagner (Dajuan's father) or Lamont Patterson (Tyreke Evans' trainer) for his coaching staff aided Calipari's successful recruitment of both players. Nor how much the re-hiring of former Broncos Coach Josh McDaniels aided New England's 35-point mauling of virtually the same Broncos team McDaniels left with replacement John Fox. 
All we know is this: Among the increasingly brainwashed lieutenants of the No Fun League paradigm enforced by Big Brother commissioner Roger Goodell, Belichick truly stands alone as the last real NFL anarchist. This is what may make Calipari's King Villain status even more impressive.   
There are many slick imitators across the collegiate cesspool, but no one maintains a dirtier clean slate than Cal. He's that much more polarizing than the Rick Pitinos and Bruce Pearls of the world because those guys got caught. Sure Calipari is the only coach to vacate multiple Final Four appearances. But neither offense can be directly traced to the head honcho. 
Love him or hate him—you can't charge him. Heck, even Belichick got nailed in Spygate. 
As we stand blinded by their rebellious personalities, it's often difficult to simply remind ourselves how well these guys can coach. The confusing allure of leaders like Calipari and Belichick are compounded by their unique abilities to mold a smorgasbord of enigmas into a cohesive unit. 
Calipari's 1992 UMASS team featured a shooting guard (Jim McCoy) who couldn't shoot (one three-pointer all season), a 6'3" power forward (Will Herndon) and a 6'7" center (Harper Williams). 
Somehow, the Minutemen went 30-5 and advanced to the Sweet 16. Belichick's first Super Bowl team back in 2001 featured such decade-defining superstars like Antowain Smith as its leading rusher, Troy Brown as its leading receiver and Bryan Cox as its leading tackler.       
But as sports fans, we are more captivated by the narrative than its ultimate conclusion. Even in a third-party position, we need someone to root against. Sure we love to hate it when Belichick waxes coach-speak poetic or when Calipari proclaims his seemingly superficial unconditional love for his players after yet another victory.
But if these guys didn't win, they'd probably end up blacklisted on a coaching desert island. And at that point, sports would more closely resemble a buddy-buddy romantic comedy where no one truly loses as long as we're all friends at the end of the day. Somewhere, Al Davis has just belly-flopped in his grave.