Arizona Cardinals: Full 7-Round NFL Mock Draft Predictions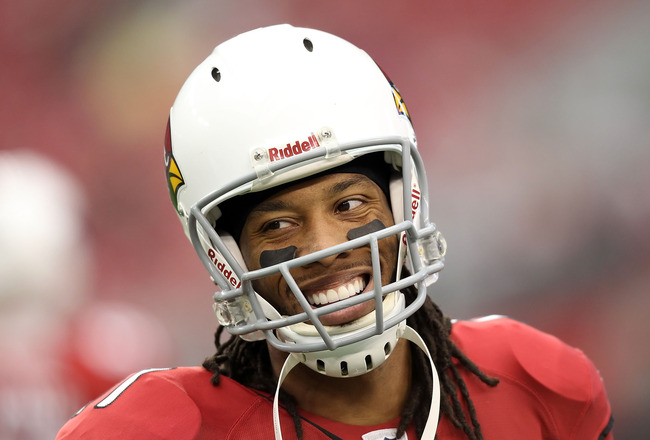 Christian Petersen/Getty Images
The 2011 season is officially in the books for the Arizona Cardinals, but there's no reason to look at that as an end to talk of the NFL.
Instead, let us think of it as a beginning of the 2012 season.
The NFL draft won't happen for another three long and lonely months, yet speculation of who will go where has already begun to run rampant. Every team in the NFL has needs it will try to fill through the NFL draft, and the Arizona Cardinals are no exception.
Despite a late-season resurgence, the 2011 Cardinals had clear areas of need on both sides of the ball. Even when a starter is getting it done, there are plenty of places where the team lacks depth. That's bad news with injury so common in the NFL.
The Cardinals will surely address some of these needs through free agency, but the rest will fall to the draft.
How will things go for the Cards in April? Whom will they take? Keep clicking for a full seven-round mock draft prediction on how things might just shake out.
Round 1, Pick 13—Jonathan Martin, Stanford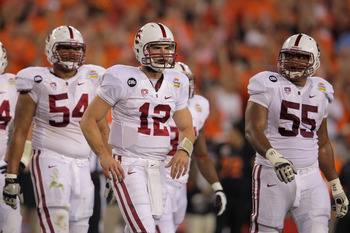 Doug Pensinger/Getty Images
This pick comes at the cost of assuming the Cardinals do not trade down with the likely-candidate Cleveland Browns to regain a second-round draft pick (recall that they traded theirs away in the deal that brought Kevin Kolb to the desert).
Perhaps the greatest need that the Cardinals have on their current roster is at left tackle.
Let's face it: Levi Brown is not getting the job done. Widely considered to be one of the worst offensive tackles in the league, it is simply mind-boggling that Brown is still a starter. Yet here we are, with Brown about to hit the free-agent market.
Good riddance.
Although the Cardinals would probably love for one of the top prospect offensive tackles to fall in the draft, the odds of that happening are slim based on the needs of other teams around the league. Still, Jonathan Martin of Stanford will be an excellent pickup early in the draft as long as the Cardinals do not shy away from the possibility of a Levi Brown repeat.
Indeed, Martin will be an enormous improvement.
Keep in mind, Martin was the guy who was entrusted with the infamous Andrew Luck's blindside. He will bring a huge amount of athleticism and football intelligence to the field. He's good at opening up holes to support the run, and he's solid at keeping the pocket intact.
You could, in fact, consider him the anti-Levi Brown.
Round 3, Pick 76—Josh Kaddu, Oregon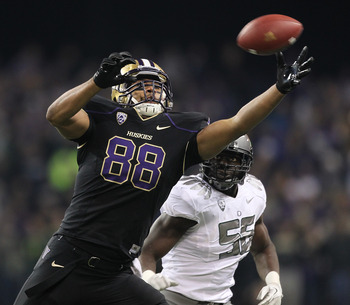 Otto Greule Jr/Getty Images
Again, keep in mind that the Cardinals have made no indication at this time that they will trade down in the draft to regain their second-round draft pick. If they do not do so, the next time they have an opportunity to draft will be in Round 3.
Although the Cardinals have many other outstanding needs at various positions, the third-round draft pick will be well served by choosing an outside linebacker.
In the 3-4 defense that the Cardinals have preferred to run, outside linebackers play a huge role. Clark Haggans, the current starter, is starting to show his age. Sam Acho has really evolved into his role as a starter, and O'Brien Schofield is an OK backup, but the Cards need more depth at this position.
Enter Josh Kaddu out of Oregon.
He's projected to go a little bit higher than this, but since his technique is weaker than many of his peers there's a good chance that he will find other outside linebackers picked before him.
Since Arizona doesn't necessarily have immediate need at that position, Kaddu will be a great pickup as a player Haggans can groom to take over the starting spot that Schofield doesn't seem to be ready for.
Kaddu has all of the athletic qualities that could make him great at his position. He just needs to be eased into the NFL if he wants to succeed, an opportunity the Cardinals will be able to give him.
Round 4, Pick 109—Jarius Wright, Arkansas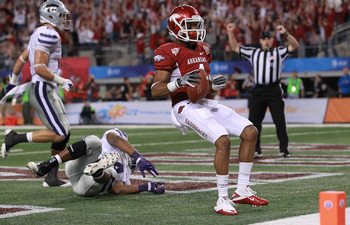 Ronald Martinez/Getty Images
Wide receiver is one of those positions a team cannot have too much talent at, particularly for a pass-first team like the Cardinals. If whichever quarterback starts can find some comfort in the pocket with a retooled offensive line, the 2012 season could be as exciting as the 2011 one was forgettable.
In order to accomplish that, the Cardinals need more than just Larry Fitzgerald.
The current crop of wide receivers never materialized into much of a threat during the regular season.
During the offseason, Andre Roberts will likely lose his second receiver slot to a big free-agency pickup like Robert Meachem or Reggie Wayne. Early Doucet is a free agent with whom the Cards will probably part ways.
There is still a good opportunity to pick up some talent at wide receiver in the fourth round, which would be a wise move to give Roberts some additional competition and add depth to the Cardinals receiving chart.
Jarius Wright is projected to drop to the fourth round. Picking him up would bring a good burst of speed and a lot of determination to bring in the ball. He's not prone to dropped passes and has proved to be elusive after the catch, both of which will be welcome changes for the Cardinals.
Round 5, Pick 141—Jerry Franklin, Arkansas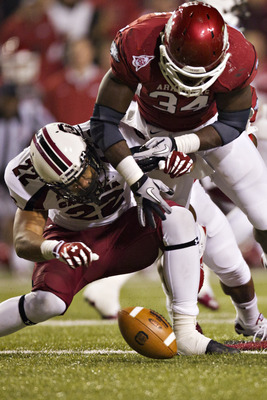 Wesley Hitt/Getty Images
The Cardinals are secure behind Daryl Washington and Paris Lenon at inside linebacker, but they lack a lot of positional depth.
Bringing in Jerry Franklin to compete with current backups Reggie Walker and Stewart Bradley will promote better play and allow the Cards the luxury of selecting the best of three to keep on the 53-man roster.
Franklin was sixth in the SEC with 93 tackles in 2011 and has demonstrated a good ability to get to the quarterback and create defensive turnovers.
Round 6, Pick 173—Jeff Allen, Illinois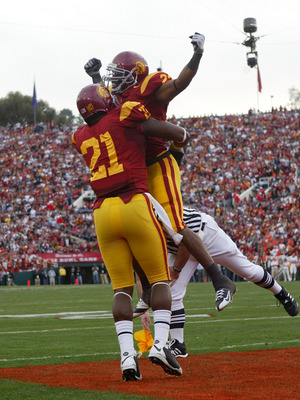 Jeff Gross/Getty Images
Another pickup for the offensive line will give the Cardinals a little bit of room to grow some in-house talent for either guard or tackle.
Jeff Allen of Illinois has the potential to be good enough for the NFL, but he needs a little bit of polish first.
Picked up late in the draft, Allen would have few expectations of immediate greatness in the NFL. Instead, he would have the benefit of working with his team to improve himself into the player he has the potential to be.
With some work on his run blocking and discipline, he could make a big splash for the Cardinals. He just needs some time as a backup before he has to shoulder more than the minimum of responsibility.
Round 7, Pick 205—Charles Mitchell, Mississippi State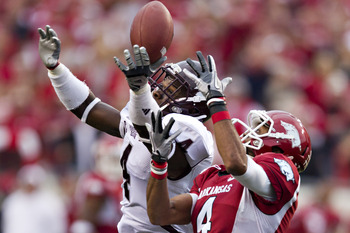 Wesley Hitt/Getty Images
In order to maintain their excellent special teams profile, the Cardinals need to keep refreshing their talent as the current class "graduates" to spend more time on the field at their main position.
At this point in the draft, the Cards have the opportunity to pick up a young strong safety with a lot of raw talent in Charles Mitchell of Mississippi State.
Although Mitchell hasn't done as much to impress in his senior year as scouts may have hoped, there is still plenty of potential for development within the right defensive scheme. He's a good, athletic tackler who is reliable in pass protection. He's also fast and has proved to be a good special teams contributor.
The current backups at strong safety have done little to impress, so the Cardinals would be well served to see whether they can find a diamond in the rough in Mitchell.
Keep Reading

Arizona Cardinals: Like this team?