Why the New York Yankees Should Sign Jorge Soler and Gerardo Concepcion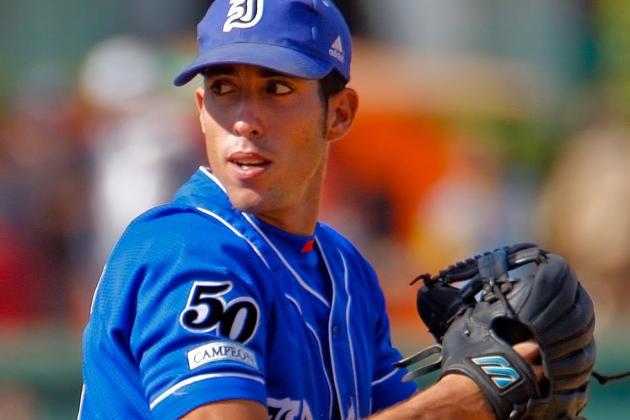 This offseason, Yoenis Cespedes has stolen the spotlight from two other stars.
Cespedes is 26 years old and will command a huge deal—possibly twice what Aroldis Chapman signed with the Cincinnati Reds. These other two stars are much younger and will be much cheaper, but they still have the upside to be stars in the major leagues.
Jorge Soler and Gerardo Concepcion are those two stars.
Soler is a 19-year-old outfielder with five-tool talent, while Concepcion is an 18-year-old southpaw with a 94 mph fastball.
They both have a lot of potential, but why should the New York Yankees sign them?
Let's find out.
Begin Slideshow

»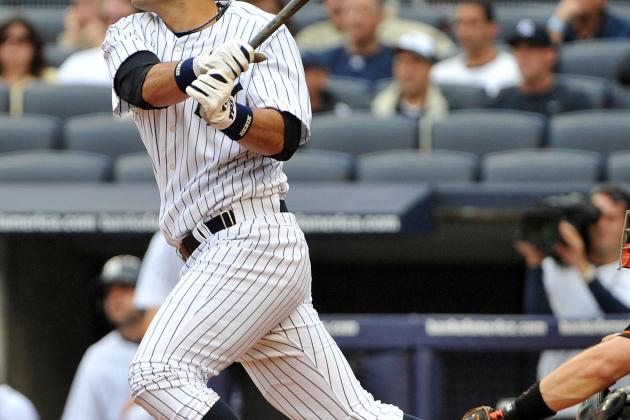 Christopher Pasatieri/Getty Images

The New York Yankees just traded Jesus Montero to the Seattle Mariners.
If that was not enough, both Manny Banuelos and Dellin Betances should be in the majors by Opening Day 2013 at the very latest. When a team promotes or trades their three best prospects, it tends to weaken their farm system.
If the Yankees added Concepcion and Soler, it would help their farm system by infusing more talent. They could be brought up to the major league level in three to four years or traded for major league stars if the Yankees needed an extra piece at the trade deadline.
After Gary Sanchez, the Yankees will have no top-tier prospects in their farm system when Banuelos and Betances leave. Mason Williams, Ravel Santana, Dante Bichette Jr, Mark Montgomery and Cito Culver among others all have serious talent, but none of them have even reached High-A Ball yet.
Don't get me wrong, neither Soler nor Concepcion will jump straight into Double-A or Triple-A, but they should quickly climb the ladder.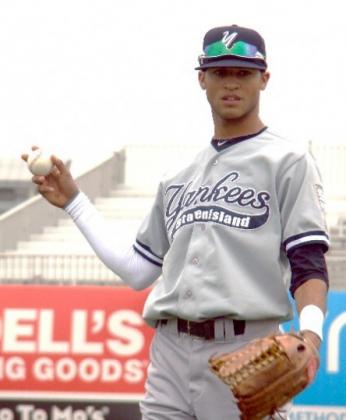 Mason Williams, Ravel Santana and Slade Heathcott are the only Yankee outfield prospects worth mentioning. Both Santana and Heathcott have had significant injuries in recent times. Santana broke his ankle in two places and tore many ligaments, while Heathcott has had three surgeries on his left shoulder since 2009.
Mason Williams has not had any major injuries and he had a very good 2011 season, but he did play in Low-A Ball. As much as I love Williams' potential, I will admit that the chances of him being a star in the majors is not good.
Even if he pans out, that only fills one outfield position.
Brett Gardner, Nick Swisher and Curtis Granderson are the Yankees' current starting outfielders.
Swisher is in the last year of his deal, and despite being a great clubhouse influence and good bat he will likely walk unless he agrees to a one-year deal at below market value.
He very well may do that, but I am not counting on it.
Then there is the speedster Brett Gardner. Gardner plays arguably the best defense in the majors and is also one of the best on the basepaths. Those two skills rely heavily on speed and as we saw with Carl Crawford, speed starts to decline at around 30 years old.
Gardner has been in the majors for three full seasons, and he is 28 years old. By the time Williams, Santana, Heathcott and Soler are ready for the majors, Gardner will be in his early 30s.
That is the perfect time to let Gardner walk when he hits free agency and let one of the Yankees' young outfielders take his place. All four of those outfielders are in the lower minors, so the more of them there are, the higher the chance one or two of them will succeed in the major leagues and be able to replace Gardner and Swisher.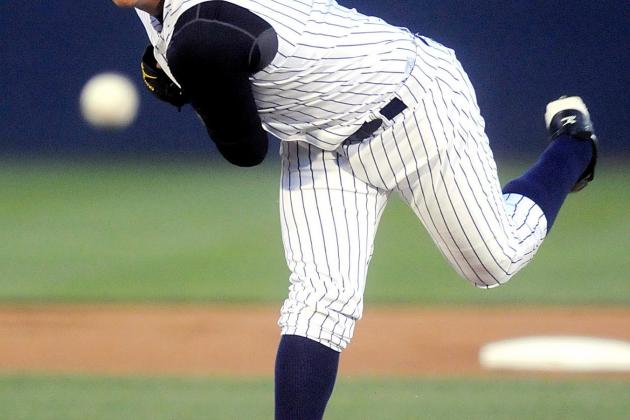 The New York Yankees have stockpiled some great young arms that include Manny Banuelos, Dellin Betances, Ivan Nova and Michael Pineda.
Why not add another young, electric arm?
If Concepcion pans out he could be a very good starter. Even if the rotation is full, he could become one of the better set-up men in the majors sitting behind David Robertson, the likely heir to Mariano Rivera.
Young arms are always in demand, so he could also be used as trade bait to grab a much-needed bat or to upgrade the front end of the rotation. Even if you think there is no room for him, he still has value that could help improve the team.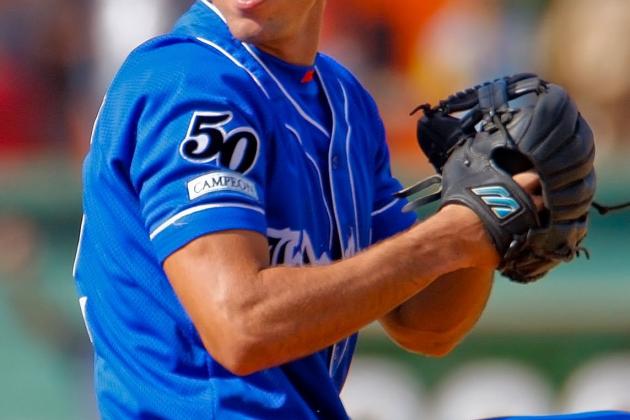 Yoenis Cespedes is 26 years old. While that is not "old," it is not quite young enough to put somebody down in the minor leagues and let him develop for one or two years before bringing him up to the majors.
Jorge Soler, 19, and Gerardo Concepcion, 18, on the other hand, are both very young.
They are both young enough that they can develop in the minor leagues for three or four years before they can transition to the majors.
This is advantageous because there is no rush; they can fully develop and reach their potential before they even step foot in Yankee Stadium.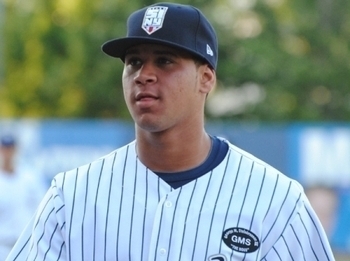 Before the Jesus Montero-for-Michael Pineda trade, three of the Yankees' four best prospects were international free agents: Gary Sanchez, Jesus Montero and Manny Banuelos.
For a team that does not draft well—and the Yankees do not draft well—international free agents are key for a team to build a strong young farm system. Without them, the Yankees' top prospects would be Dellin Betances, David Phelps, Adam Warren and Slade Heathcott.
The reason the Yankees are so good at this is because they have the money to spend on top international talent. That advantage will disappear in July under the new CBA, so the Yankees must act now before they lose their favorite way to build their farm system.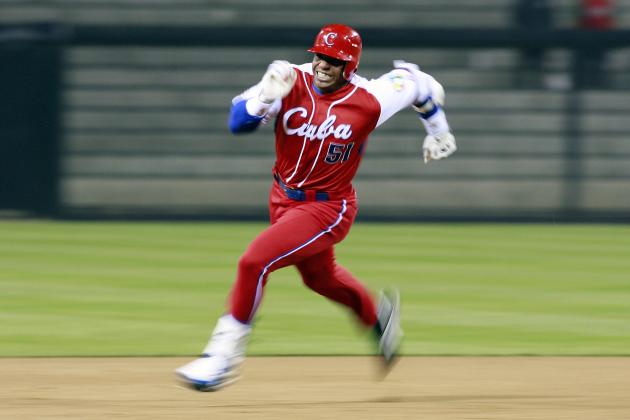 Jeff Bottari/Getty Images

Yoenis Cespedes will most likely cost between $50 and $60 million.
Jorge Soler and Gerardo Concepcion will probably cost half of that—put together.
Usually with a lower price tag comes a worse product, but I do not think this is the case. Both Soler and Concepcion have All-Star ceilings, yes they are younger and are bigger risks, but Cespedes is no lock, either.
I believe that Soler and Concepcion have a better chance of succeeding than Cespedes because there are two of them.
All three players have immense talent and upsides. They are also all risks, but after weighing the price and risk it, would be better for the Yankees to attempt to sign Jorge Soler and Gerardo Concepcion than Yoenis Cespedes.