Can Rajon Rondo Be the Franchise Star of Boston Celtics If Big Three Break Up?
Use your ← → (arrow) keys to browse more stories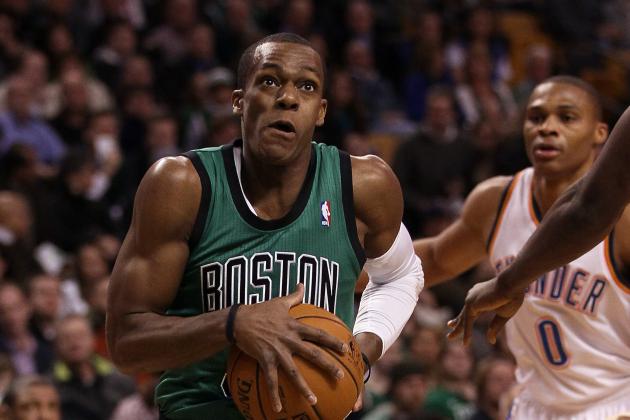 Elsa/Getty Images
Can Rajon Rondo be a franchise type player?
The Boston Celtics are officially in trouble.
Their schedule, age and the talent on other teams have all conspired to create a toxic combination of factors that have led the Celtics to their current 7-9 record.
The Celtics have played nearly a quarter of the 66-game, lockout-shortened schedule, and the team is clearly in need of some changes.
Could Boston possibly find some rhythm, get in a groove and make a run that would put the Celtics in the postseason?
Sure, but making the playoffs in the NBA just isn't the same as accomplishing that feat in Major League Baseball or the National Football League.
In the NBA, 16 teams make the postseason. The debate about whether or not a team that barely makes the playoffs only to exit in the first round has had a "successful" season is one in which Celtics fans don't partake. The Celtics have a championship tradition.
With that weighing heavily on the mind of Celtics general manager Danny Ainge, there is increasing speculation that he will embark on a plan to "blow up" the current roster by trading away key components such as Paul Pierce, Kevin Garnett and Ray Allen.
If that were to happen, it would leave Rajon Rondo as the biggest star on an unfamiliar and completely revamped Celtics roster.
Could Rondo be the player that Ainge and Doc Rivers retain and by attrition would then be anointed the team's newest "franchise" player?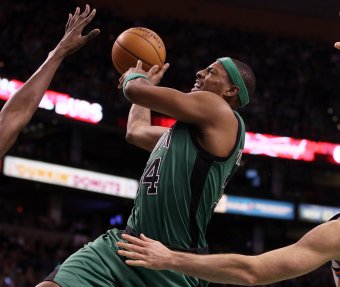 Elsa/Getty Images
Rondo may end up being the focal point of the Celtics, but there would still be some unanswered questions surrounding his ability to be a franchise type of star—primarily his ability to score.
To this point in Rondo's career, he's benefited from being surrounded by one of the best shooters in NBA history in Ray Allen and one of the best all-around scorers in NBA history in Paul Pierce.
If both players were jettisoned to other teams to clear cap space or hoard draft picks, the scoring burden would be shifted dramatically toward Rondo. The manner of his response would be very telling with regards to him being labeled a "franchise" type of player.
Currently, Rondo is averaging a career-high 15.0 points per game. A nice average, but that's not going to be enough if the bulk of the current Celtic offense is operating in different uniforms.
Rondo has the other skills.
He's a great defender, an above-average rebounder for his size and he's got marvelous ball-handling skills. The points would be the deal-breaker or deal-maker depending on the amount of points.
The real question is whether or not Rondo even stays in Boston.
Rondo is the most valuable commodity on the current team: a young, multifaceted point guard with plenty of playoff experience and a manageable contract that wouldn't handcuff a potential trade partner from surrounding him with other talented players.
Those circumstances may have other teams asking about Rondo's availability, but barring an offer that Ainge simply can't logically refuse, they decrease the likelihood of Ainge dealing Rondo.
It's going to be the aging members of the Big Three that end up being dealt, but for what? Will they seek to deal various members of the trio for one megastar to create a one-two punch?
Perhaps, instead, they will deal for various movable parts and embark on a mission to hoard draft picks for the 2012 draft, which many project as one of the strongest in recent memory.
Can Rondo play the "franchise" role?
The deals that the Celtics do or don't make in the coming weeks will let everyone know what Danny Ainge and Doc Rivers feel is the answer to this question.