Kyle Williams: Twitter Threats Toward 49ers WR Reveal Dark Side of Sports Fandom
January 24, 2012

Ezra Shaw/Getty Images
Really, (small minority of) San Francisco 49ers fans? Really?
Sending death threats to Kyle Williams via Twitter?
I thought (the small minority of) you'd know better than that, or have the Oakland Raiders' fans been allowed to run the asylum?
Look, there's no doubt that Kyle Williams was an absolute goat, an easy target for the bushels of blame left lying on the rain-soaked turf at Candlestick Park after a 20-17 overtime loss to the New York Giants in the NFC Championship Game. He whiffed on all four Alex Smith passes that came his way, was involved in a mishandled reverse play, and was responsible for two late special teams turnovers that resulted in New York's last 10 points.
The kid screwed up, and while "long-suffering" 49ers fans reserve the right to be upset at him, those who felt it so much as reasonable to make threats against Williams' life, empty or otherwise, would do well to re-evaluate their own lives and consider two all-important things.
1. Football is a Team Game
This much is and should be clear, as 49ers kicker David Akers reiterated: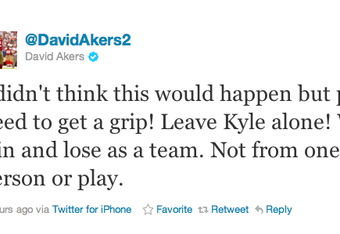 That's not to say that Williams doesn't deserve any of the blame for San Francisco's shortfall, but rather that he's not alone in that regard.
The Niners had their fair share of chances to take firm control of the game throughout, but ultimately failed to make them count—as a team. It's not exactly uncommon for a team to lose after converting just one of 13 third downs, especially when the one occasion comes on an essentially meaningless play at the end of regulation.
So, if you're really keen to smear blame at every possible opportunity, why not save some for Alex Smith, who came up short in moving the sticks time after time after time after time after...
2. Everybody Makes Mistakes
Of course, not everybody makes them on national TV, with the hopes and fears of millions hinging on them.
But still, let's all take a breather to remember that football is a game played by human beings, and that human beings tend to err and, hence, errors are quite common in football.
And because Kyle Williams is human, he likely also feels terrible about the mistakes he made, given how costly they turned out to be. It's quite possible that he'll never live them down, that he'll spend a good portion of his life replaying those moments in his head, over and over again, wondering "What if?"
The last thing the guy needs—particularly from his own team's fans—is more guilt, more shame and more reason to worry about his own life and livelihood.
So, to that small but all-too-vocal enclave of folks who thought too little and said too much, who used the anonymity of the Internet to feign harm on a man whose mistakes, however costly in context, remain entirely insular with regard to reality, I offer this bit of advice:
If you're a true 49ers fan, through and through, apologize to Kyle Williams for your own negligence and offer him some modicum of comfort and support.