Indianapolis Colts Rumors: Jim Tressel Rumored to Be out as Potential Head Coach
January 23, 2012

Jamie Sabau/Getty Images
As quickly as Jim Tressel's name was put forth as a possible head coach for the Indianapolis Colts, it was ripped from consideration, and justly so. 
Via CBS Sports, former head coach and current NFL analyst Tony Dungy had some wild things to say in his interview with Dan Patrick Monday morning. Dungy had this in the way of beans to spill: "I think Jim Irsay has his man in mind. It may be Jim Tressel, that's what I'm hearing."
That set off a firestorm of opinions as a polarizing option neared the much-beloved Colts. Well, you can temper all the hatred for the former OSU head coach. It seems that Tressel will not be the next leader of great men in Indianapolis. 
Indianapolis sportscaster Chris Widlic tweeted a brief but powerful statement.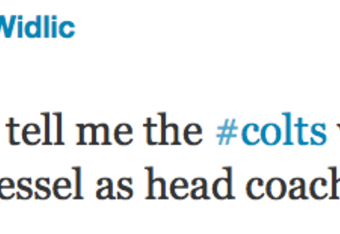 That should end some of the more fiery opinions to spring forth from a fanbase that has enjoyed a great deal of consistent and prideful winning. 
The last thing this Colts teams needed was controversy amidst change. The rumors that Peyton Manning is on his way out and Andrew Luck is on his way in are all over the place. The club's fans and players are no doubt spread thin on where they think this franchise should head. 
Tressel was a Buckeyes icon for the honorable way he ran the program and the sweater vest that symbolized such efforts. We would later learn that all that was just a facade, and Tressel could look the other way as well as any college football head coach only interested in winning. 
Since he resigned from his post at Ohio State, Tressel took up a consultant job with the Colts. Even that small piece of power was not at all well received by those still hurt by what they perceived as an unforgivable deception. 
The fact is, Tressel has paid a great deal for his transgressions, but that doesn't mean he is the right fit for a franchise that needs a calming force as one of the greatest instances of a passing a torch takes place. 
If Manning does indeed retire or move on, the next head coach will need to have the power and prestige to calm the waters. That head coach is not Jim Tressel, and the Colts were lucky to have found that out early on in their search.