WWE Royal Rumble 2012: WrestleMania Feuds Will Emerge at the PPV
January 25, 2012

The Royal Rumble PPV has the potential to be the most surprising show year in and year out. The match itself is designed for suspense and unpredictability, with the feeling that anyone can appear next.
What else makes the show so exciting is its moniker as the official start of the Road to WrestleMania. By Raw on Monday, we should have a glimpse of what the card will look like on April 1.
It all starts with the winner of the Royal Rumble match. When Del Rio won last year, it was fairly obvious that he would challenge for the World Heavyweight Championship since the Miz was the WWE Champion and he was in a holdover pattern with Jerry "the King" Lawler.
Although things can change at the Elimination Chamber PPV, by now, the creative team knows where they want to end up. We will see those ideas in more detail on Sunday.
A great example of a Royal Rumble that effectively started numerous feuds was in 2004. The Voldemort of the WWE, Chris Benoit, was the winner that year, and he was the first to change brands and challenge for the Raw title as a Smackdown superstar.
In that match, three separate feuds got the ball rolling towards WrestleMania. First was the interactions between Mick Foley and Randy Orton. Things got very heated during the match when Foley shockingly entered and proceeded to eliminate himself along with Orton. This led to the Rock's return and a 3-on-2 handicap contest.
The second feud to begin was the Undertaker vs. Kane. The familiar gongs went off during the rumble, causing Kane to be distracted and eliminated. He then destroyed Spike Dudley and began the difficult process of building a feud against a man who was not showing up until the PPV.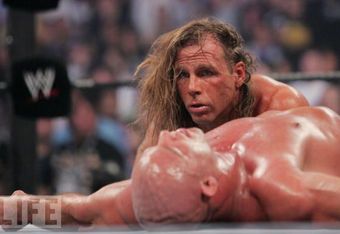 The final feud, and maybe one of the biggest letdowns in WWE history, was Brock Lesnar vs. Goldberg. This was a dream contest, and it got heated when Lesnar hit Goldberg with the F-5 late in the night. It was obvious from that point on that the two were going to collide at WrestleMania. Unfortunately, if we knew what type of match were to occur, I do not think we would have been as excited.
Nonetheless, the Royal Rumble is an excellent place to start building WrestleMania matches. Great feuds such as Bret Hart vs. Stone Cold in 1997, HBK vs. Y2J in 2003 and HBK vs. Angle in 2005 all were set in motion on Royal Rumble night.
So while we get excited for the surprises of the evening, we should also be looking for superstar interactions that will hopefully lead to great feuds going into WrestleMania XXVIII.
Check out my last article listing CM Punk's 10 Best Tweets at this link.