Full Statistical Projections for Every Offensive Starter in Super Bowl XLVI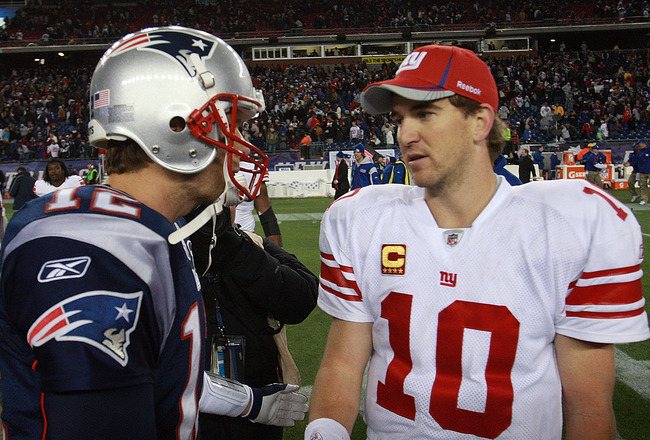 Jim Rogash/Getty Images
The two Super Bowl teams are finally set, and today begins a two-week period of speculation, analysis and conjecture that will hopefully carry all our collective anticipation to the big day.
The New England Patriots and New York Giants are back at it again, in another installment of one of the more enjoyable rivalries of the past five years.
With that said, now is as good a time as ever to consider the potential offensive box scores from the upcoming game.
Going through statistical averages, current trends, and simulation runs in my imagination, each starter has been given a hypothetical stat line for the game.
Here are the statistical projections for each offensive starter in Super Bowl XLVI.
QB Eli Manning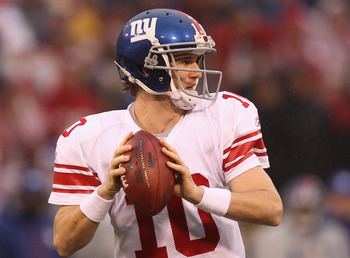 Ezra Shaw/Getty Images
Eli Manning is one heck of a passer, but I can't imagine the Giants giving him anything close to 58 passes like he had against the San Francisco 49ers on Sunday. However, I think the lax defense of the Patriots should open up some solid opportunities for his main targets to tack on some nice yardage.
Manning should be looking good in Indianapolis.
Stat Prediction: 300 yards, 2 TDs, 1 INT.
RB Ahmad Bradshaw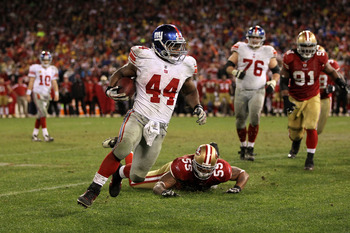 Jamie Squire/Getty Images
To offset a reduction in passes, look for the Giants to direct their offense through its running game. With his ability to break tackles and pick up yards after initial contact, running back Ahmad Bradshaw could have a big game ahead of him.
Stat Prediction: 95 yards, 1 TD.
New York Giants Wide Receivers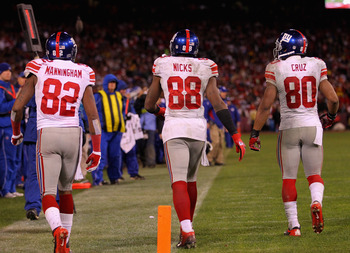 Doug Pensinger/Getty Images
The wide receivers of the New York Giants seem to find plenty of room to operate and make catches, and the Super Bowl matchup should be no different. Against a depleted secondary, the wide receivers should make their presence felt. If the Patriots can't stop these guys, the Giants could have an easy day.
Victor Cruz
Stat Prediction: 110 yards, 1 TD.
Hakeem Nicks
Stat Prediction: 60 yards.
Mario Manningham
Stat Prediction: 60 yards.
TE Jake Ballard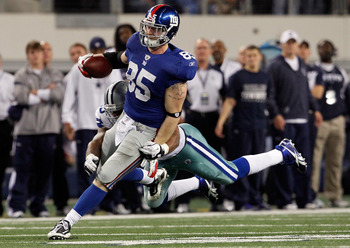 Tom Pennington/Getty Images
Tight end Jake Ballard didn't have much going for him Sunday, but he had a big impact in the Giants' game against the Patriots, winning the game with a late touchdown catch. He may not put up sexy numbers, but Ballard should create a mismatch at least a few times.
Stat Prediction: 25 yards
K Lawrence Tynes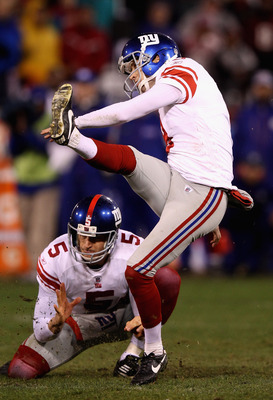 Ezra Shaw/Getty Images
Kicker Lawrence Tynes was clutch in closing out the 49ers from close range on Sunday. In the covered Lucas Oil Stadium of Indianapolis, I imagine he'll do just fine.
Stat Prediction: 1/1 FGs.
QB Tom Brady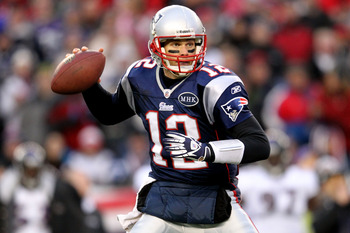 Jim Rogash/Getty Images
Tom Brady has a big score to settle against the New York Giants, as he attempts to avenge a loss from earlier this year and, more importantly, the Patriots' Super Bowl loss to the Giants in 2008.
As a result, look for Brady to air things out for his receivers. While it should create more chances to pile on the yardage, it might also lead to some throws that he doesn't have to make.
If he can avoid turnovers like the ones he made against the Ravens Sunday, the Patriots should be fine in the air.
Stat Prediction: 350 yards, 3 TDS, 2 INT.
RB BenJarvus Green-Ellis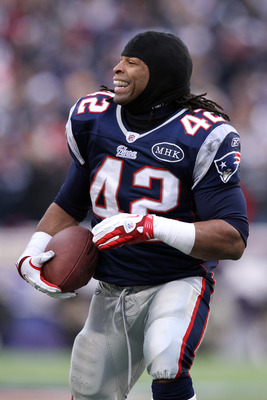 Elsa/Getty Images
Running back BenJarvus Green-Ellis may have made a big difference Sunday against the Baltimore Ravens, but I think the Patriots will take advantage of their more dangerous pass offense to go after the Giants. I see Green-Ellis getting more reps as the game progresses should the Patriots have a lead they need to close out.
Stat Prediction: 30 yards.
New England Patriots Wide Receivers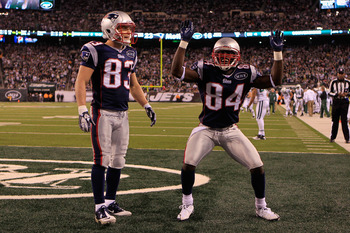 Chris Trotman/Getty Images
While the big story this year has been the Patriots' dynamic tight ends, it would be a mistake for the Giants to give too much room to the Patriots' wide receivers. They're smart, run great routes and have solid hands.
He may not be the flashiest receiver around, but Wes Welker's 1569 yards this season was a personal best (he also had 9 regular season touchdowns).
Wes Welker
Stat Prediction: 100 yards, 1 TD.
Deion Branch
Stat Prediction: 40 yards.
Julian Edleman
Stat Prediction: 25 yards.
New England Tight Ends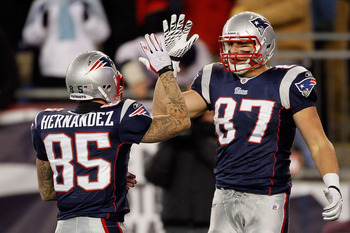 Jim Rogash/Getty Images
You can't talk about the Patriots offense without talking about their tight ends. Rob Gronkowski and Aaron Hernandez have been a winning combination for the Patriots and their quarterback Tom Brady.
While the Giants do have some strength at the linebacker position, I don't think it'd be too big of a surprise to see each of them go off for solid numbers.
However, this prediction could need revision depending on Gronkowski's status for Super Bowl Sunday. He sustained a nasty leg injury Sunday when he was tackled by the Baltimore Ravens Bernard Pollard.
Rob Gronkowski
Stat Prediction: 110 yards, 1 TD.
Aaron Hernandez
Stat Prediction: 75 yards, 1 TD.
K Stephen Gostkowski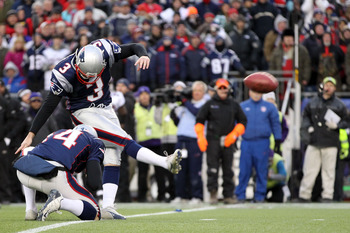 Jim Rogash/Getty Images
Kicker Stephen Gostkowski should be just fine in the comforts of the great indoors. Should he get decent field position to take some kicks, the Patriots should be happy with the results they receive.
Stat Prediction: 2/2 FGs.
Keep Reading