Los Angeles Lakers: Why Mike Brown's Offensive Philosophy Is Offensive
January 23, 2012

Mike Ehrmann/Getty Images
Can someone please explain to me what a Mike Brown offensive philosophy looks like?
The Los Angeles Lakers have now played 18 of their 66-game schedule. A very pedestrian record of 10-8 includes a number of games where the offense sputters badly. In two recent contests, the Lakers had one quarter (Dallas) where they scored seven and another (Orlando on Friday) where they rang it up for a whopping 10.
This is not entirely the fault of Brown and his coaching staff—though I would put the number at about 75 percent. The team often appears out of sync, as if it's in a perpetual cloud. It makes you wonder if they know the regular season actually started on Christmas day.
Up until the Mike Brown era, the Lakers never had seemed to have a problem scoring points. It was the defense that continually let them down. And that was one of the main reasons the Buss family picked Brown to coach the team following the retirement of Phil Jackson.
It was a mistake then and it is a mistake still. Following their 98-96 loss Sunday night at home against Indiana, the Lakers have not scored 100 points in 11 consecutive games.  It's no coincidence that the coaching philosophy, or lack of one, is at the center of this malaise.
You listen to the players talk after games and most say they are still learning the new "system", trying to find their way and that the scoring will come. They all support Brown—at least publicly.
Brown keeps saying the team just needs to keep working, keep moving without the ball, setting screens and taking high percentage shots. And all will be well.  "We showed some improvements (offensively) from the last few games and we're going to get better," Brown said to reporters at his press conference after the Indiana loss.
I, for one, am hard pressed to see that improvement in their offensive schemes.  As one recent comment stressed what a number of Lakers' fans are thinking and saying: "I don't think they're even learning an offensive scheme. Mike Brown is known for letting you do whatever you want on offense if you do what he wants on defense."
Andrew Bynum seemed befuddled by it all, telling Mike Bresnahan of the Los Angeles Times after the loss to Orlando: "We were always able to score. Most of the time, it was our defense letting us down. We'd give up 110, 115 points, but now we're playing pretty solid 'D' and we're just struggling to score."
Kobe Bryant told Bresnahan after the loss Friday in Orlando: "We're struggling offensively, no question about it. We've just got to keep shooting."
To his defense, Brown was dealt this hand. Management has not done a great job of upgrading the team that got swept by Dallas in last year's Western Conference Semifinals. Had the deal for Chris Paul gone through, the Lakers' backcourt and offensive schemes might be looking a whole lot better than they do now, although they would have a big hole on the front line with Gasol and Odom gone. 
Can you imagine how much better offensively the Lakers would be if Lamar Odom and Shannon Brown were still with them?
And there is absolutely no sound reason for either of those former Lakers to be former Lakers.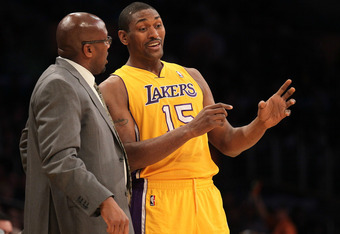 Stephen Dunn/Getty Images
Odom and Brown contributed 23.1 points, 4.2 assists and 10 rebounds per game coming off of the bench. Now the bench is "led" by Metta World Peace, and may in fact be the least productive second unit in the entire league.
Heading into last night's game, MWP was shooting just 32 percent from the field and an atrocious 12 percent from beyond the arc. Prior to his injury, backup point guard Steve Blake was averaging 7.3 points, meaning the duo is under performing by about half of what Odom and Brown accomplished last season.
I think there are two factors at work here that is making the Lakers look so pathetic on offense: They have not yet bought into a Brown ideology that appears to encompass a traditional offense with not of lot of set plays and the team itself has been exposed for a lack of speed, outside shooting and general floor leadership.
Pau Gasol appears lost in the Mike Brown offense. As one of the league's best passing big men, he was the perfect player for the triangle offense of Jackson and Tex Winter, which called for continual player and ball movement. Under the Brown system, Gasol's passes are falling into the hands of the opposition way too many times. 
Bryant is averaging 38 minutes a game, which is a sign he is being mismanaged. At 33 years old and with some very intense nagging injuries to his wrist in particular, Bryant is being leaned on way too much—and so far that plan is not working.
Though he leads the NBA in scoring at 30.4 points per game on 45 percent shooting (27 percent from three point range), Kobe needs help in the form of better offensive play from his teammates. It's that simple.
So is there a way out of this mess or will the Lakers continue to struggle for points and victories? 
They play six of their next eight games on the road, with one six-game stretch in February that takes them through Denver, Utah, Philadelphia, Boston, New York and Toronto.
Following their loss last night, the players expressed frustration with their play. Andrew Bynum told Dave McMenamin of ESPN.com: "We've got defensive issues and offensive issues and we're not being efficient, so that kind of hurts." 
A 10-8 record, an inefficient offense, lack of depth on the bench and a general ineptitude are fueling a very uneasy feeling at the Staples Center. If Brown is unable to right this listing ship soon, we may soon see some very big changes.