Panama vs USA: Previewing the Americans' Friendly in Panama City
January 25, 2012

J. Meric/Getty Images
Last summer, the United States lost 2-1 in the group stage of the CONCACAF Gold Cup to an upstart Panama squad.
Two early goals from Panama against a shaky American defense led the way for Panama to win the match and finish on top of the group.
Even though the Americans were able to exact some revenge on Panama with a win in the semifinals, the loss continued to sting the Americans. It is the only time that the Yanks had ever lost in group stage play in a tournament that is always staged in the United States.
This loss certainly was a contributing factor in then-manager Bob Bradley getting sacked after the tournament.
Tonight, the United States national team will get a new chance to succeed against Panama with a friendly in Panama City.
These sides have faced each other quite a few times over the past several years. Here are the scores of their last five matches:
United States 1 Panama 0 (June 22, 2011 - Gold Cup semifinal)
United States 1 Panama 2 (June 11, 2011 - Gold Cup group stage)
United States 2 Panama 1 AET (July 18, 2009 - Gold Cup quarterfinal)
United States 2 Panama 1 (June 16, 2007 - Gold Cup quarterfinal)
United States 2 Panama 0 (Oct 12, 2005 - World Cup qualifier)
Outside of the one loss that the Untied States had against Panama in the Gold Cup last year, the Yanks have never lost to Panama.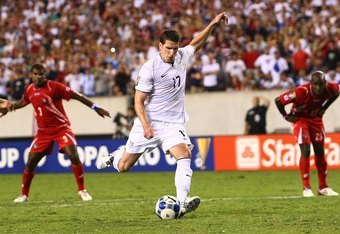 Chris McGrath/Getty Images
Panama news:
For Panama, they will not be using many of their best players for this match.
There will be only three of the starters that beat the Americans back in early June—Blas Perez, Carlos Rodriguez and Eduardo Dasent.
Manager Julio Dely Valdes has decided to bring in a squad filled with players on the U-23 team into the roster for this friendly instead of having many regulars play, mainly due to the fact that thee players are now playing for their club teams.
This is also the first match for Panama in any competition since their 3-0 win over Dominica during World Cup qualifying last November.
United States news:

After defeating Venezuela 1-0 last Saturday, the United States will now travel to their first match in Panama since June 2005.
Much like Panama, the United States are not using their first team in this match. However, there are still many players on this squad that will be participating in the 2014 World Cup.
In other national team news, it has been announced that national team defender Tim Ream will be joining Bolton Wanderers after getting his work permit approved.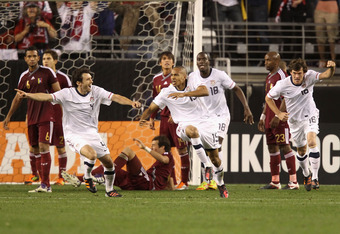 Christian Petersen/Getty Images
Panama key players:
Despite not having many of their regular starters, Blas Perez will still play for Panama in this friendly. Perez is one of the top players to ever play for Panama and has played all throughout the world, scoring plenty of goals for whatever club he has played for.
This upcoming season, Perez will be playing in MLS for FC Dallas. It's a move that could turn out to be brilliant pickup, assuming that Perez can replicated his form with Panama.
Perez has experience scoring against the United States—tallying two of his 22 international goals against the Yanks—and could easily be the most dangerous man on the pitch.
United States key players:
The United States may be without many of their starters, but they do have midfielder Brek Shea, who has continued to start under Jurgen Klinsmann since the German took the reigns of the national team.
Shea has been expected to become a star for the Americans throughout their matches since his call-up, yet the Texan has not fully performed up to expectations.
Many American fans want the U.S. to win this match, meaning that this will be a very important game for players such as Shea. If he performs well, he will be fully accepted by all fans.
Prediction:
Historically, Central America is one of the toughest places to play for the United States. There have been stories of players having to deal with hostile crowds and conditions during World Cup qualifying.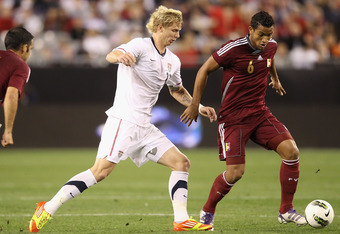 Christian Petersen/Getty Images
For many of these players, this will be the toughest match that they will have ever participated in during their young careers. The environment in Panama will be explosive and could easily intimidate these players.
The United States has only conceded once in Panama, back in September 2004 during a World Cup qualifier. The Yanks came back in the dying moments of stoppage time on a Cobi Jones equalizer to take a point from that match.
Fortunately for the United States, they are not facing a Panamanian side that is at full strength. This match certainly will be a learning experience for these young players.
That learning curve is the reason why I don't think that either side will win this friendly. 
Panama 1 United States 1
Follow me on Twitter @Andrew_Jordan