Transfer Update: Tim Ream to Officially Join Bolton Wanderers
January 23, 2012

Andy Marlin/Getty Images
Tim Ream is one of the rising stars of the United States national team, and today the 24-year-old Missouri native will move to Bolton Wanderers after getting his work permit approved, according to BBC.
Throughout the last two years, Ream has been a starting defender with the New York Red Bulls of MLS, where he has helped the club reach the playoffs twice.
Last season, Ream had struggles with teammate Rafa Marquez in defense and only started to look better at the end of the season once Marquez was moved up to midfield.
Ream also had struggles with the national team, costing the Yanks by allowing crucial goals from Panama and Ecuador following some poor play in 2011.
This poor play did not disturb Bolton manager Owen Coyle, who viewed Ream as a potential replacement for English defender Gary Cahill, who has since moved to Chelsea.
At the end of last season, it was rumored that Ream was getting scouted by Arsenal, though the London club never did take him up on any sort of move.
Ream had spent the past several weeks with Bolton, originally training with the club in order to help keep up his fitness during this offseason. Since Cahill left, Ream has stayed with Bolton and has been with the club watching their last two matches against Manchester United and Liverpool.
During Bolton's 3-1 win against Liverpool this past weekend, Ream was joined in the stands by fellow MLS star Sébastien Le Toux, who is also rumored to join the club on a transfer in the coming days.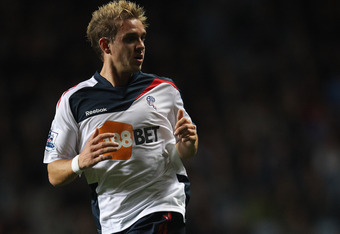 Michael Steele/Getty Images
Bolton already have another American player in Stuart Holden among their ranks. However, Holden has nearly missed this entire season due to a knee injury he suffered in September.
Following last weekend's win, Bolton have moved up to 17th in the table, which puts them just above the Premier League drop zone. Bolton have also conceded the most goals in the Premier League so far this season with 47.
Ream will be expected to help Bolton avoid the relegation zone and perform better than he did at the end of last season.
It is also expected that the Red Bulls will pick up Wilman Conde to replace Ream. This move is expected to be announced at the end of the week.
Follow me on Twitter @Andrew_Jordan