NBA Trade Speculation: Cavaliers Should Trade Antawn Jamison Before the Deadline
January 23, 2012

Mike Ehrmann/Getty Images
A veteran with two All-Star selections, who won the NBA Sixth Man of the Year award and who still shows the ability to compete at a high level, would seem like just the kind of player a team would want as a piece of a winning puzzle.
The Cleveland Cavaliers have a player with those qualifications in Antawn Jamison, but for the Cavaliers, Jamison just doesn't fit their puzzle.
Antawn Jamison is a player who has consistently been one of the best players on every team he's ever been on. In 1995, he was named Mr. Basketball in North Carolina. He was so good at the University of North Carolina, his jersey hangs in the rafters right next to Michael Jordan's.
Throughout his NBA career, Jamison has been the model of consistency. He has averaged nearly 20 points and eight rebounds per game, all while playing a very tricky, unorthodox style of offense.
At 35 years old, Jamison is still a threat on the offensive end of the court. When he gets into the post and uses either his famous scoop shot, or one of his many other moves, Jamison is still one of the best at putting the ball in the hoop. 
So what's wrong with Jamison and his affiliation with the Cavaliers?
There are several different answers to this question. First and foremost, the Cavaliers desperately need to establish some toughness near the hoop, and one thing Jamison doesn't bring to the table is toughness.
At this point, the Cavaliers don't have a big man on the roster who can use his size and strength to impact games. Jamison starts alongside Anderson Varejao, a player who relies on his craftiness and finesse. The two of them together don't form a very physically daunting frontcourt.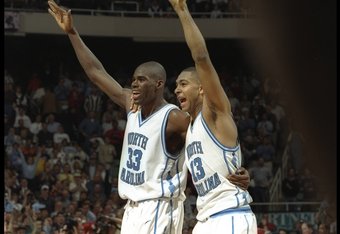 Doug Pensinger/Getty Images
The Cavaliers' next roster hole to fill should be a player who can replace Jamison and who can physically take a game over in the post.
The Cavaliers have seen several players like that so far this season. Al Jefferson and Paul Millsap in Utah, Kevin Love in Minnesota, David West in Indiana, LaMarcus Aldridge in Portland and obviously Pau Gasol and Andrew Bynum in Los Angeles are all players who can combine skill, size and strength to help their teams win.
Antawn Jamison has seemingly no interest in playing a physical style of basketball for the Cavaliers. While he is still skilled in the post, he seems much more interested in playing as a perimeter scorer, something he's not nearly as good at.
A career 34 percent three-point shooter, Jamison insists on shooting more than four three-pointers per game. Not only does that hurt the team's scoring, but it also eliminates the team's power forward from getting offensive rebounds.
Jamison is also one of the worst defensive power forwards in the NBA. His lack of size and strength make him an easy target that other team's always like to attack.
Players like Kevin Garnett and Al Jefferson make a living playing the Cavaliers by facing up against Jamison and shooting over him. Other players, like Amare Stoudemire, are able to just push Jamison around in the post and get easy layup or dunk attempts.
The Cavaliers have taken a step in improving the interior defense by drafting Tristan Thompson, who has been spectacular on the defensive end of the floor so far this season. The team needs to continue to bring in players who want to play physical in the post, and to do that, they need to start getting rid of some players who don't want to play that way. Clearly, Jamison is one of those players.
Antawn Jamison has been a surprisingly good role model for this young team. Not that Jamison has ever been a negative influence on teams he was on in the past, but it would almost be expected of a veteran who gets stuck on a rebuilding team to mentally check out and sulk in his unenviable position. According to locker room insiders, Jamison hasn't done that.
However, the Cavaliers are in a position now where they need to be drafting and signing talented players. Veteran role models are great to have on a good team, but a team that isn't good needs to find guys who will improve the overall ability of the team to compete on the court.
The last reason the Cavaliers should trade Antawn Jamison before the deadline is because he's still playing well enough to actually bring the team some kind of return.
There are plenty of teams out there that will want a player like Jamison to come off the bench and provide a scoring spark. In that role, Jamison could become rejuvenated and start playing up to a level he played at a few years ago.
No, the Cavaliers are probably not going to acquire a first-round pick for Jamison, nor will they receive a star player. But they can use Jamison to either acquire more draft picks, or to get a player who can contribute on a young team trying to win games. There will certainly be teams out there willing to consider Jamison at a good price for the Cavaliers.
Antawn Jamison continues to show that he can still be a contributor in the NBA. It's time for the Cavaliers to use that and cut ties with a player who was, at one time, thought to be the missing piece on a championship team. It's time for the Cavaliers to trade Antawn Jamison.