New York Giants vs. New England Patriots: Definitive Guide for Super Bowl 2012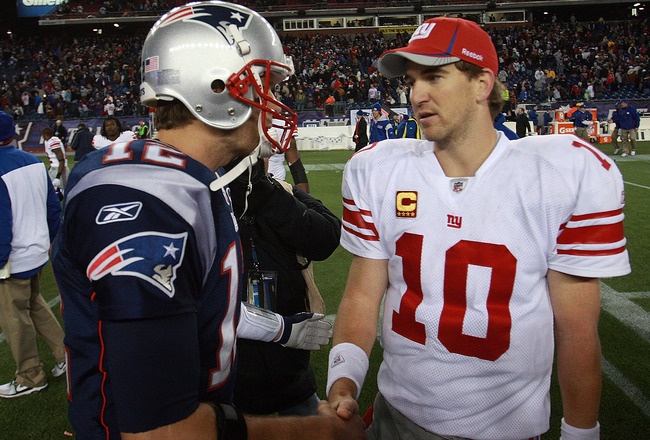 Jim Rogash/Getty Images
Super Bowl XLVI will feature the New York Giants and the New England Patriots.
Not only is this a rematch of their Week 9 matchup, which the Giants won; more importantly, this is a rematch of the classic Super Bowl XLII.
Both the AFC and NFC championship games were extremely exciting, as each game was won by only three points.
Here is everything you need to know about Super Bowl XLVI.
When and Where Is Super Bowl XLVI?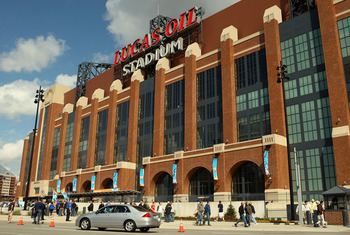 Jonathan Daniel/Getty Images
Here's some basic information about Super Bowl XLVI.
When: Feb. 5, 2012
What Time Is Kickoff: 6:30 p.m. Eastern Standard Time/5:30 p.m. Central Standard Time
Where: Indianapolis, Ind., Lucas Oil Stadium
Halftime Show: Madonna (and probably 30 other famous musicians will just show up on stage)
How the New York Giants Got Here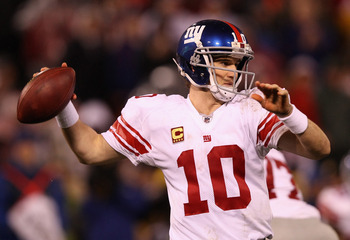 Ezra Shaw/Getty Images
Wild Card Round: Defeated Atlanta Falcons, 24-2
This was a big win for the New York Giants because of how they limped into the postseason. They established their dominant defense and showed that they were a legitimate Super Bowl contender.
Divisional Round: Defeated Green Bay Packers, 37-20
There weren't many people who thought that the Giants were going to be able to take down the Green Bay Packers on the road. However, they went in, brought the pressure and came away with a dominating performance.
Championship Game: Defeated San Francisco 49ers, 20-17
This was an instant classic playoff game between the Giants and 49ers. Eli Manning proved to be the most clutch Manning quarterback in the NFL with the overtime victory.
A late fumble on a punt return was the final nail in the coffin for San Francisco, and now the Giants get the New England Patriots in a rematch of Super Bowl XLII.
How the New England Patriots Got Here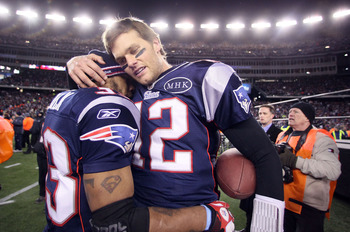 Elsa/Getty Images
Divisional Round: Defeated Denver Broncos, 45-10
This was supposed to be a close game simply because of the one and only Tim Tebow. However, Tom Brady and Rob Gronkowski wouldn't have any of it, as the Patriots dominated from the first snap.
Championship Game: Defeated Baltimore Ravens, 23-20
I'm sure the New England Patriots will be sending plenty of "Thank You" cards to Billy Cundiff thanks to his missed 32-yard field goal.
They proved in this victory that they can not only beat a winning team, but that they can also win a defensive battle.
Brady and co. looked extremely focused as they finally got back to the Super Bowl.
New York Offensively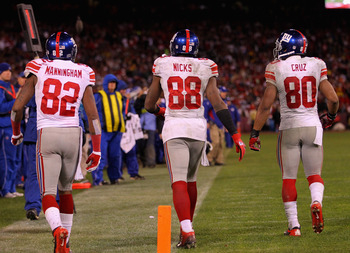 Doug Pensinger/Getty Images
The New York Giants offense is run through Eli Manning and their aerial game.
With the trio of Mario Manningham, Hakeem Nicks and Victor Cruz, the Giants receiving corps is one of the deepest and most talented units in the entire NFL.
Even though they lean heavily on their passing game, the Giants can also move the ball on the ground with Ahmad Bradshaw and Brandon Jacobs. They are two tough running backs who know how to pick up yards when necessary.
However, look for the Giants to throw the ball early and often against the New England Patriots.
New England Offensively
Jim Rogash/Getty Images
Much like the New York Giants, the New England Patriots depend heavily on their passing game.
Tom Brady continues to prove that he's still the best quarterback in the NFL. His top targets are Wes Welker, Aaron Hernandez and Rob Gronkowski, and that trio is extremely difficult to slow down.
They have a running back by committee and can be pretty successful at moving the ball on the ground. BenJarvus Green-Ellis will likely receive the majority of the carries, but Danny Woodhead and Hernandez will also get some touches.
Something interesting to watch when New England steps on the field offensively is whether it goes to a no-huddle offense. That could give it quite the advantage.
New York Defensively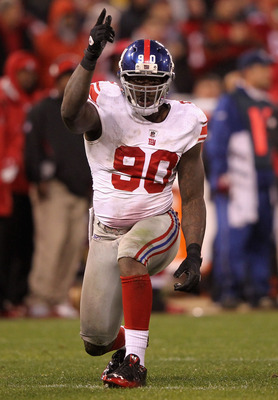 Jamie Squire/Getty Images
The way that the New York Giants want to beat a team defensively is by putting pressure on the quarterback.
They absolutely excel in this area with players like Justin Tuck, Jason Pierre-Paul and Osi Umenyiora being able to continuously pressure quarterbacks.
Their secondary has been playing much better in the playoffs. They've done a great job shutting down talented quarterbacks and receiving corps.
This is a complete defensive team that beats opponents by getting pressure, forcing poor throws and getting turnovers.
New England Defensively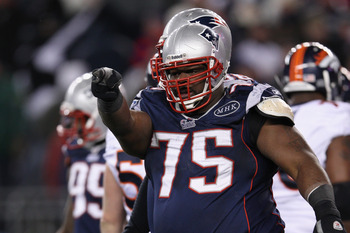 Elsa/Getty Images
Even though the New England Patriots had one of the worst defenses during the regular season, they've really picked up their efforts in the playoffs.
Their run defense has been extremely impressive, and that is mostly due to the outstanding play of Vince Wilfork in the middle of the group. He's been an anchor for this unit as they've improved as a group.
Against the pass, the Patriots still struggle. They've been rather lucky to go up against two rather pedestrian pass offenses in their two playoff games because both teams were unable to expose this group's shortcomings.
They haven't faced an offense like the New York Giants yet this postseason, and it will be a good test to see how far this unit has really come.
Key Players for New York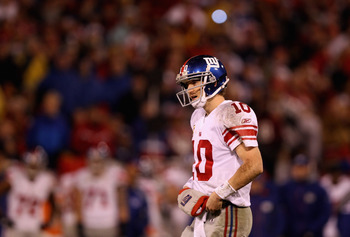 Ezra Shaw/Getty Images
The New York Giants depend on numerous players on both sides of the ball, but in this matchup there will be a few players that will absolutely need to step up their game to get the victory.
The first player is none other than Eli Manning. He's got a chance to overtake his older brother as the best Manning in the family. If the Giants want to have any chance at winning this game, they're going to need the absolute best from Manning.
Another player to watch for the Giants is up-and-comer Victor Cruz. He had 10 receptions for 142 yards against the San Francisco 49ers, and he has established himself as Manning's top target in a talented receiving corps.
The last key player for New York is Jason Pierre-Paul. Pierre-Paul is going to need to get pressure on Tom Brady on a consistent basis for the Giants to slow down the high-powered offense of the New England Patriots.
Key Players for New England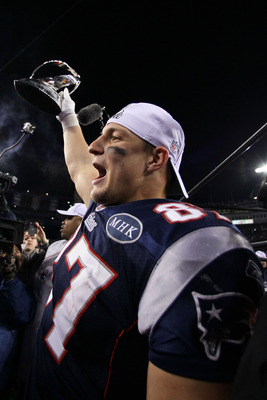 Elsa/Getty Images
There's really only one key player for the New England Patriots, and that is Tom Brady. If Brady is on top of his game, the Patriots have the ability to beat anyone. However, if Brady struggles, it will be extremely difficult for New England to win this game.
Two other players to watch are Rob Gronkowski and Aaron Hernandez. We all know how dynamic and unstoppable these two tight ends are for New England. The New York Giants are going to need to figure out how to slow down these two players to stay in the game.
Vince Wilfork will be another key player to watch for the Patriots. If he can make plays in the backfield of New York, he could singlehandedly slow down the Giants offense.
Key Statistic for New York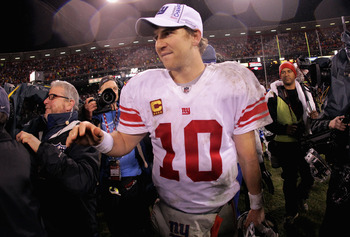 Doug Pensinger/Getty Images
Key Statistic: 50 Pass Attempts For Eli Manning
Against the San Francisco 49ers, Manning had 58 pass attempts. Sure, he only completed 55 percent of those passes, but the fact that he threw the ball that many times is what is important.
The New York Giants are going to win this game through the air, and if Manning is getting 50 or more opportunities to move the ball through the air, they'll likely win this game.
Key Statistic for New England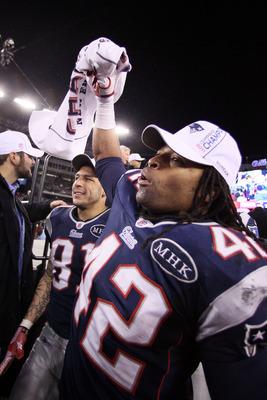 Elsa/Getty Images
Key Statistic: 100-Plus Rushing Yards
We all know how good Tom Brady and his receivers are, so the key statistic for the New England Patriots is whether they'll crack the century mark with rushing yards.
They finished with 96 yards against the Baltimore Ravens, but to beat the New York Giants they'll need even more production on the ground.
Final Prediction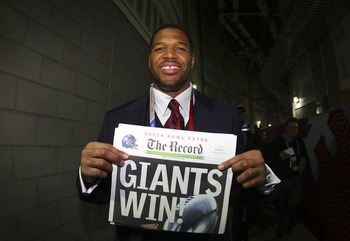 Donald Miralle/Getty Images
As cliché as this is going to sound, and as much as we're going to hear this for the next two weeks, I have to say that this year's New York Giants look very similar to the 2007 Giants that won the Super Bowl over the undefeated New England Patriots.
In fact, they look like an even better team on both sides of the ball. While it's hard to go against Tom Brady, especially with how focused he looks, the Giants simply look like the better team.
It's going to be a shootout, with both teams scoring plenty of points. Eli Manning is going to lead another late scoring drive down the field to ensure a victory.
There will be no David Tyree-type catch, but Victor Cruz will make some crucial third-down receptions to take home Super Bowl MVP honors.
Final Score: New York 31, New England 27
Keep Reading