Terrelle Pryor: Should the Oakland Raiders Begin Evaluating Him?
January 22, 2012

Mike Ehrmann/Getty Images
First, let me just say that I know that Carson Palmer will be the starting quarterback for the Oakland Raiders in 2012. New general manager Reggie McKenzie said there will be competition at every position heading into the future, but it is hard to believe that that Terrelle Pryor, the only current quarterback on this roster, can beat Palmer.
That is not the point of this article.
The point is that the Raiders have to find a quarterback that they can invest the future of their franchise in, and it can't be in a 32-year-old signal caller. Is it a stretch to believe that the future of the Raiders can be Terrelle Pryor?
When Al Davis drafted Pryor in the third round of the 2011 NFL Supplemental Draft, it was clear that he was thinking of the future of his franchise. Despite his optimism in then-starting quarterback Jason Campbell, Davis had to find a quarterback that gave the team a certain amount of upside. Pryor arguably was the best option.
When looking at the rest of the NFL, you could certainly see why Davis made this investment. A vast number of teams have drafted young quarterbacks that they believe can be the future of their organizations. Though the Raiders have had a poor track record of grooming their own drafted signal-caller, time was running out on finding a project quarterback.
When Jason Campbell suffered his season ending shoulder injury, the Raiders gave up the king's ransom in a blockbuster trade for Carson Palmer, just 10 days after the death of their owner.
Lets focus on that for a bit.
The Raiders were on a playoff pace sitting at a 4-2 record. Palmer was the only quarterback that would keep the Raiders on that pace. Pryor, coming off an unjust suspension, was an option, just was not ready to handle the NFL game. I won't even mention the option of Kyle Boller.
The decision to trade for Palmer made sense if it meant a playoff berth, but because it did not, now the Raiders are in a difficult position to improve their team through the NFL Draft.
Fast forward to the present, general manager Reggie McKenzie has wiped this coaching staff clean and is focusing on the future of the team. Can the Raiders do that without a true quarterback of the future? Recent history would suggest no.
Why do I believe Pryor can be that quarterback? It is actually quite simple.
I won't mention current athletic quarterbacks like Cam Newton, Tim Tebow, or NFL Draft prospect Robert Griffin III. Honestly, I see Pryor being closer to a faster Ben Roethlisberger when his maturation process concludes.
The first reason is his upside as a quarterback. He is not the most polished pocket passer, but he does have a strong track record in winning football games at a high level. That is something the Raiders have not had in a young quarterback in quite some time.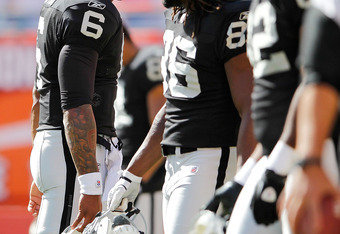 Mike Ehrmann/Getty Images
Second, I think he has a chip on his shoulder to prove that not only is he an NFL-caliber quarterback, but that he can do so for a long period of time. All the critics have suggested he move to a different position, and I think it has insulted him.
I also think Pryor is trying to show his doubters that he will not be defined for his violation of the NCAA.
Another reason why I believe Pryor can be the future that his personality fits this team. With Palmer, I saw this offense move with better efficiency, but not chemistry. Maybe with a full offseason, that changes, but as of now, I just believe Pryor has a better chance of meshing with this current young offense.
I may be wrong, it wouldn't be the first time. But if Pryor does not at least get a chance, then who does? I firmly believe that Palmer's desire to come back to football had a lot to do with playing for Hue Jackson. But now that he is gone, does that change?
If Palmer gets injured and Pryor or any other quarterback leads the Raiders to the playoffs or deep into the playoffs, who is to say Palmer does not quit on the Raiders? He did it once.
If Terrelle Pryor is not the future of this organization, then the Raiders will likely be in what I am calling the Matt Barkley and Landry Jones sweepstakes in 2013. Then, this franchise "reboot" will officially become a "rebuild."
Those are my thoughts on the Raiders future quarterback plans. Give me your opinion.