Peyton Manning: Future Hall of Fame QB Would Be a Terrible Fit with Cardinals
January 22, 2012

Andy Lyons/Getty Images
Current Indianapolis Colt and future Hall of Fame quarterback Peyton Manning would be a terrible fit in the desert with the struggling Arizona Cardinals.
According to ESPN's Adam Schefter and multiple other sources, Cardinals management is interested in No. 18 and would look to sign him if he is let out of his contract with the Colts. 
NFL writer Evan Silva didn't hesitate to break the news on his Twitter account either.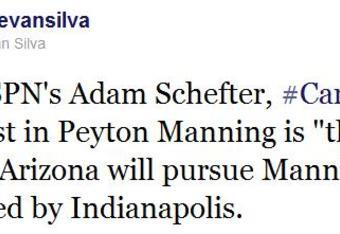 As good as that potential deal sounds for the Cardinals, who have been irrelevant since losing Kurt Warner to retirement two seasons ago, it would be a near death sentence for the 35-year-old Manning.
The Cardinals have allowed 104 sacks in the past two seasons since Warner left them stranded under center without a proven option. Only the St. Louis Rams allowed more sacks in 2011 than the Cardinals, who gave up 54 with three different quarterbacks.
Original starter Kevin Kolb was sacked 30 times in just nine games and suffered a concussion late in the season. Kolb was sacked a total of 18 times in 19 games with the Philadelphia Eagles from 2007-10. 
Just imagine what would happen to an aging Manning behind that pathetic offensive line, not to mention the fact he is coming off serious neck surgery. One awkward sack or hit, and Manning's career could be over. Obviously, neck injuries are nothing to be taken lightly.
Sure, Manning's game is using his eyes and pump fakes to buy time in the pocket, but there will be no Jeff Saturday up front protecting him. Oh yeah, and he would have to suit up twice against the San Francisco 49ers and rookie pass-rush sensation Aldon Smith. 
The idea of Manning connecting down field with superstar wide receiver Larry Fitzgerald is enough to warrant the discussion, but at the end of the day, Arizona is simply not the best option for Manning if he is looking for a fresh start.
It's not even a matter of championship contention, but instead the prospect of playing one or two more full seasons as an NFL quarterback. If Manning and the Colts part ways, making the move to the Arizona desert would be a guaranteed flop.