NFC Championship Game 2012: 3 Keys for San Francisco 49ers to Beat Giants
January 22, 2012

Jed Jacobsohn/Getty Images
The San Francisco 49ers and New York Giants will meet in the NFC Championship Game on Sunday to decide which team will represent the NFC in the Super Bowl.
This game will feature two quarterbacks playing the best football of their lives—Alex Smith and Eli Manning are both at the top of their games right now.
The Giants have been cruising through the playoffs, so if the 49ers want to stop their momentum, there are a few things they must accomplish.
Let's take a look at the top three keys to a San Francisco victory.
Get pressure on Eli Manning
Manning has been cruising through this year's playoffs in part because no team has gotten any pressure on him.
In round one, the Atlanta Falcons didn't trouble him much in the pocket and neither did the Green Bay Packers in round two.
If the 49ers want to avoid being the third team eliminated by New York, they need to get pressure on the quarterback.
With Justin Smith and Aldon Smith along the defensive line for San Francisco, they are in a much better position to keep Manning uncomfortable.
By not letting him set his feet, they can turn Manning into just a mediocre quarterback, giving the Niners a great chance to win.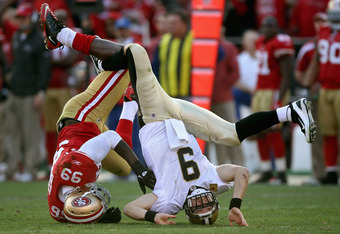 Jed Jacobsohn/Getty Images
Get Vernon Davis involved early and often
Davis is the most important part of the San Francisco offense. Everyone knows that—even the Giants.
But, despite the fact that New York will be keying on Davis all afternoon, Alex Smith still needs to find ways to get the ball to his dynamic tight end.
If Davis can be effective in the red zone, the 49ers have a great chance to beat the Giants.
Davis is a matchup nightmare and no team has a guy who can cover him well. Therefore, the Niners need to make sure they get Davis isolated against either a defensive back or a linebacker.
Then, they can take advantage of the mismatch, leading to big plays and touchdowns.
Shut down Hakeem Nicks and Victor Cruz
Nicks had 165 yards against Green Bay and Cruz had 74 yards. Nicks added two touchdown catches in New York's domination of the 15-1 Packers.
If the 49ers are going to stop New York's momentum, they need to shut down their top two receivers.
Carlos Rogers, Dashon Goldson and Tarell Brown are going to have their hands full in the secondary on Sunday afternoon.
But, if they can keep Nicks and Cruz out of the end zone and hold them to fewer than 75 yards each, San Francisco might just find themselves on their way to the Super Bowl. 
Prediction: San Francisco 24, New York 20