NFL Playoff Picks 2012: Last Minute Picks for AFC, NFC Championship Games
January 22, 2012

Al Bello/Getty Images
This is it—only four teams remain in the NFL playoffs and only two teams can advance to Super Bowl XLVI by today's end. 
At 3 p.m. at Gillette Stadium in Foxborough, Mass. we have Tom Brady and the New England Patriots playing host to Ray Lewis and the Baltimore Ravens. Then at 6:30 p.m. in San Francisco, we have Eli Manning and the New York Giants traveling cross-country to battle Vernon Davis and the San Francisco 49ers. 
All week long I have been making predictions—but let's take a look at my last-minute picks for the AFC and the NFC Championships. 
Baltimore Ravens vs. New England Patriots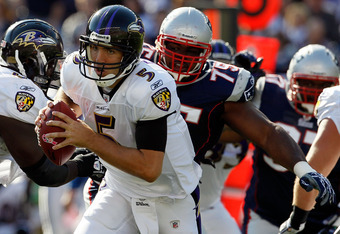 Jim Rogash/Getty Images
This is truly a battle of fire and ice: an elite and dominant defense in the Ravens and a high-scoring passing attack in the Patriots—which will prevail? 
I have been saying all week long that no matter how well Baltimore's defense plays, Tom Brady is still going to score points—there's a reason why he was voted the NFL's top player entering this season. Taking that into consideration, Brady is going to put up points and I simply have zero faith in the arm of Joe Flacco—I do not believe that he will be able to keep up. 
Final Prediction: New England 31, Baltimore 17
New York Giants vs. San Francisco 49ers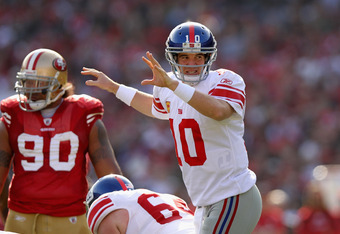 Ezra Shaw/Getty Images
In all honesty, I actually see this game as a toss-up—these two teams are so evenly matched. 
With that being said, I'm taking the team with the experience and is currently white-hot, Eli Manning and the New York Giants. 
Manning and the Giants will be playing in their second NFC Championship Game in the past four years while Jim Harbaugh's 49ers is a very young team—in the sense of playoff experience—and that will not play in their favor. 
The Giants will ride off of their success of beating the NFL's best team in the regular season a week ago, the Green Bay Packers, and will advance to Super Bowl XLVI. 
Final Prediction: New York 27, San Francisco 20 
Be sure to check out Tony Santorsa's blog: PatriotsPlus