Joe Paterno's Legacy Is Everlasting, Complicated
January 22, 2012

Kevin C. Cox/Getty Images
The sports world is mourning the loss of one of the greatest coaches we have ever seen. Joe Paterno is on the short list of the legends of coaching, in any sport, any time, anywhere.
Paterno turned a rural school in the middle-of-nowhere Pennsylvania into a national powerhouse with his special no-nonsense, East-Coast brand of moxie that helped endear him to generations of fans. The glasses, the black shoes, the white socks peeking out from a pair of slacks that were always a quarter inch too short.
For the last—what was it?—60 years, Paterno was one of the only men in all of Pennsylvania who could get the left side and right side of the commonwealth to agree on anything.
Joe Paterno was football in Pennsylvania, and now he's gone.
To anyone who followed Paterno's coaching career, it's easy to look at him as one of the greatest coaches of all time. But to many writers, editors and publishers around the country, we're stuck trying to figure out when in this legendary coach's obituary we should bring up what happened over the last few months. Whenever someone dies, it's long been the industry standard to put the key points of his life and legacy in the first paragraph. Where does the recent scandal go?
Paragraph five. Paragraph five seems about right.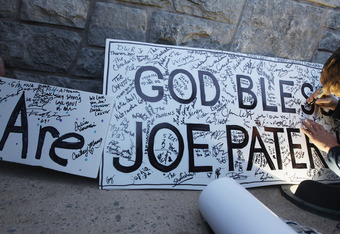 Mario Tama/Getty Images
Look, we all know why Joe Paterno was fired from a job he held longer than anyone will ever hold a job in college football for the rest of time. It's a shame the last interview the man ever did in his life had him in a wheelchair with a wig, drinking soda with crushed ice, flanked by his lawyer and image consultant to ensure he was lucid enough to properly answer questions about a former assistant who allegedly terrorized young boys under his watch. 
Make no mistake, this is an important part of Paterno's legacy, and with the timing of his death—so close to the accusations about Jerry Sandusky (and what Paterno did or did not know and do) coming out in the media—we have to discuss it. The Penn State scandal has to be part of the Paterno conversation today.
But that's not who Joe Paterno was. Paterno was so much more than a feeble old man, broken down by life and shrouded in shame. Paterno was a hero and a mentor to countless players, coaches, alumni and fans who will continue to grow his legacy in a positive way.
We remember Paterno today as he should always be remembered—a man who cared about football more than anything in the world. Paterno probably cared about football too much, and the fact that some at Penn State wanted to get rid of him many years ago certainly had a lot to do with how his last few months at Penn State were handled.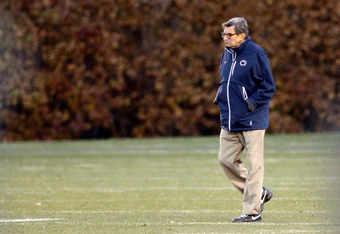 Rob Carr/Getty Images
Paterno lived football his entire life—through marriage, through kids and grandchildren—and no matter how big his family grew, it would never be as big as the family he built in Happy Valley. 
The fact is, history will judge Paterno how history judges anyone: We'll remember the good he did and hope it far outweighs his negligence or any other wrongdoings we may yet come to learn. The last few months, and what else we find out in the Sandusky case, will always be part of the conversation of Paterno's life.
I thought Joe Paterno would die on a football field one day. It can't go unsaid that that chance was taken away from him a mere month before he passed. It can't be denied that, in many ways, he took the chance away from himself.
That doesn't make it who he is. Paterno's legacy is much greater. We Are? He was…Penn State.