Why We Should All Be Praying for Joe Paterno Right Now
January 22, 2012

Jonathan Daniel/Getty Images
Regardless of what you might think of Joe Paterno, cancer is not a good thing.
If you haven't experienced it, then try going to a hospice. Or try being like me, who has a wife who has it. She spent the last two days recovering from the latest bout of chemotherapy, and we're probably due another one in a few months, because let's face it—this thing's not going away.
Or you could be like my uncle, who's unconscious in a Hong Kong hospital trying to mend his bone marrow, which has been destroyed by the chemotherapy that itself is trying to destroy the liver cancer that attacked him late last week.
According to Penn Live, Paterno is gravely ill. The lung cancer that they found just after he collapsed after being fired at Penn State hasn't gotten better (and the chemotherapy hasn't made any difference). According to the Penn State blog Onward State, the family is rushing to be at JoePa's side after the respirator was turned off.
The candles are being lit outside his statue in front of Beaver Stadium, and everyone's preparing for life after the legend. Twitter's red-hot with people asking to pray for him, and we should also remember
Sue, Scott, Jay and the rest of the Paterno clan, but there are some out there screaming that this is karma for what happened. If you're one of those people, then you've either never experienced cancer first hand, second hand, or you're heartless and/or self-righteous.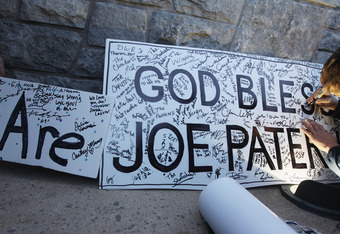 Mario Tama/Getty Images
Joe Paterno is a human being like everyone else. He's someone's husband, someone's father, someone's grandfather, and was someone's coach. And he'll be missed.