San Francisco 49ers vs. New York Giants: NFC Championship Eve 2012
January 21, 2012

Thearon W. Henderson/Getty Images
You know the feeling. 
That anticipation on Christmas Eve as you prepare for the morrow. 
Wanting to fall asleep, so the night fast-forwards to morning, but knowing you won't catch a minute of sleep. 
Then when you finally crawl, not jump because you had too many cookies, into bed your mind becomes a bumbling weatherman forecasting the next day's events. 
Tossing and turning as the gifts wait under the tree to be unwrapped by impatient hands. 
The surprise you didn't expect. Mom and Dad always were more clutch than Jordan.  
Disappointment in receiving socks, again. Thanks Grandpa and Grandma. 
It's the expectations that make it the best because, let's face it, reality can often be the worst present. 
Once again, more socks? 
Today, on the Eve of the NFC Championship between the San Francisco 49ers and New York Giants, those feelings have returned. 
Stronger than ever.
The anticipation as you look forward to an evenly-matched game.  
Wanting kickoff to start now, but knowing you'll just have to imagine all the possible outcomes until then.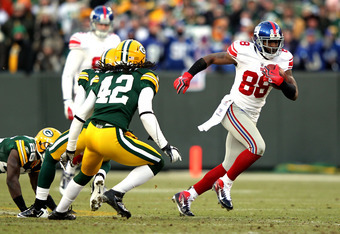 Jamie Squire/Getty Images
A fake punt for a touchdown. Oh boy, Jim Harbaugh is a genius.  
Disappointment in a costly fumble. Nooooooo!
That same weatherman, in his wrinkled Van Heusen and unkempt hair, is spewing more predictions, but will they come to fruition?
All we have right now are mere speculations based on already gathered evidence: 
The 49ers have a stingy defense, efficient offense and superior special teams. Quarterback Alex Smith is playing at an elite level and defensive end Justin Smith continues to dominate. 
They are the most balanced team in the NFL and fully deserving of their 14-3 record and No. 2 seed. 
The Giants hit a midseason bump with four consecutive losses, but recovered to qualify for the playoffs and advance to within a game of the Super Bowl. Last week, they stunned the world by crushing the Green Bay Packers 37-20 at Lambeau Field. 
With Eli Manning and a solid defense featuring Jason Pierre-Paul, the Giants, whether at home or on the road, are a dangerous team. 
When the game finally starts all our expectations will become a reality. Good or bad. 
At least one thing is a guarantee: it will be more exciting than socks.