Bruce Arians: Why It Was Time for Steelers Offensive Coordinator to Go
January 21, 2012

Gregory Shamus/Getty Images
I never have been a Bruce Arians basher, and I'm not going to turn into one now.
Nonetheless, I think it was time for a change at offensive coordinator for the Pittsburgh Steelers.
The Steelers' spun Arians' departure Friday as a "retirement." I'm not sure I buy that.
Regardless of how it went down, there needed to be a day of reckoning after the way the Steelers' season ended two weeks ago in Denver.
I wasn't sure a new offensive coordinator was the answer. I never understood why Arians was such a whipping boy. All the Arians criticism on talk radio seemed like so much white noise to me.
In fact, I was going to write a column saying that Arians should remain as offensive coordinator because he wasn't the problem.
I still believe the latter part of that thought. However, I stopped writing that column because I can't help but get excited about the prospect of a new Steelers offensive coordinator.
The Steelers went to two Super Bowls, winning one of them, during Arians' five-year tenure as offensive coordinator. During that time, I think Arians was the man for the job. I don't think the Steelers would have raised any more Lombardi Trophies with someone else as offensive coordinator.
I just don't think they would have raised any more if Arians had stayed.
That doesn't mean I think Arians was to blame for the Steelers' demise this season. If either coordinator had any explaining to do after the Steelers' playoff loss in Denver, it was Dick LeBeau.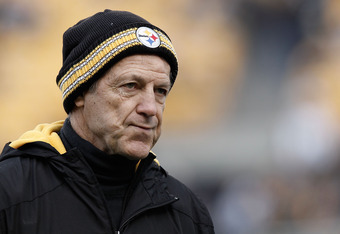 Jared Wickerham/Getty Images
Not only did the defense fall asleep at the switch in overtime, but it was slashed and gashed throughout the game by Tim Tebow, a performance made all the more embarrassing after the way the Patriots shut down Tebow last week.
That defense also could have helped out the offense a little more this season.
The Steelers forced an NFL-low 15 turnovers. Only eight teams in the history of the league had 15 or fewer takeaways in a season. Turnovers very often give an offense a short field to work with. That's not just a luxury, it's a necessity. No offense should be expected to drive 80 yards for every touchdown.
It's one of the reasons the Steelers were 21st in the NFL this season with 325 points scored, despite being 12th in the league at 372 yards per game.
However, the New Orleans Saints were second in the league with 547 points scored, and they forced just 16 turnovers.
It might behoove the Steelers to have an offense that can score points like the Saints while the aging defense waits for the younger players to develop.
That's why it's time for a new offensive coordinator, although I'm sure Ben Roethlisberger didn't want Arians to go. He's friends with Arians.
Perhaps Roethlisberger became too comfortable with his buddy running the offense. He might have needed a wake-up call, a jolt. Hopefully that jolt will make the Steelers offense more electrifying.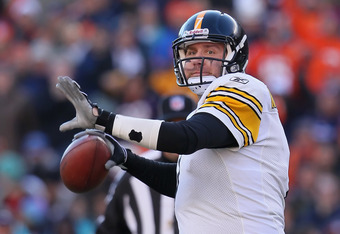 Jeff Gross/Getty Images
It's been a little frustrating how Roethlisberger never has been among the NFL's Big Three of quarterbacks. Two of those spots always have been taken up by Tom Brady and Peyton Manning.
With Manning out of the equation this season, Aaron Rodgers and Drew Brees have filled the other two seats at the Big Three table. Rodgers, Brees and Brady had the top three quarterback ratings in the 2011 regular season.
You can make a case that Roethlisberger is the best quarterback in the NFL outside of that trio, or at least among the top five quarterbacks in the NFL. Yet his passer rating was only 10th in the league.
Do you really think Tony Romo and Matthew Stafford are better than Roethlisberger? The passer ratings say they are. They were ranked fourth and fifth, respectively, in that category.
That suggests Arians could have gotten more out of Roethlisberger.
One of the knocks on Arians was that he was too pass-happy. But in an interview with WFAN Pittsburgh, former Steelers director of football operations Tom Donahoe said that if anything, the Steelers didn't throw the ball enough.
I agree with him.
Roethlisberger might never be as talented as Brady, Rodgers and Brees. But as an offense, I think the Steelers have the potential to be as powerful as the Patriots, Packers and Saints.
The Steelers have the receivers to light up the scoreboard in Mike Wallace, Antonio Brown and Emmanuel Sanders. As far as the running game goes, I think Rashard Mendenhall was holding the Steelers back. Mendenhall's injury is unfortunate. That said, I think it will be an upgrade if Isaac Redman is their starting running back next season.
Also, if the Steelers are going to be fined and suspended for the way they play defense, then they need their offense to be that much better.
One thing that will help the Steelers offense take a step forward is Roethlisberger spending more time on his feet.
In an interview with Pittsburgh reporters, Steelers president Art Rooney II said that as he turns 30, Roethlisberger needs to take fewer sacks. That's not necessarily on the offensive line. Rooney is calling for Roethlisberger to adjust his style of play.
Roethlisberger's ability to prolong plays and improvise is one of the reasons he's been so successful, but it's also one of the reasons he's been sacked 215 times since Arians took over as offensive coordinator in 2007.
Roethlisberger can't continue to be sacked 40 times a season. Eventually, one of these sacks is going to lead to a season-ending injury. The high-ankle sprain he suffered Dec. 8 against the Browns might have ended a lot of quarterbacks' seasons.
Roethlisberger's style of play doesn't need a complete overhaul, but in Rooney's words, it needs to be "tweaked" a little bit if he wants his career to last into his late 30s.
A new offensive coordinator can help with that.
I'll bet Roethlisberger will have some say regarding who the next offensive coordinator is. Still, this change could be the biggest test of Roethlisberger's maturity since his visit to Principal Goodell's office and subsequent suspension in 2010.
On the surface, it looks like Roethlisberger has changed his boorish ways. He seems to be acting more cordial toward the media, at least.
Now, with Arians gone, Big Ben isn't getting what he wants. How he handles this will be a true measure of how much he's grown up.
Hopefully, Roethlisberger is unselfish enough to realize that a shakeup is needed.
Hopefully he's mature enough to listen to what his new boss has to say.
Hopefully, he's smart enough to realize how exciting a time this can be for the Steelers offense.