NFL Playoffs 2012: Picking the Winner of Each Championship Game This Weekend
January 21, 2012

Elsa/Getty Images
Only three games remain as the clock on the NFL's 2012 postseason is moving towards what should be a dramatic finish.
Four teams are in the hunt for the Lombardi Trophy heading into the fourth weekend of January.
There's no clear-cut favorite in the public's eye. Any of these teams can come away with the two wins necessary to bring their city a World Championship in just a few short weeks.
But before there's any talk of Super Bowls, trophies and parades, there are the AFC and NFC Championship games.
I could probably flip a coin or just pick the home teams this week and have a better chance of picking the winners than I will breaking down the teams. But I'll give it a try anyways.
Baltimore Ravens vs. New England Patriots
Vegas puts the Patriots at the top of the four-team pile to win the Super Bowl with break-even odds, and names them a seven point favorite going into their rematch with the Ravens.
Just two years ago, the Ravens put a hurting on Tom Brady's and Bill Belichik's dreams of a fourth championship. I don't care what the two say about forgetting the past, that game is fresh in everyone's mind as we move closer to the weekend.
It's probably better that Belichik does remember his butt-kicking in the 2010 NFL Playoffs. The memory might serve as motivation to get out and get the job done this week.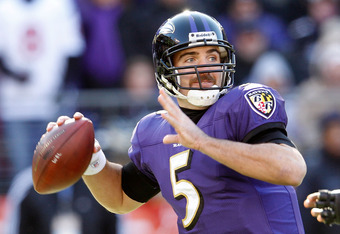 Rob Carr/Getty Images
It's high-powered offense versus dominating defense in the AFC.
Which one will bend or break first?
The Patriots are on an incredible win streak—one that makes Tim Tebow's look like child's play—and they're not looking to slow down any time soon.
The Ravens have lived out a week of name-calling and fake scuffles on their way to this all-important matchup.
Flacco this. Flacco that. Ed Reed this. Blah, blah, blah.
No matter what these teammates say about each other (or don't), this Ravens team is about to realize it should have been focusing more on its gameplan in the locker room than its smack-talk in front of the camera.
Brady is playing too well for a Flacco-led Ravens offense to keep up with. And meanwhile, the Patriots' defense is steadily improving.
This 31st-ranked overall defense in the regular season made a team that was capable of trouncing the No. 1 overall defense into a junior varsity cheer-leading squad just last week.
Flacco has managed to bring his team to the second round of the playoffs or further in each of his first four seasons in the league—that's impressive. But his championship season is yet to come.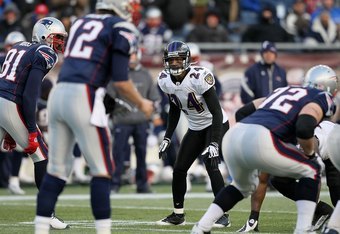 Jim Rogash/Getty Images
The Patriots are too fired-up, too focused and just too powerful to stop right now.
Patriots 31, Ravens 24
New York Giants vs. San Francisco 49ers
And I thought it was going to be hard to pick the winner of the AFC Championship?
This game has drama written all over it.
The 49ers were actually an underdog as the No. 2 seed last week at home playing the Saints.
One week later, and the Saints are watching from their couches as the 49ers host another team full of firepower on their home field.
The Giants come into Candlestick Park having played what were essentially four consecutive playoff games.
After a 6-6 start, the Giants and quasi-elite quarterback Eli Manning have put a run together comparable to that of the Patriots. Eli throws for 400 yards a game frequently, and his receivers are doing everything in their power to reenact the heroics of David Tyree in Super Bowl XLII in 2007.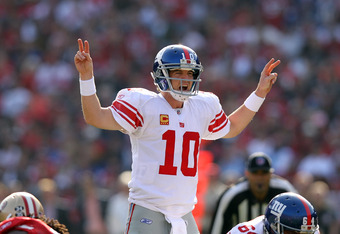 Ezra Shaw/Getty Images
They had to beat the Jets in a cross-town game that failed to live up to even half of its potential.
They needed to take down Dallas in a battle for the NFC East and a trip to the 2012 NFL Playoffs.
They had to keep Matt Ryan from earning his first career win in the postseason.
And finally, David (Eli) had to sling down Goliath (Aaron Rodgers) in one of the biggest upsets of the season just last week.
The Giants have proved they have what it takes to do everything necessary for another championship.
They'll need to keep up their winning ways against a 49ers team that doesn't allow a lot of heroics on their field.
San Francisco and Coach Jim Harbaugh have turned a quarterback with a career losing record—a former No. 1 overall pick—and a team that's long since forgotten its glory days in the mid-'90s into a powerhouse juggernaut of a team and a No. 2 seed.
Its defense is stout, its offense is well managed and its players well coached. San Francisco has all the basic elements of a championship team.
Before last week I would have said the one thing they lacked was a big playmaker. But Vernon Davis has successfully zipped me shut on this one.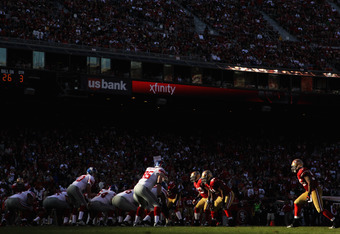 Ezra Shaw/Getty Images
Can the 49ers use their stifling defensive prowess to take a previously underachieving game-manager quarterback to the Super Bowl?
Sorry, San Fran. Not this year.
The Giants are too good of a team, and may even be my outright favorite to take it all in 2012.
Plus, who wouldn't want to see a rematch of one of the greatest Super Bowl upsets in history? I mean, aside from all the 49ers and Ravens fans, of course.
New York Giants 27, San Francisco 49ers 17
Christopher Smith is a Featured Columnist on BleacherReport.com. Follow him on Twitter at @MileHighMentor and become a fan on BleacherReport.com