NFL Playoff Picks: Spread, Straight and Over/Under
January 21, 2012

Jim Rogash/Getty Images
The divisional round of this year's NFL Playoffs came with surprising and predictable outcomes.
The powerful Patriots ended Tebow mania with a decisive victory over the Broncos that many saw from a mile away. The Ravens finished off the depleted Texans, putting an end to their first playoff run.
This brought us to an AFC championship game that many would have predicted at the outset of the postseason.
The NFC, however, didn't go quite as planned.
The 49ers, known for their defensive prowess, defeated the offensive juggernaut that is the Saints by outscoring them late in a game that will be remembered for the ages.
The Packers, who went 15-1 during the regular season, were ousted at home by the upstart Giants, who appear to be peaking at the right time.
This leads us to an NFC championship game that not many would have predicted, with the G-Men traveling to San Francisco.
I had an atrocious week, picking the AFC championship game correctly straight up, but missing all four games against the spread.  My postseason results have left much to be desired.
Here's my look at how these conference championship games will turn out, and which teams will be heading to Indy for the Super Bowl.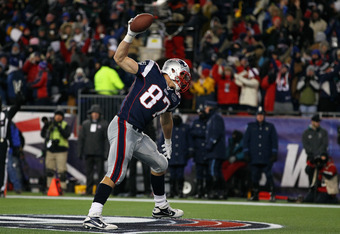 Al Bello/Getty Images
Baltimore Ravens (+7) at New England Patriots (O/U = 50.5)
In this year's AFC championship game, we find the classic matchup of offense vs. defense.
The Patriots have put up monster numbers on offense, led by a seamless Tom Brady and indefensible Rob Gronkowski.  Gronk set the tight-end touchdown record during the regular season, and didn't miss a beat in the Pats' first playoff game, scoring three touchdowns in the first half.
No team in the league seems to have figured out a recipe to stop the Pats' biggest weapon, and Brady continues to take advantage.
With an offense that has been out of this world, the Pats' defense would best be described as buried underground. Probably the worst in the league this year, they will have to hold off a Ravens' offense that didn't appear too impressive against the Texans.
After making some questionable comments during the week, Joe Flacco was ineffective against Houston. He will have to show much more gusto against the Pats for the Ravens to have any chance.
He will no doubt be looking for help from one of this season's best rushers in Ray Rice. A balanced dosage of Rice and Anquan Boldin, who always comes to play in big games, will no doubt lead to points for Baltimore.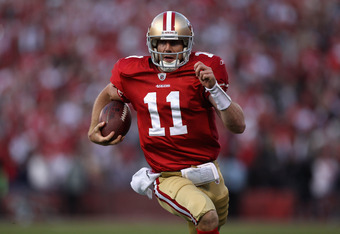 Jed Jacobsohn/Getty Images
The question is, will even their best effort be enough to take down NE's staunch attack? My guess is no.
The onslaught the Pats put on Denver shows that they have come into this postseason with serious drive. I like them to roll into the Super Bowl behind Brady and company.
Straight: New England
Spread: New England
O/U: Over
New York Giants (+2.5) at San Francisco 49ers (O/U = 42)
In a game that many, including myself, believed would be Saints vs. Packers, we are instead treated to a defensive battle. 
Both teams shocked their way into this game and have a ton of momentum. The Niners showed that their stalwart defense could not be foiled, even by arguably one of the top offenses of all time led by the record-setting numbers of Drew Brees.
Rather than cave under the pressure, the relatively inexperienced Alex Smith rose to the occasion and battled Brees blow for blow, and threw a game-winning touchdown pass with just seconds left.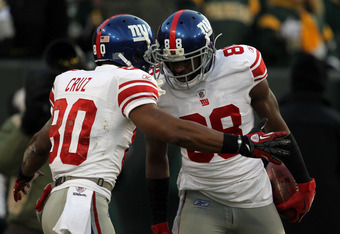 Jonathan Daniel/Getty Images
That, combined with a fundamentally sound effort on defense, has led San Francisco to its biggest game in more than a decade.
Standing in the 49ers' path is Eli Manning and the resurgent Giants. The men in blue have found their stride at the right time. They used a combination of explosive plays on offense and a rowdy defensive front to trip up the Packers at Lambeau Field.
For most of this season, many thought the Packers were destined to be this year's champions. But it's clear the Giants were not fazed by this popular opinion.
They rushed the usually calm and precise passing game of Aaron Rodgers into many poor throws, and took advantage when opportunities presented themselves.
Matched up against the bruising defense of San Francisco, it's fair to predict this one will be a hard-fought battle in the trenches.
When two great defenses are paired up against each other, it is often one or two big plays on offense that allow one team to pull out a victory.
The Giants have shown the ability to score from any spot on the field with their vaunted passing attack. They could very well hit a bomb early that makes the difference. 
At the same time, Smith left a lasting impression in leading the 49ers to their last-second victory over the Saints. He may be on pace to make another statement here.
This one is extremely tough to call, but the edge goes to the Niners in front of that home crowd.
Straight: San Francisco
Spread: San Francisco
O/U: Under
We have come down to the final three games of the season, and these two promise to provide some excitement. We have the potential to see two brothers go head-to-head in a Super Bowl for the first time. We also could find ourselves with a rematch of the memorable Giants vs. Pats Super Bowl that ended in a victory for New York. 
Perhaps one of these scenarios will play out. But even if they don't, we will surely be treated to a Super Bowl to remember. All four remaining teams bring something serious to the table.
Don't forget to come back for the final selection of the season during Super Bowl Week!