NFC Championship Game 2012: Aldon Smith and 3 Defensive Players to Watch
January 20, 2012

Thearon W. Henderson/Getty Images
The San Francisco 49ers and New York Giants will play in the 2012 NFC Championship game in San Francisco this weekend.
The game, which will be played at 6:30 Eastern time on Sunday, will decide which team goes to the Super Bowl.
In a game that is predicted to be played in rainy, muddy weather, defense is going to be critical to success.
So, let's take a look at three individual players who need to step up big if their teams are going to advance.
Aldon Smith, DE/OLB, San Francisco 49ers
Eli Manning hasn't been pressured very much this postseason. The Packers didn't do it last weekend and the Falcons didn't do it the weekend before that.
Getting in Manning's face and making him uncomfortable is going to have to be priority number one for the 49ers.
If they can get sacks and keep Manning from establishing a rhythm, the Giants won't be able to move the ball.
Smith is going to be the key factor in getting pressure. He was fifth in the NFL with 14 sacks this season and has been an absolute beast as a rookie.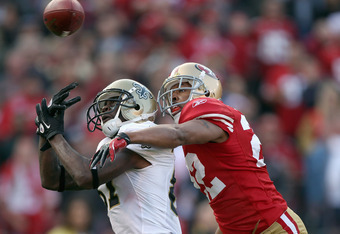 Jed Jacobsohn/Getty Images
If he can get a couple sacks, the 49ers should be able to win this game.
Carlos Rogers, CB, San Francisco 49ers
Hakeem Nicks and Victor Cruz tore apart the Packer secondary last weekend.
If the 49ers are going to have a chance to knock off the Giants, they are going to need to make sure the dynamic duo don't have a huge impact.
Rogers had six interceptions in 2011. He'll need to get another one this weekend to keep Manning flustered.
If Rogers can lock down either Nicks or Cruz by himself, that will lead to a very successful afternoon for the 49ers.
Antrel Rolle, S, New York Giants
Someone is going to have to keep Vernon Davis contained. Unfortunately for Rolle, he is that someone for the Giants.
He's going to have to stay deep and make sure Davis doesn't get by him.
If he gets caught looking into the backfield, Davis will be by him in a flash.
And, if he can't tackle Davis one-on-one, the Giants could be in for a very long day defensively.
He's going to have to perform better than Roman Harper did last weekend or Davis is going to have another big game.