San Francisco 49ers: Has Alex Smith Had Most Shocking Breakout Year in History?
January 20, 2012

Thearon W. Henderson/Getty Images
What Alex Smith and the San Francisco 49ers have accomplished in the 2011-12 season needs to be commended, but to call it the most shocking breakout season in NFL history is a bit of a stretch.
On the season, Alex Smith threw for just north of 3,100 yards and 17 touchdowns against only five interceptions en route to a 13-3 regular season record and a trip to the NFC Championship Game against the New York Giants.
Don't get me wrong, what Smith has done defies everything we've ever said about this guy.
He was a college stud that flourished at the University of Utah under Urban Meyer and played his way to the first overall draft pick in the 2005 NFL draft.
Since then, Smith has heard it all.
He's been called a draft bust and wasted talent. Basically, he's been labeled everything but a good quarterback.
Still, the most shocking breakout season ever?
No.
What he's done, albeit impressive, hasn't been all too shocking.
Alex Smith is a talented quarterback, but not many quarterbacks can attest to how difficult it is to play under seven different offensive coordinators in a seven-year career. He just needed a fit.
A fit is what he found when the 49ers hired Jim Harbaugh.
I mean, he's a quarterback's guy and an all-around players coach, and Alex Smith clearly feels comfortable around him.
All you have to do is look at Smith's body language during the game. He's more confident at the line of scrimmage, he sits in the pocket longer and doesn't become smaller with defenders bearing down upon him.
Also, if you compare his 2010 stats to his stats of this season, you will see that Alex Smith has thrown for almost 800 more yards and five fewer interceptions under Harbaugh.
Similarly to what coach Harbaugh was able to do with Andrew Luck at Stanford, he was able to aid in the progression of Alex Smith.
Is that shocking to me? Again, no.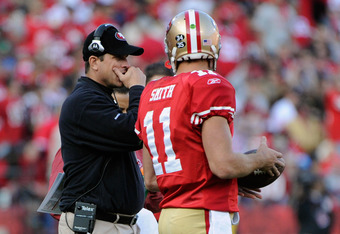 Thearon W. Henderson/Getty Images
Let's stack Alex Smith's 2011 season against Houston Texans running back, and similar breakout stud, Arian Foster.
In 2010, the three-year back out of Tennessee went for 1,616 rushing yards, 604 yards receiving and 18 total touchdowns.
Unlike Smith, Foster went undrafted in the 2009 NFL draft. However, due to injury and strong play, he ascended up the depth chart and rushed for 231 yards and three touchdowns on the opening day of the season.
The Houston Texans finished the season 6-10 and missed the playoffs.
How would you compare Alex Smith's 2011 season to Arian Foster's 2010?
Foster came from nowhere to one of the NFL's elite while Smith teetered on the thin line between asset and liability until finally coming to fruition in 2011.
I think the two are relatively equal—stats clearly lean towards Foster and team success towards leadership.
Listen, I like Alex Smith. I've enjoyed watching his progression and I think it's unfortunate that it took seven years for it to bloom.
However, it's tough to put a "best ever" tag on a guy who only throws for 17 touchdowns in a 16-game season.
He's getting there. If he reaches the Super Bowl—or even wins one, for that matter—we may be able to talk about him as the most remarkable breakout story in NFL history.
Not yet, though. Not yet.