Steve Spagnuolo: What His Hiring Means for Every Saints Defensive Player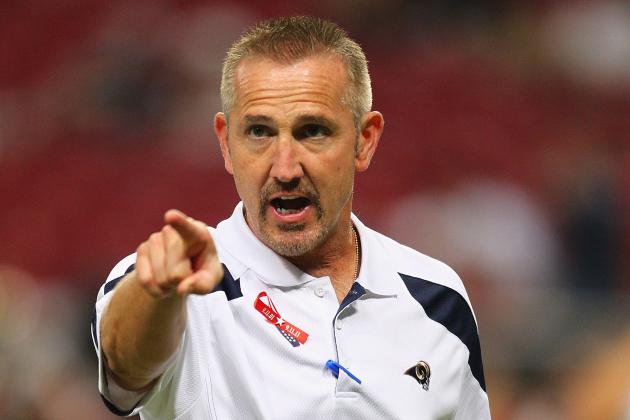 Dilip Vishwanat/Getty Images

The New Orleans Saints lost former defensive coordinator Gregg Williams to the Rams less than a week after their playoff loss to the San Francisco 49ers.
However, they also hired their new defensive coordinator. Just a few days after Williams agreed to become the Ram's coordinator, Steve Spagnuolo agreed to become the Saints' new coordinator.
Spagnuolo will bring a 4-3 defense to New Orleans, which is what the Saints already have. However, he will also bring a new system that involves a lot of coverage and less blitzing. Spagnuolo expects his four down linemen to get pressure and that frees up the secondary to just play in coverage.
Spagnuolo is known for his days as an assistant with the Eagles and for being a great defensive coordinator with the Giants.
The Saints' new defensive coordinator is known for getting the most out of his defensive line and that is exactly what the Saints need. If Spagnuolo can make the Saints' line play great football, then the other units will benefit directly from that.
Spagnuolo should be able to affect every one of the Saints current players. In fact, let's take a look at how Spagnuolo will change each of the Saints defensive players.
Begin Slideshow

»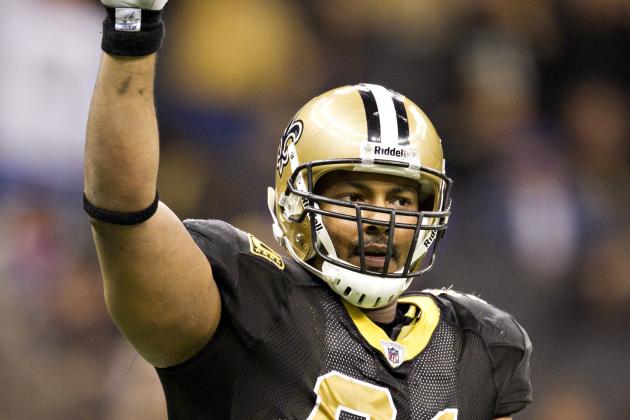 Wesley Hitt/Getty Images

Will Smith is the Saints' best overall defensive end.
Smith is fantastic against the run game, and he is probably the Saints' best pass rusher as well. Smith may be starting to show signs of his age and he is one of the highest paid defensive players for the Saints.
In 2012, the Saints could very well decide to move on without Smith and get a little younger on the defensive front. However, if they keep Smith then we may see his best year ever as a pro.
Spagnuolo's forte is making defensive linemen better, and Smith can definitely improve, despite the fact that he will turn 31 this summer.
If Smith is still a Saint, which I expect him to be, then we may see him put up double-digit sacks in 2012.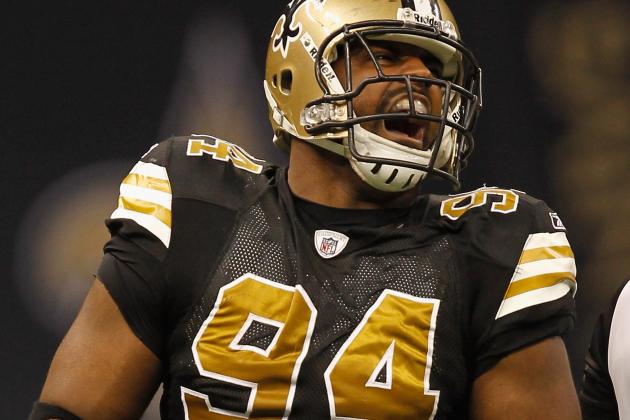 Streeter Lecka/Getty Images

Cameron Jordan's rookie year was a pretty good one overall.
He only had one sack in 2011, but as the season went on Jordan established that he can stop the run very well. I believe that the Saints knew that they were getting a premium run stopper when they drafted Jordan last year, and he will develop into just that.
The addition of Spagnuolo will not only perfect Jordan's ability to stop the run, but also increase his skills as a pass rusher.
At 6'4" and 287 pounds, Jordan definitely has the size to become an elite defensive end in the NFL, and his new defensive coordinator can show him how to do just that.
Spagnuolo was able to help the development of ends like Justin Tuck and Osi Umenyiora. Spagnuolo also worked with one of the NFL's best defensive ends to ever play the game in Michael Strahan.
Jordan has the potential to be a great end for many years to come and Spagnuolo can definitely expedite those results.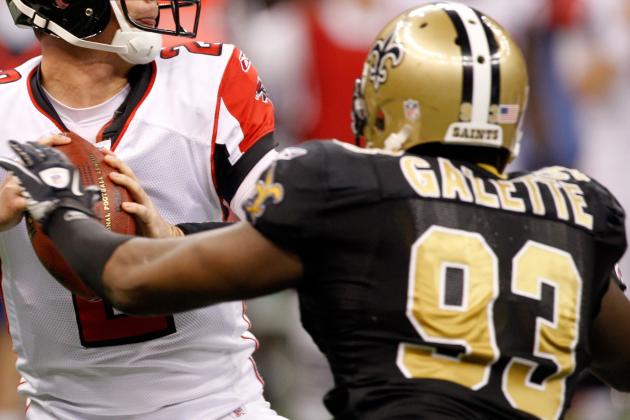 Chris Graythen/Getty Images

Junior Galette is almost the exact opposite of Cameron Jordan.
Galette's strength is rushing the passer. In 2011, he finished the season with 4.5 sacks and was very limited in the amount of time that he was on the field.
The reason for this is because Galette is not very strong against the run, and therefore he typically only sees the field on third down.
When Spagnuolo takes the rains of the Saints' defense he may be able to teach Galette a thing or two about stopping the run. As we said before, Spagnuolo is a genius when it comes to defensive lineman and he will help to improve Galette.
Even if Galette does not improve drastically in his ability to stop the run, we can expect him to become an even better pass rusher.
In 2012, we could very well see a breakout year from Galette. I expect anywhere from eight to eleven sacks from this young playmaker. The reason will be Spagnuolo's coaching.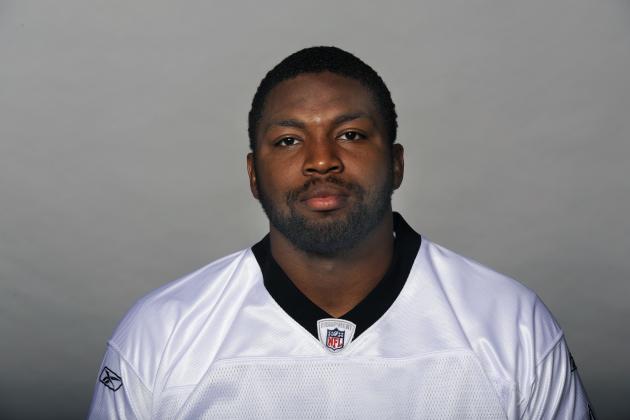 Handout/Getty Images

Turk McBride is a defensive end that has a lot of potential. The thing holding him back is his durability.
McBride will be a free agent after this season ends, and it is not certain if the Saints plan to bring him back or not. He has the talent to be an every down end, but has to stay healthy.
If McBride is a part of the Saints' plans and he gets to learn under Spagnuolo, then McBride could become a very good defensive end. He is only 26 years old and has shown a high motor when he is in the game.
Spagnuolo was able to turn Justin Tuck into a player that achieves double-digit sacks each year, and he may could do the same with McBride. The keys to this happening will be McBride health and if he re-signs with the Saints this offseason.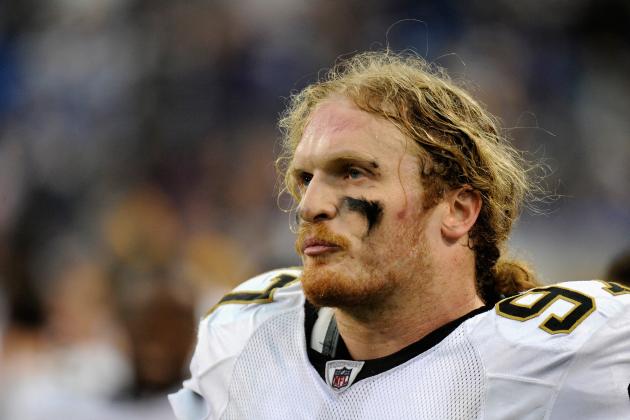 Hannah Foslien/Getty Images

Jeff Charleston is definitely an interesting case for the New Orleans Saints.
He is a guy with a very high motor and never gives up on a play. Charleston has also become a fan favorite. This defensive end will be a free agent this offseason and the Saints may elect not to bring him back.
They already have four other ends that are better than Charleston. I would hate to see this guy go, but it is a likely scenario in the offseason.
However, if Charleston does return as a Saints, then he could also see his best season in 2012. Charleston did not get a lot of playing time last season, but when he was in there he made the most of it.
Since Charleston has a strong desire and high motor, we could see a ton of improvement if he is coached by Spagnuolo.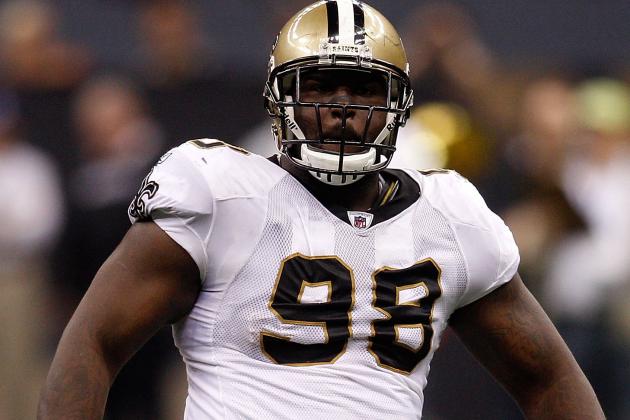 Chris Graythen/Getty Images

Sedrick Ellis is the player that could see the most improvement because of Spagnuolo taking over the Saints defense.
Ellis has been on the verge of a breakout season for the past few years, but has not been able to get over the hump. He has the talent to be a great tackle in Spagnuolo's 4-3 scheme, and this may be the year where we finally see the former top ten pick play to his potential.
The Saints have depended on Ellis in the run game since they drafted him, but he has not created consistent pressure up the middle since he came to the Saints. Ellis definitely has this ability, and maybe Sapgnuolo can bring it out of him.
No matter what happens with the rest of the defensive line, I expect to see a lot of improvement from this tackle.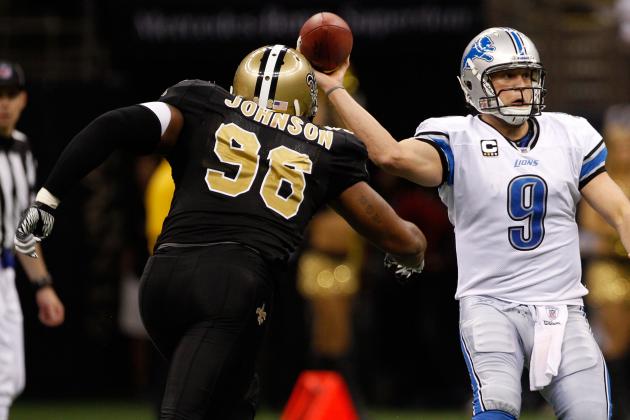 Chris Graythen/Getty Images

Tom Johnson may be one of the guys on the Saints roster with the highest potential.
Despite not have many stats, Johnson had a terrific 2011 season. He did not see the field much, but it was obvious when he was on it that he deserves to be in the NFL. Johnson has played one season in the NFL, but next year he may be starting for the Saints.
Johnson is a huge presence in the middle of the defensive line and he has the skills to stop opposing rushers as well as get after the quarterback.
I am extremely excited to see what Spagnuolo can do with Johnson. I expect to see a ton of this young man early and often next year. It would not surprise me if Johnson is the Saints' best interior lineman by the end of the 2012 season.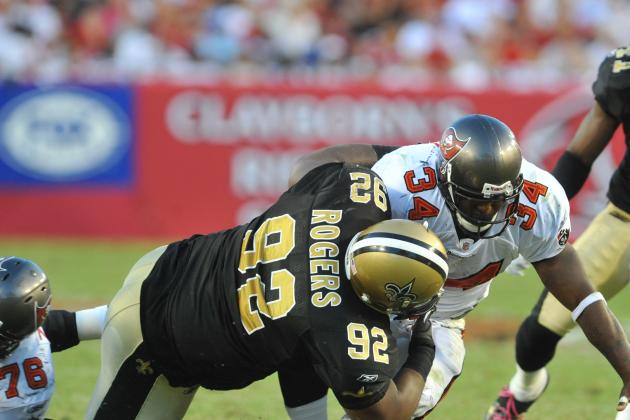 Al Messerschmidt/Getty Images

Shaun Rogers still has the ability to be a dominate defensive lineman, and he proved that at the end of the 2011 season.
Rogers wants a championship, and for that reason I believe he will re-sign with the Saints in the offseason. If he does, then Spagnuolo may be able to give the Saints the best interior defensive line they have ever seen.
Sedrick Ellis and Tom Johnson are both going to turn into amazing defensive tackles, but next year may be the year of Rogers in the middle of the Saints' line.
Rogers may only have one more year left, and Spagnuolo should be able to get every once of effort and drive left in this amazing defensive tackle. We will more than likely not see great numbers from Rogers, but that is not his job. He will take up blockers and drive the offensive lineman back in the passing game.
If Spagnuolo can inspire Rogers to play like he did in his prime, then the Saints may have one of the best defensive lines in the league.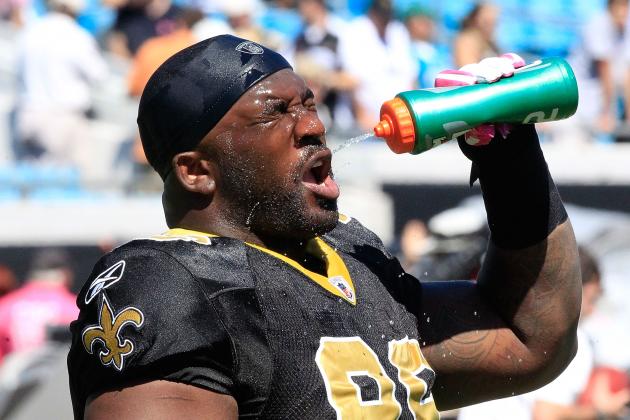 Sam Greenwood/Getty Images

Aubrayo Franklin is oddly similar to Shaun Rogers.
Both of these players will be free agents, and neither performed to the expectations set on them in 2011.
However, I believe that Franklin will not return to the Saints next year. The Saints have enough players they need to re-sign and Franklin will more than likely be able to get more money from a different team.
The Saints will probably look to get a little younger at the defensive tackle spot, but if they do happen to bring back Franklin, then we will definitely see the best defensive line ever in New Orleans.
We have established the fact that Spagnuolo gets the most from his defensive line and he likes to create pressure with just his four down linemen.
Franklin can definitely create pressure up the middle and Spagnuolo should be able to bring that ferociousness back out of this tackle.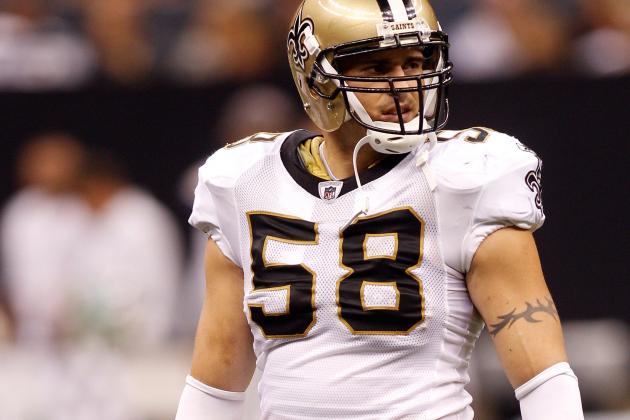 Chris Graythen/Getty Images

In 2011, Scott Shanle looked like age may be catching up with him.
The 32 year old linebacker made some mistakes in coverage and tackling this past season. He has never been outstanding in coverage, but could normally hold his own. That was not true this season.
I believe that the Saints may be getting ready to move on without Shanle, but if he stays then things will more than likely not get much better for Shanle.
Spagnuolo's defenses typically depend on good coverage from the linebackers against the pass and solid tackling against the run. Shanle showed a decline in both of these areas.
A better performance from the Saints' defensive line may help Shanle's game, but I believe that Spagnuolo may not be able to help this linebacker much. Shanle may just be at the point where he needs to hang up the cleats.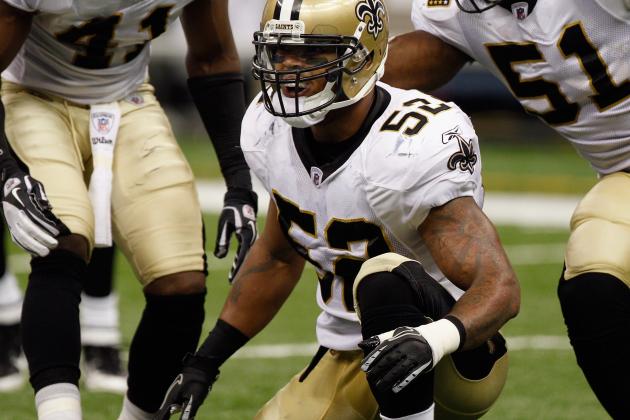 Chris Graythen/Getty Images

I love this young outside linebacker. Casillas has shown spurts of greatness, and now he just needs to stay healthy.
Casillas should be able to strive with Spganuolo as the defensive coordinator. The fact that the defensive line should be much improved will help every linebacker be better, but especially Casillas.
Casillas is a very athletic backer and he is great running sideline to sideline to make tackles. Casillas also has the ability to cover linebackers and rush the passer. Spagnuolo does not blitz near as much as Williams does, but he will occasionally send a guy, and Casillas could easily be that guy.
Spagnuolo coached a linebacker named Kawika Mitchell while he was in New York, and I could easily see Casillas playing similar to how Mitchell did in Spags' defense.
Sean Gardner/Getty Images

Martez Wilson is probably the most athletic linebacker on the Saints roster.
He is definitely the fastest backer with a 40 time of 4.49 seconds. Wilson will undoubtedly be the benefactor of a great scheme implemented by Spagnuolo.
Wilson is still learning how to play in the NFL, but he looked very good at the end of 2011 and Spagnuolo will be able to get even more out of him. Wilson will not only be the Saints best pass rusher from the linebacker spot, but he could also be the best cover guy.
Wilson has the speed and size to be dominate in every facet of the game and we may see that from him in 2012.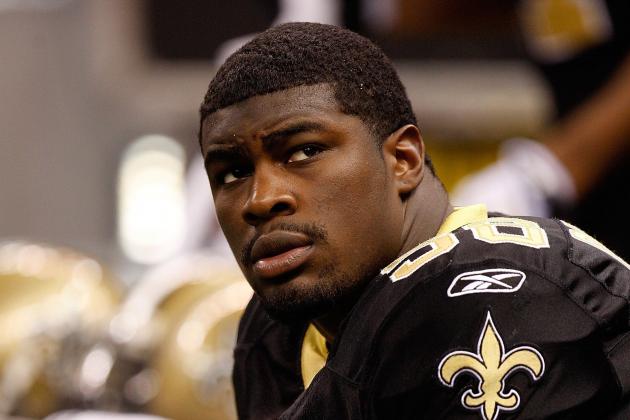 Ronald Martinez/Getty Images

Jo-Lonn Dunbar showed a ton of improvement last year and with Spagnuolo coming in as the defensive coordinator, we can expect an even better improvement in 2012.
Dunbar is listed at outside linebacker, but I definitely believe that he is a better fit at middle linebacker. The truth of the matter is that if Jonathan Vilma was not a Saints, then Dunbar would have been the starting middle backer a long time ago.
Spagnuolo will surely find a spot for Dunbar on the field, despite where it is, and Dunbar will perform well. He is a young player that has a lot of potential and those kind of players seem to be the ones that Spanuolo coaches the best.
I am excited to see what Spagnuolo can make of Dunbar in 2012, that is assuming that Dunbar is still a Saints next year. Dunbar will be a free agent this offseason, but I definitely see him coming back to New Orleans.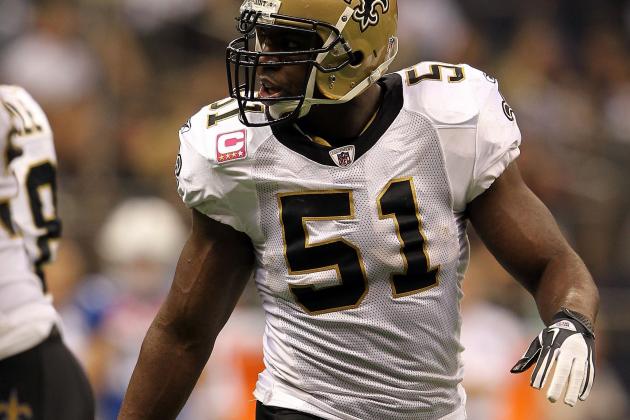 Jamie Squire/Getty Images

Jonathan Vilma is the quarterback of the Saints defense, but I think we may have seen some signs of him slowing down last year.
Vilma was dealing with a knee injury for most of the year and hopefully that was the only reason, but he definitely looked a step slower than normal whenever he was on the field. My hopes are that Vilma can come back in 2012 completely healthy.
If he does that then he may have one of his best statistical years of his career. I strongly believe that Spagnuolo's new defensive line next year will excel at giving the linebackers opportunities to make plays, and that is exactly what Vilma needs.
Vilma is great at making stops in the running game and the Saints' defense next year should allow him to do that with ease. However, Vilma has shown signs of slowing down as far as coverage goes. Hopefully that was just part of the injury and he will be back to normal in 2012.
Spagnuolo taking over as defensive coordinator will have a very positive effect on Vilma, especially if he comes back completely healthy.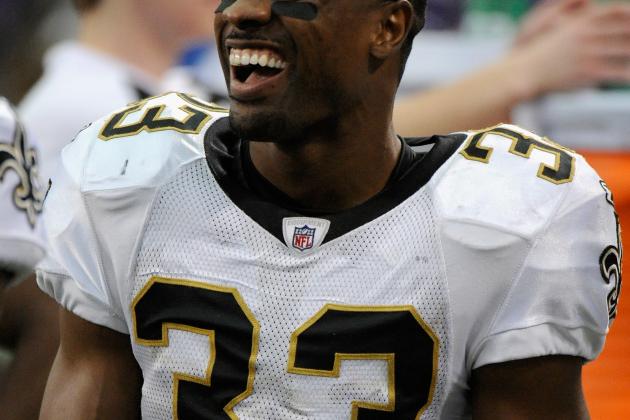 Hannah Foslien/Getty Images

I am going to be honest here and say that Jabari Greer was going to have a great 2012 no matter who the defensive coordinator is.
Greer is one of the most underrated corners in all of football and has consistently been one of the best in the NFL. He will have yet another amazing year next year, especially in Spagnuolo's defense.
Spagnuolo will have the defensive line playing the best football Saints' fans have seen in a while and the cornerbacks will benefit from that tremendously.
Many times in Gregg Williams' scheme the corners were left on an island all by themselves and got burnt, but under Spagnuolo that will not happen. Who Dat Nation can expect more coverage from the defensive backs and less blitzing, which in turn will probably mean more interceptions for the Saints.
Greer was going to perform superbly no matter what the situation was in New Orleans. Now that Spagnuolo is coming to town, I cannot wait to see what Greer does in 2012.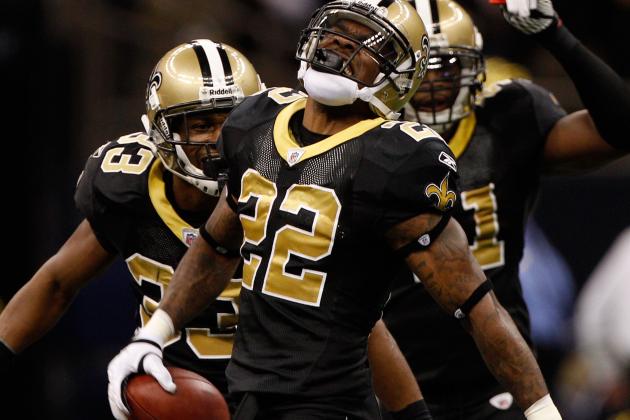 Chris Graythen/Getty Images

Tracy Porter is one of the players on the Saints' current roster that will be a free agent and he will more than likely leave to join another team.
Porter will be looking for a pretty big payday and he will probably be able to get that elsewhere. However, if Porter chooses to stay with New Orleans then he may could see one of his best years as a professional as well.
Porter will strongly benefit from a defensive line that can get pressure and a linebacking corps that can cover tight ends and running backs. Porter and the secondary will be able to play more coverage and therefore will be able to get more picks.
Porter is a great corner in run support and that can only improve in Spagnuolo's system. If Porter chooses to return to New Orleans in free agency, then he could have a great year as a Saint.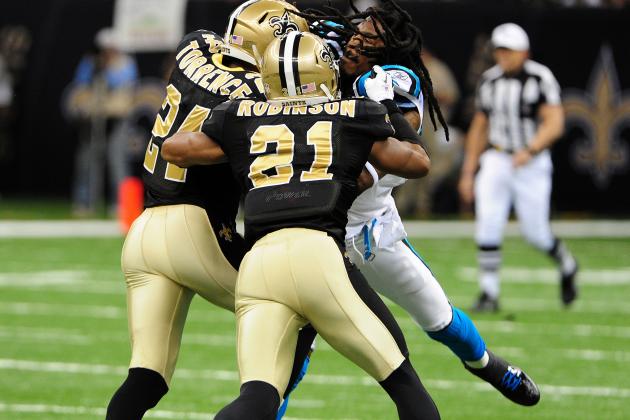 Scott Cunningham/Getty Images

I am extremely proud of the improvement that Patrick Robinson showed in 2011.
He will grow even more next year under Steve Spagnuolo. Robinson has a ton of potential and could possibly be the No. 2 corner for the Saints when the season starts.
Out of all of the defensive backs, I believe that Robinson will benefit the most from a strong pass rush by the Saints' defensive line. Robinson's main problem in 2011 was that he would get caught looking the backfield or running up on a double move just to get blown by.
Next year, Robinson will be able to focus more on coverage and let the defensive line and linebackers get everything out of the backfield. Spagnuolo does not blitz much so Robinson will have support over the top and some underneath as well.
We may see Robinson develop into a Pro-Bowl caliber player by the time the 2012 regular season is over.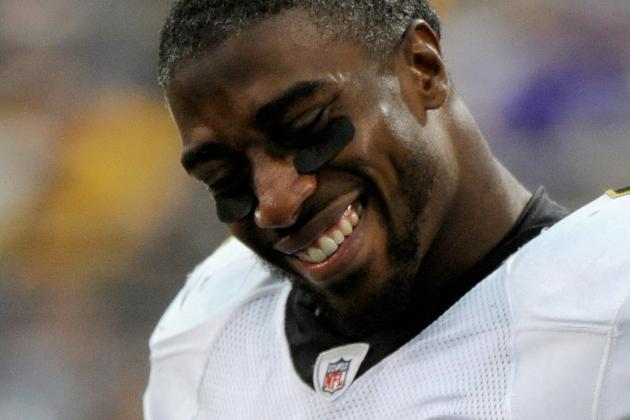 Hannah Foslien/Getty Images

Roman Harper is one of the most talented strong safeties in the NFL, but he could potentially struggle in Spagnuolo's system.
Harper's game involved coming up for run support and rushing the passer. That was perfect for Gregg Williams' system because he like to blitz and stack the box. However, Spagnuolo will want his safeties to be in coverage more and we all know that covering people is Harper's weakness.
I am interested to see what Harper does in Spagnuolo's scheme and I'm interested to see what the new defensive coordinator has planned for this strong safety.
I doubt that the Saints would just replace Harper because of how good he has been the past few years. If anything, I would expect to see Harper improve in his coverage. There are many times where he is in the right position, but does not make a play in the ball and that is something that Spagnuolo can improve.
Harper could improve or regress in 2012, and it all depends on how well he takes to the fact that Spagnuolo is coming to New Orleans.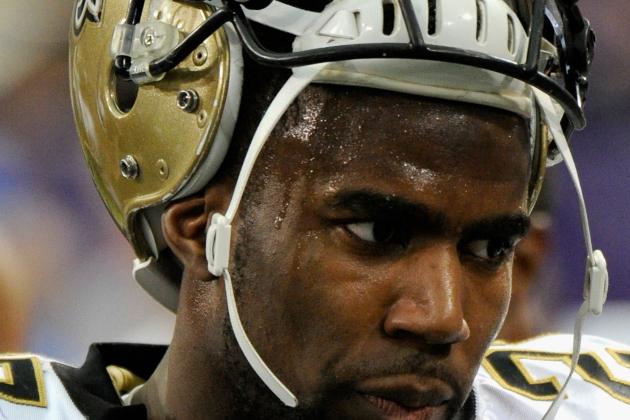 Hannah Foslien/Getty Images

At this point, most people know that Malcolm Jenkins is one of the most talented safeties playing the game of football.
Jenkins is a strong tackler and can cover just about any tight end. He was exposed a bit by Vernon Davis in the playoffs, but even then Jenkins was in position, but did not make a play on the ball. Not to mention that Davis is one of the league's elite tight ends.
With Steve Spagnuolo coming into New Orleans I expect to see Malcolm Jenkins explode. He has the potential to be great and Spagnuolo will bring that out of him.
The defensive line should play better than we have seen in a long time and Jenkins will be the direct beneficiary of that. A lot of pressure from the front four guys and coverage from the other six will allow Jenkins to truly play the free safety spot.
I expect to see this young playmaker get more interceptions next year than he has so far in his career and to finally be name to a well-deserved Pro Bowl. Jenkins' legacy starts next year with Spagnuolo as the defensive coordinator.