Super Bowl 2012: Harbuagh Brother Matchup Would Be Fun for the Whole Family
January 19, 2012

Rob Carr/Getty Images
I can think of no better Super Bowl matchup than one between two very competitive brothers, and that's exactly what we'd be getting if the Baltimore Ravens and San Francisco 49ers met up on the NFL's biggest stage.
It would be epic.
Everybody would have a reason to tune in, because almost everybody knows exactly what the game inside of the game would be like.
Most of us have siblings, so we understand the kind of intense competition that can only take place between siblings.
Even if you don't have a brother or sister, imagine those tense moments between you and your closest friend.
If you don't have a close friend, well imagine having a frustrating moment with your pet.
If you don't have any of these things follow me on Twitter.
My point is, in some way, shape or form everything becomes a competition, and even the smallest things become life or death.
Who brushes their teeth better? Who has the cooler cuts and scratches? Who has the better grades? Who has a date and who doesn't?
Who has the better NFL football team?
Things we can all understand and relate to, right?
Well, unless you're Jim or John Harbaugh, you have no idea what that last one feels like.
Earlier this season they became the first pair of brothers to face each other as NFL head coaches, in a hyped-up Thanksgiving Day matchup that ended with John's Ravens on top 16-6.
It was a hard-hitting affair, which really reflects the character of both coaches and their teams.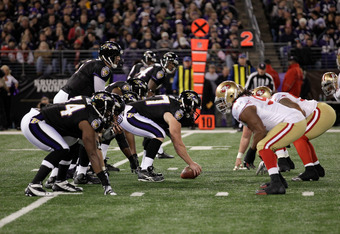 Rob Carr/Getty Images
The Ravens have long been known for their aggressive and intimidating defense, and under Harbaugh the 49ers have arguably the best defense in the league this season.
Both teams have used their defense to set them up in position to play for the Super Bowl, and both will need the grit and will that their head coaches display to make it past Championship Sunday.
The Ravens must stop Tom Brady and the high-powered Patriots, and the 49ers have a tough test against Eli Manning and the red-hot Giants.
If they both can pass those tests, we'd be set up with the first ever Super Bowl played with two brothers coaching against each other— or the Harbaugh Bowl—as it has been unofficially named.
From a football standpoint it would undoubtedly be an excellent game that gets back to the roots of the sport, but this game would also feature something we've never experienced before: sibling rivalry.
The Harbaugh Bowl: Fun For The Whole Family