Green Bay Packers: Will Cullen Jenkins Be Back with the Pack in 2012?
January 20, 2012

Kevin C. Cox/Getty Images
As the Green Bay Packers and Ted Thompson pick up the pieces after the disappointing divisional round loss to the New York Giants last Sunday, it is very apparent what has to be done to improve the football team.
The Packers were 15-1 and the top seed in the NFC playoffs because of their outstanding offense led by soon to be MVP Aaron Rodgers.  However, the defense of the Packers was prone to giving up big plays in the secondary and at the end of the year the team was ranked dead last (32nd) in the NFL in total defense.
There were reasons why the defense was giving up large chunks of yardage.  One was the season ending neck injury suffered by All-Pro S Nick Collins.  One can't underestimate what a devastating loss that was to the Green Bay defense.
Collins had been to three straight Pro Bowls.  From 2008-2010, Collins had 21 interceptions and had returned three of them for TDs.  Collins was a good tackler too, but was also able to be an asset in coverage as well.
The Packers will know in March if Collins will be able to resume his NFL career.  If not, the Packers will need to address that void in the 2012 NFL draft or free agency.  The player that replaced Collins, Charlie Peprah, did pick off five passes in 2011, but his coverage skills were marginal at best, plus had issues with his tackling too.
Even if Collins does come back, the Packers would still probably draft a safety for more quality depth at the position.  There is also the possibility that Charles Woodson might convert to the S position.  We shall see.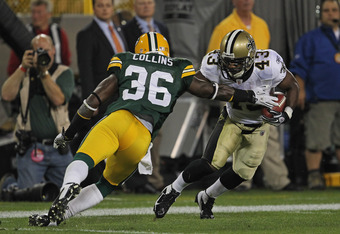 Jonathan Daniel/Getty Images
Another aspect that caused the defense of the Packers to give up huge amounts of yardage each week was the fact that Green Bay was usually leading the game by a fairly wide margin in the 2nd half.  That would force teams to throw on the Packers and pile up yardage as they tried to catch up.
But the biggest problem the Packers had on defense this year was the lack of a pass rush. 
The Packers finished tied for 27th in the NFL in sacks with only 29 sacks.  Clay Matthews who was double teamed constantly had only six sacks, after having 13.5 sacks in 2010.  Why?  There was no other threat on the team to consistently apply pass pressure.
Thompson took a calculated risk and allowed DE Cullen Jenkins to leave the team via free agency.  The Packers never recovered from that loss.  Mike Neal, the heir apparent to Jenkins, tore cartilage in his knee in training camp and was a non-factor when he came back to play.
It is clear that the Packers have to utilize the 2012 NFL draft or free agency to get someone who can help to rush the passer.  In terms of the draft, Thompson, John Dorsey (Director of College Scouting) have already started the process of looking at players first hand.. 
Thompson and Dorsey are in St. Petersburg to scout the East-West Shrine game, which willl be played this Saturday.  Following that will be the Senior Bowl and then the NFL scouting combine in Indianapolis. Plus the players will still have their individual Pro Days to improve their standing with each team.
Jonathan Daniel/Getty Images
Besides the draft, which Thompson utilizes for the most part to asemble his roster, there is also free agency, something that is not part of Thompson's modus operandi. 
Since 2005, Thompson has rarely dipped his toes into free agency, but when he has, it's been pretty good.
Case in point: CB Charles Woodson, the 2009 NFL Defensive Player of the Year.  Since 2006, when Thompson signed Woodson via free agency, Woodson has played magnificently over those five years.
Since his arrival in Green Bay, Woodson has 37 interceptions, nine of which were returned for TDs.  Woodson also has averaged almost 85 tackles per season, plus has 10 sacks, forced 14 fumbles and also recovered one that he returned for an additional TD.
One would have to say that Woodson is right up there with Reggie White as being the best free agent signing in the history of the Packers certainly and perhaps in NFL history as well.  Thompson was in Green Bay when the Packers signed White in free agency, as Thompson was then the director of Pro Personnel for the team. 
Thompson also signed DT Ryan Pickett in 2006, and Pickett has been a steady force for the Green Bay defensive line since then.  Thompson also signed LB Brandon Chillar in 2008, and Chillar was fairly effective when he played, but was limited due to a shoulder injury.  In fact, Chillar was placed on Injured Reserve late last season due to the shoulder injury.  Chillar is not on the team in 2011.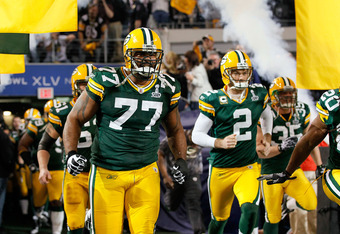 Kevin C. Cox/Getty Images
 Thompson has also signed a number of "street" free agents.  That list includes CB Tramon Williams, LS Brett Goode, LB Robert Francois, TE Tom Crabtree, QB Graham Harrell, P Tim Masthay, S Charlie Peprah, CB Sam Shields, LB Erik Walden, LB Frank Zombo, OL Evan Dietrich-Smith, OL Ray Dominguez, S M.D. Jennings, LB Jamari Lattimore, RB Brandon Saine and LB Vic So'oto.
We shall see if Thompson will once again try free agency in 2012, but there might be a very interesting free agent available.  That player might be Cullen Jenkins.  Jenkins left the Packers in 2011 and signed with the Philadelphia Eagles as a free agent. 
However, Jenkins is now due a $5 million dollar roster bonus on the first day of the 2012 league year. I'm not sure the Eagles will pay out the amount. Why? The Eagles have free agency issues of their own, as WR DeSean Jackson will be an available free agent in 2012 as of right now.
If the Eagles do release Jenkins, they will not have a cap hit, as Jenkins did not get a signing bonus when he signed the original contract. Jenkins played in all 16 games with the Eagles in 2011 and had 5.5 sacks.
The Eagles were tied for the NFL lead in sacks with 50, led Jason Babin, who had 18 sacks and Trent Cole, who had 11 sacks. The Eagles will be looking to give Cole a contract extension before the 2012 season as well.
Bottom line, although Jenkins didn't have huge sack numbers for Philly in 2012, his presence in the defensive line helped the Eagles to have a consistent pass rush.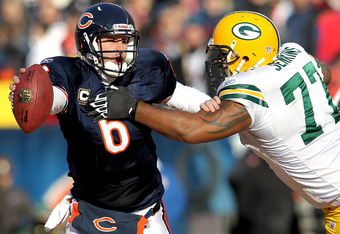 Jamie Squire/Getty Images
Jenkins did the same thing in Green Bay. In 2010, Jenkins had 7 sacks and he helped the Packers finish second in the NFL with 47 sacks and also bring home another Vince Lombardi Trophy. Overall in his career in Green Bay, Jenkins had 29 sacks and was a constant force applying pass pressure both as a DT and a DE.
The reason Thompson allowed Jenkins to leave via free agency was the concerns he had about the durability of Jenkins. Jenkins missed most of the 2008 season due to a torn pectoral muscle and also missed a number of games in 2010 due to calf muscle strains.
Thompson also thought that Jenkins would be able to be replaced by Neal in terms of production. That obviously did not happen. The Packers still have high hopes for Neal once he is completely over his knee injury issues, but Thompson can't count on that.
Thompson has to find a productive ROLB in the 2012 NFL draft that can be a bookend to LOLB Clay Matthews in terms of applying pass pressure. Thompson also needs to help the defensive line by bringing in someone that can also apply pass pressure.
That someone could be Jenkins. If Jenkins does become available and Thompson brought him back, it would not be at an extravagant price. We saw that with the contract he signed with the Eagles. Thompson has also shown that he will bring players back who have left the team for whatever reason. Examples are S Charlie Peprah and OL Evan Dietrich-Smith.
There are other examples in the NFL too. WR Deion Branch returned to the New England Patriots after leaving the Pats and DE Jason Taylor did likewise, when he returned to the Miami Dolphins after leaving for awhile.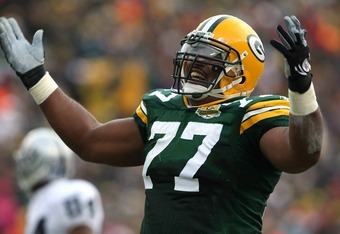 Jonathan Daniel/Getty Images
Now we know Thompson will continue to build the roster of the Packers for the most part via the draft. But if Jenkins is available, Thompson should strongly consider bringing him back. Jenkins never wanted to leave the Packers anyway, plus was a strong presence in the locker room among the players.
Jenkins is celebrating his 31st birthday today ironically. Jenkins is younger than Ryan Pickett. Jenkins played in all 16 games for the Eagles in 2012 too. The best birthday present that Jenkins might receive this year could be an opportunity to re-unite with the Packers in 2012.