5 Reasons the Kansas City Chiefs Will Take the AFC West in 2012
January 18, 2012

Jamie Squire/Getty Images
The 2011 season is over for the Kansas City Chiefs, and thankfully so. The Chiefs had their share of misfortune in 2011.
Attempting to analyze this past season is almost an effort in futility. So, in this writing I am going to focus on the upcoming season.
The Chiefs will take the AFC West and I will present five reasons why this will happen.
Reason No. 1: The AFC West

The AFC west has become a division in search of stability. Every team, including the Chiefs, is in some form of chaos.
The Chargers, the former strength in the division is succumbing to age and the loss of too many former weapons. Norv Turner is not a head coach that will rebuild this team back to the level it was five years ago.
The Raiders cannot find a head coach that the head office likes. There is talent on the team, but until management can settle on a leader and stick with them, this team will continue to flounder.
The Broncos: See reason number two.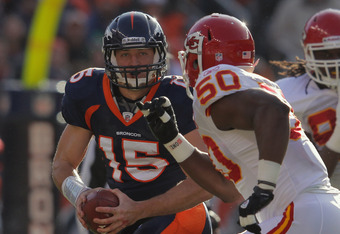 Doug Pensinger/Getty Images
Reason No. 2: Tim Tebow
The Broncos have staked their future, at least in the short term on Tim Tebow. Tebow was exciting to watch this year, and he helped a team with mediocre talent win some games that they should not have won.
The problem with Tim Tebow is that he is still playing college football, and even though some NFL teams were not ready to defend the option, that game plan was nothing more than a flash in the pan. It lasted about five games.
Tebow will have to learn to play as a legitimate NFL quarterback in order to succeed, and next year will be a year of attempted transition rather than unexpected wins.
Reason #3: Competition for the starting QB job

Two things happened in the final three games of this season when it comes to the quarterback position.
First, it was easy to see that the original backup to Matt Cassel was not a backup at all. Tyler Palko was more than a bust, he was a disaster.
Second, we found out that it is not that hard to replace Cassel. Kyle Orton looked much more like a starter in three short games than Cassel did at any time during this season.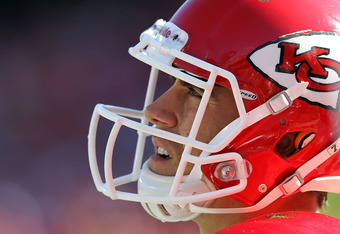 Jamie Squire/Getty Images
Even if Kyle Orton does not stay with the Chiefs, the team is going to have to find someone to compete for the job of QB. Leaving Matt Cassel as the sole proprietor of that position will not give the team the leadership it needs to consistently win games offensively.
I think that the new head coach and the management will see how important it is to solidify the quarterback position and do something about it this offseason.
I don't know that Matt Cassel needs to be replaced at starting quarterback, but real competition for the job might just push Matt to the next level and that may make him a consistent winner.
Reason No. 4: A healthy team
The Chiefs lost way too many key players to injury at the beginning of the season to legitimately compete on a consistent basis.
The team put together a four-game winning streak, but unfortunately the season plays out over sixteen games. The loss of players like Eric Berry, Jamaal Charles and Tony Moeaki was too much missing firepower to overcome.
Those players will be back next year.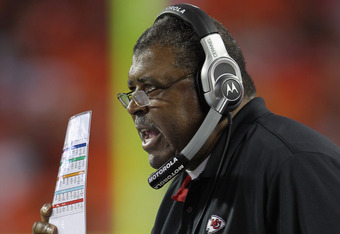 Jamie Squire/Getty Images
Reason No. 5: Romeo Crennel

Romeo Crennel is a great coach and I have thought so for years. People like to point to his four years in Cleveland as a failure, but Crennel put together a 10-6 season with a team full of throw-away players.
Look at the roster for any of those years. Getting that bunch to win more games than it lost, even for one year, was some kind of monumental feat.
Romeo Crennel knows how to lead, knows how to get the most out of players, and he has real talent to work with in Kansas City. Romeo Crennel is equipped in every way to be a successful head coach.
I liked Todd Haley and still do. He is a good offensive coordinator—just not ready to be a head coach. I think he was a victim of circumstance with the injuries to key players this year, but Haley had too many problems getting along with people to survive a losing season.
With Romeo leading this team, I believe the Chiefs will be the best team that it can be, and with the talent that we have aboard, that can be special.