NFL Playoff Picks 2012: Who Wins, Baltimore Ravens or New England Patriots?
January 20, 2012

Elsa/Getty Images
With a trip to Super Bowl XLVI on the line, the 2011-12 AFC Championship between the Baltimore Ravens and New England Patriots is slated to be one exciting football game.
That being said, here is a breakdown of each side of the ball and a predicted winner at the end.
Ravens Offense vs Patriots Defense
Al Bello/Getty Images
The concern for Baltimore is how effective Joe Flacco can play under pressure. Last week he completed only 14-of-27 passes despite throwing two TDs and was constantly under duress. Now Houston does have a much better collective defense than New England, however, that Patriots can bring the pain.
For one, Bill Belichick will do anything he can to shutdown Ray Rice. Rice is the focal point of Baltimore's offense and his dynamic ability as a rusher and receiver has significantly assisted Flacco this season. Despite improving on defense, New England is susceptible to allowing a lot of rushing yards.
Their secondary can't help much on run support as it still needs to vastly improve against the pass. Expect a lot of single coverage underneath from the Pats with safety help over the top. The key for Flacco when dropping back is not continually dumping the rock off to Rice.
New England has sound linebackers that can read and are alert when in zone coverage. Flacco must look for tight end Ed Dickson down the seem and AnQuan Boldin versus a cover-2. As for Rice, his production between the tackles is needed to setup receiver Torrey Smith for play-action pass.
If this happens, New England will get burnt deep as Flacco has a strong enough arm to launch a few down field. Provided the offensive line can limit the Patriots pass rush (as they had much trouble last week) Flacco may hit some solid yards.
However, if Belichick gets to Flacco early, he will succumb to turnovers and a poor completion percentage.
Patriots Offense vs Ravens Defense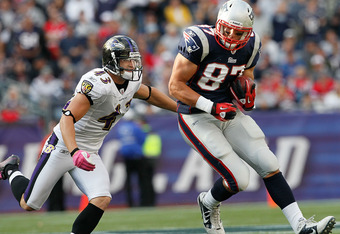 Jim Rogash/Getty Images
This side of the ball will solely be predicated on how much Baltimore can limit tight end Rob Gronkowski's production. No defense has an answer for him unless it wants to leave Tom Brady's other reliable targets open, so the question is: how do the Ravens approach Gronkowski?
Well, they will first need to get a linebacker to jam him at the line to help the coverage. Then whoever is in man coverage must already be playing press coverage. The fact is, Gronkowski is going to get off the line. The question is: how long will it take him?
The longer Baltimore can keep Gronk at the line will mess up Brady's timing and rhythm. Elsewhere, Deion Branch, Wes Welker and Aaron Hernandez will see physical press coverage in order to wear them down.
Now, Tom Brady does have excellent pass protection but no offensive line can block for five-plus seconds on most downs with a stampede of blitzers.
That being said, expect New England to attack early with quick routes to Welker and Branch while having Gronk on some delayed releases. Keeping him back for pass protection will create a single coverage situation thereafter.
Hence money for Brady as the Ravens coverage will breakdown because New England's receivers are too quick to stay with for more than four seconds. Also, the Patriots need to run the ball enough times to keep Baltimore honest.
Houston did this exceptionally well and although the Texans are much better at running the ball, the Patriots must show they will try. Remaining one-dimensional against a stout defense is a recipe for disaster, especially in the playoffs.
Prediction
The difference is not which defense proves to be more physical, because both will be enough to keep the offense guessing. Baltimore has the better ground game but isn't as explosive. New England obviously has Tom Brady, however, the Ravens defense is as equally impressive.
So what's the difference?
Pass protection and the tight ends. Brady has the better and more experienced offensive line as well as the better tight end in Rob Gronkowski.
Joe Flacco remains under pressure for most of the game and Tom Brady uses Gronkowski to setup the rest of the New England offense. It's more high-scoring than expected, but the Patriots pull away late.
New England 37, Baltimore 27
Follow John Rozum on Twitter