Victor Cruz Tops List of NFL's Most Improved Players, According to "Madden 12"
January 18, 2012

Al Bello/Getty Images
Storied video game franchise Madden came through with another successful installment of the game last August.
Madden 12 sold over 1 million copies in its first week, bettering Madden 11's first week sales.
Every year, when eager gamers get home with their new copies of the game, one of the first things they do is check the individual player ratings.
Madden's player ratings have become so popular that ESPN helped Electronic Arts let the fans decide some of the ratings for the most recent game via a series of SportsNation votes.
Some fans are happy with their favorite teams' and players' ratings, and others will insist, "Tim Tebow is much better than a 79!"
But what is really interesting is how different the ratings are at the season's end.
Weekly roster updates are available for Madden throughout the year—players' ratings rise and fall with their real-life successes and struggles. The folks at EA Sports are tedious in keeping up with their ratings, so they are as accurate as possible at the end of the season.
Now, as the NFL season winds down, the final Madden 12 player ratings are complete, save for a few possible adjustments notably to, notably, the Ravens, Patriots, Giants and 49ers.
By comparing these final ratings to the original ratings, it shows that EA Sports feels that many players significantly improved, while others had seasons that were worse than expected, to say the least.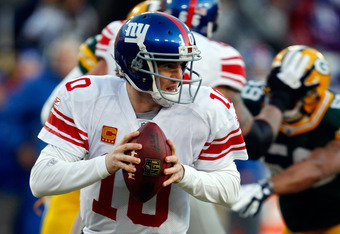 Scott Boehm/Getty Images
Here is a look at some of those players who's ratings significantly changed, starting with those who's improved.
Notable improved players from remaining playoff teams:
The most notable individual improvement in the game was Victor Cruz.
The New York Giants wide receiver improved his rating from 69 to 87 (+18). Cruz was number nine—yes, No. 9—on the Giants' Madden 12 depth chart when the game was first released. A season with 1,536 receiving yards and 9 touchdowns certainly helped better that.
Eli Manning was a key factor in Victor Cruz's rise to becoming a top wide receiver.
Manning put together what will probably be the least talked about 4,933 passing yards in a single season ever. He was just 151 shy of Dan Marino's (former) record for most passing yards in a single season, but no one knows about it because Drew Brees actually passed the mark and got all the recognition.
However, Manning's performance this year was good enough to improve his Madden rating from 87 to 93 (+6), making him a Top 5 quarterback in EA Sports' eyes.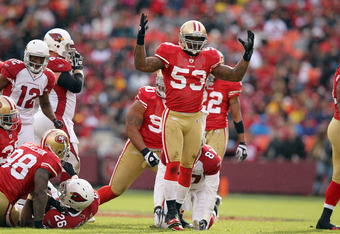 Ezra Shaw/Getty Images
Staying with the NFC title contenders, Jason Pierre-Paul improved from 78 to 94 (+16). The defensive end, in just his second year out of USF, had 16.5 sacks, proving he is worthy of being one of the best defensive players in the game. 
The San Francisco 49ers also had a few surprise players that helped get them to the NFC championship game.
Alex Smith proved—to EA Sports, anyways—that he can play quarterback in the NFL.
His rating improved from 75 to 85 (+10).
Meanwhile, the 49ers' defense was having a nice season, as well. Linebackers Aldon Smith, who went from 76 to 87 (+11), and NaVorro Bowman, who went from 73 to 89 (+16), stepped up their game to help the Niners to a very memorable season.
In the AFC Championship Game, there are a number of improved players who helped their teams get there, too.
For the Baltimore Ravens, Ray Rice's stellar season elevated him to becoming the third ranked Madden running back. He increased his rating from 92 to 96 (+4). His new fullback, Vonta Leach, defiantly contributed. Leach's rating went from 91 to 95 (+4).
And, Torrey Smith provided he is a legit deep threat at wide receiver. His rating went from 69 to 78 (+9).
The Ravens' defense was already rated highly, but Lardarius Webb proved he is more than just fast and athletic. The cornerback's rating went from 75 to 84 (+9).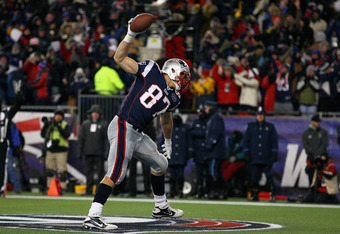 Al Bello/Getty Images
As for the New England Patriots, a trio of weapons helped Tom Brady to another solid season. Wes Welker went from 90 to 94 (+4) and solidified himself as a top Madden wide receiver.
The Patriots' tight end duo seemed unstoppable this year, and EA Sports agreed.
Rob Gronkowski went from 84 to 96 (+12) and Aaron Hernandez went from 82 to 88 (+6).
Other notable improved players:
The New Orleans Saints offense remained dangerous, as Drew Brees went from 96 to 99 (+3) to solidify himself as one of three elite Madden quarterbacks. His play also helped improved running back Darren Sproles from 79 to 87 (+8) and tight end Jimmy Graham from 77 to 94 (+17).
The Cincinnati Bengals made the playoffs behind better-than-expected play from quarterback Andy Dalton, who went from 71 to 80 (+9), and wide receiver AJ Green, who went from 80 to 87 (+7). Geno Atkins, the Bengals' stout defensive tackle, went from 72 to 88 (+16), as he was a vital part of a much-improved defense.
The Denver Broncos new run-heavy offense may have rejuvenated the career of running back Willis McGahee. EA sports thinks so, as Madden has him up from 79 to 87 (+8).
Cam Newton's record-breaking season was good enough to improve his Madden rating from 77 to 87 (+10), and he was able to bring Steve Smith back to life—the wide receiver went up from 89 to 96 (+7), making him one of the most dangerous wide receivers in the game.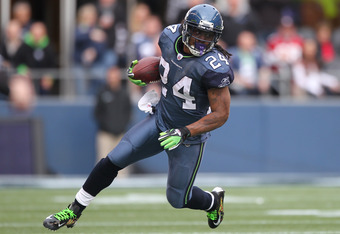 Otto Greule Jr/Getty Images
Matthew Stafford and Calvin Johnson helped re-energize the Lions and the city of Detroit. Stafford's quarterback play was good enough to bump him up from 80 to 90 (+10), and he helped Calvin Johnson to a monster year. Megatron's season was good enough to elevate him from 93 to 99 (+6), making him the best wide receiver in Madden 12.
Beanie Wells broke the 1,000 rushing mark as part of a struggling Arizona Cardinals offense and saw his Madden rating increase from 73 to 83 (+10).
Marshawn Lynch may have been one of the biggest surprises of 2011. The Seattle Seahawks ran him often late in the season, and he was able to put up insane numbers. His rating went from 81 to 90 (+9).
Jordy Nelson became one of Aaron Rodgers' favorite targets in Green Bay and was an instant fantasy football stud. The Packer also became a Madden stud. His rating rose from 79 to 89 (+10).
Matt Flynn, after a record-breaking performance in Week 17 for the Green Bay Packers, saw his Madden rating rise from 75 to 81 (+6), making him better than many starting quarterbacks—in the game, of course.
The Atlanta Falcons offense became more dangerous with a second wide receiver that proved he can stretch the defense. Julio Jones went from 78 to 86 (+8).
Despite a poor finish to the season, the Dallas Cowboys showed they have a good offense—or at least EA Sports thinks so. DeMarco Murray, who became an instant star at running back, saw his rating shoot from 69 to 84 (+15). Laurent Robinson was a touchdown machine at receiver late in the year. His solid play helped his Madden rating improve from 71 to 83 (+12).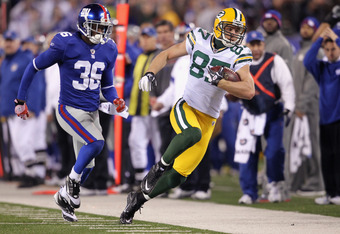 Nick Laham/Getty Images
Pittsburgh Steelers wide receiver Antonio Brown saw his rating increase from 69 to 83 (+14) after a nice season.
Notable disappointing players:
Peyton Hillis, the cover athlete for Madden 12, played in only 10 games for the Cleveland Browns. He totaled only 3 touchdowns. The once-productive running back saw his rating fall from 85 to 79 (-6).
The Tampa Bay Buccaneers had a miserable season all around, but their lack of offensive production probably deserved a lot of the blame. EA Sports thought so, as quarterback Josh Freeman fell from 87 to 80 (-7) and wide receiver Mike Williams dropped from 84 to 79 (-5).
Philip Rivers fell from 96 to 91 (-5), suggesting that the San Diego Charger's quarterback is now only of second-tier standing, at best—in Madden, of course.
In St. Louis, the Rams saw their quarterback have a down year, as well. Sam Bradford dropped from 85 to 80 (-5).