NBA Rebuilding Done Right: Utah Jazz, GM Kevin O'Connor Buck the Trend
January 20, 2012

Christian Petersen/Getty Images
In the superstar-driven world of NBA basketball, the whims of one player can make or break a franchise.
Trade-exceptions be damned, the Cleveland Cavaliers and Toronto Raptors were left in disarray when LeBron James and Chris Bosh took their talents to South Beach. Just like that, the two former playoff teams were dropped into a pothole that may take several years to climb out of.
The Denver Nuggets fared better than their Eastern Conference counterparts, albeit marginally so. Unlike the Cavs and Raptors, Denver had a core of quality young players (Ty Lawson, Aaron Afflalo) and solid veterans (Nene and Al Harrington) already in place and the Nuggets have actually improved since Anthony was shipped to the New York Knicks.
However, allowing the "Melo drama" to carry into the final year of Carmelo Anthony's contract was a drag on the team for much of last season.
"I would recommend highly that organizations don't go through it," Coach George Karl told the New York Times. "The wear and tear on us—it's just negative energy, and we all know what negative energy does. Not only was there negative energy, we had to talk about it."
The Orlando Magic have yet to find a solution to Dwight Howard's upcoming free agency and the New Orleans Hornets, well...we all know how that turned out.
Of all the NBA teams faced with losing the cornerstone of their franchise in recent years, perhaps the only club to take it in stride and come out on the other end with a brighter future than previously thought possible is the Utah Jazz.
With a year-and-a-half still remaining on his deal, the Jazz became proactive in obtaining the best assets possible in exchange for Deron Williams while avoiding the contract-year drama that beset other teams with superstar talent. 
The package they obtained from the Nets (Devin Harris, former No. 2 overall selection Derrick Favors and the draft pick that landed rebounding machine Enes Kanter) may just be the best compensation any team has received for a departing superstar.
So far this season, the Jazz have been the shock of the NBA, posting a 9-5 record and defeating some of the league's top squads. Not bad for a young team in the midst of a post-Williams rebuild, but according to Jazz GM Kevin O'Connor, this isn't your typical rebuilding project.
"I don't want to hear that we're young," O'Connor said after the lockout was lifted. "After today, I don't want to hear the word rebuilding. That's not what this is about. This is about getting better."
Despite being picked to be the worst team in the West on many preseason lists and power rankings, it appears as if the Jazz are already much better than their 39-43 finish last season. Before Thursday night's three-point loss to the defending world champion Dallas Mavericks, the Jazz had won 8-of-9 games with dominant post-play and stifling defense.
Much of Utah's success can be attributed to its young core of Paul Millsap, Al Jefferson, Gordon Hayward and the aforementioned Favors and Kanter, but perhaps more intriguing has been the contributions of newly-acquired veterans.
Just as he has done in past years with players like Donyell Marshall, Danny Manning and Calbert Cheaney, O'Connor has collected older talent and given them the opportunity to revive their NBA careers. Before last season, O'Connor signed Raja Bell and Earl Watson on the cheap. After last summer's labor stoppage, he followed suit by acquiring two more seemingly forgotten men in Josh Howard and Jamaal Tinsley.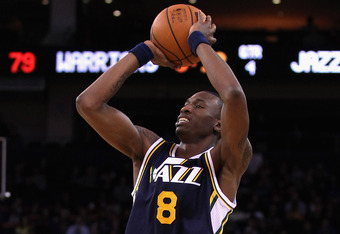 Ezra Shaw/Getty Images
All four have contributed to Utah's surprising start and are key ingredients to O'Connor's atypical rebuilding recipe.  
Bell is starting to play the kind of defense that propelled him to NBA All-Defensive team several years ago. Watson has outplayed starter Devin Harris on more than one occasion and solidified his status as one of the league's best backup point-men. Josh Howard, meanwhile, seems to be edging ever-closer to his former All-Star form.
With more than 50 games yet to play, it is unknown whether or not this odd mix of talented youngsters and long-lost veterans can continue playing at such a high level and contend for a playoff spot this season.
But if the results thus far are any indication, the Jazz and Kevin O'Connor have bucked the trend in rebuilding an NBA team.