Liverpool FC: Finding a Tactical Solution to the Andy Carroll Problem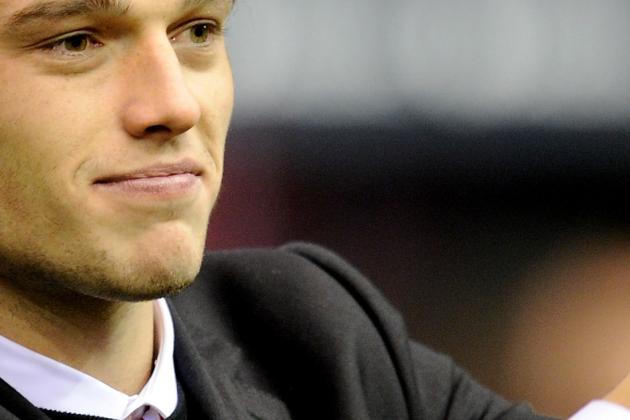 Michael Regan/Getty Images

Fernando Torres' departure from Liverpool triggered a chain of events that ended when a 6'3'' Geordie landed at Anfield to replace him.
His name was Andy Carroll and he was unveiled with much pomp. Pundits and fans alike were singing praises about the tactical acumen of Kenny Dalglish and Damien Comolli.
They all predicted that Carroll, along with fellow newbie Luis Suarez, would go on to set the Premiership on fire.
One year has since passed and the one thing that we are now sure of is that the pundits were short-sighted.
While Suarez has become an indispensable asset for LFC, Andy Carroll has become a joke (Google "Andy Carroll jokes" and you'll know what I mean).
How did it happen?
Begin Slideshow

»
Clive Brunskill/Getty Images

The centre forward, who showed much promise during Newcastle's championship season and the six months in top flight prior to the record-breaking transfer, has sunk to levels he wouldn't have imagined were possible when he signed on the dotted line.
He was tipped to be the next Alan Shearer by many with know-hows about the game. Others were confident that he had bucket-loads of potential and would achieve great things.
But, Andy Carroll found himself on the bench for Liverpool against Stoke City as Kenny Dalglish opted to field a team with no recognisable striker in it.
And when he did come on, it was like (as a friend of mine pointed out) watching bambi on ice!
So, where did it go wrong for the lad?
For some time now, folks have argued over what could have possibly gone wrong. Some believe that it is the huge price tag while others are dead sure that he was completely the wrong player for LFC.
Well, I've made some observations of my own. Read on to see if you concur with them.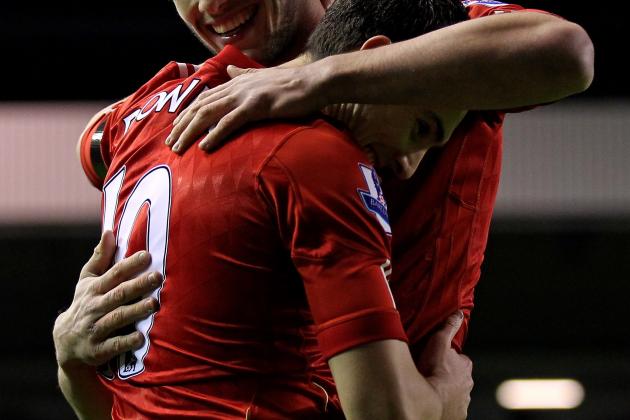 Alex Livesey/Getty Images

Or should I say, The Complaints.
Let's run down a list of complaints that the average supporter has: He lacks movement, creative awareness, pace, enthusiasm and finally, lacks goals.
It is safe to suggest that the mainstream media put the Carroll issue on the back-burner because the Suarez row was running wild.
Essentially, the Suarez issue worked as the perfect smokescreen for the Carroll conundrum. Now that Suarez is serving his ban, the media is back onto Carroll.
Here is what we need to understand: The Andy Carroll issue is part of a much bigger crisis.
While Carroll gets the entire spotlight, in doing so, he is providing cover for the failures of Stewart Downing and Jordan Henderson.
Even if we were to leave Henderson out of this, Downing becomes an integral part of Carroll's woes because his inability to deliver the perfect crosses has resulted in dismal outings for the striker in a red shirt.
Watch this YouTube clip to get a fair idea as to why Liverpool shelled out £35 million of their dear money to Newcastle for this man.
Yet, he hasn't been at his prolific best for the Reds in the 12 months that he has been at Merseyside.
His lack of form at this inopportune time is a worrying factor for Kenny Dalglish and LFC. Justification to Kenny running out of ideas for Carroll was when he started Dirk Kuyt against Stoke.
So let's analyse this whole thing from the root of the issue.
Michael Regan/Getty Images

One of the reasons why he became such a hit at Newcastle was his ability to give the loose balls those deadly final touches.
The powerful headers and the fierce left-footed shots that literally tore the nets were the reason behind Carroll's meteoric rise to stardom.
The unfortunate thing to have happened for Carroll is that he signed for LFC while still injured.
As a result, Kenny had no other choice but to build a team around Luis Suarez. This was one of the reasons why Carroll was a major letdown for the club when he did eventually come back.
Kenny's tactics of relying on the Uruguayan alone ensured that Carroll's chances became limited.
This is not to take away anything from Suarez and his exploits for the club. If anything, he was the perfect fit for LFC as a player.
The irony is that the good thing to have happened for LFC was also the bad thing to have happened for Andy Carroll.
Liverpool had once again embraced the pass-and-move style, but one important fact that quietly slipped the coaching staff's attention was that Carroll just wouldn't suit that system of play.
Let's get back to the present scenario.
Even if Liverpool were to play a one-man attack system, like in games against Man City in the Carling Cup and against Newcastle last year, why is it that Carroll struggles?
The answer is quite obvious: As I had stated elsewhere in this slideshow, the service is just not right.
Now let me explain this. I'm not saying here that there is a lack of service to Carroll. The crosses have been coming in by the dozens, but they are not the right crosses.
Now, check out the video. It is a goals package of Andy Carroll's championship season with Newcastle. Look out for all of his headed goals.
Looking at the crosses, any person can point to its dipping nature. How many of these crosses have Liverpool players provided to Carroll? I can point out to two instances...
Andy's second-ever Liverpool goal came from one such cross, when he scored a brace against Man City, and the provider was a certain Raul Meireles.
The second instance was when Gerrard came on as a substitute against Newcastle.
But one can't fault Carroll for not connecting well with those balls. Just look at the gap between these two instances and you will know what the meaning of frustration is.
For all the credit that Downing deserves for his ability to put in those early crosses, he simply hasn't been able to produce them on a regular basis. But when he does whips a cross in, it just whistles across the horde of waiting players in the opponent's goalmouth.
Ideally, such crosses would work with more mobile strikers a la Suarez or even defenders like Agger and Skrtel. This is one of the reasons why Carroll isn't effective at corners because the balls don't drop on his head.
To put it simply, Charlie Adam and Stewart Downing are reigning in the low balls, when actually it is those dipping high balls that are necessary to feed Carroll.
And if some of you thought that Carroll couldn't beat an opponent while sprinting, watch the video again. He can actually sprint faster than what we've seen so far.
So, what is the solution?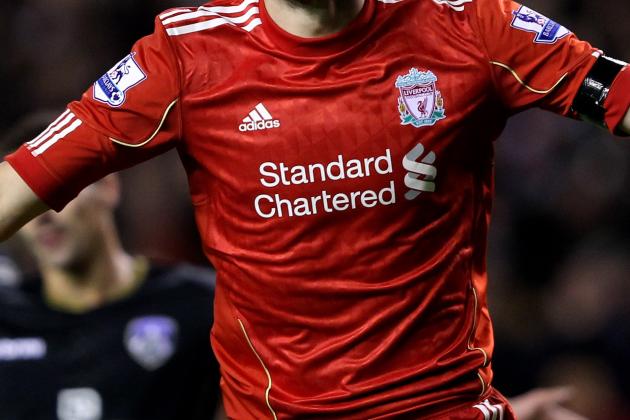 Alex Livesey/Getty Images

It's quite simple.
Play up to his strengths and make him feel good about the importance of his role in the team.
Now, I'm about to negate a statement that I made earlier in this slideshow.
Yes, Carroll can perfectly fit the pass-and-move style of play. If only the Liverpool hierarchy would let him to.
People often point out to his inability to create chances for himself. They are not wrong.
Too many strikers of Carroll's mould have graced the Premier League before him. Robin Van Persie, Didier Drogba and Emmanuel Adebayor's names spring to mind.
More recently, you can name Edin Dzeko or Carroll's replacement for Newcastle, Demba Ba, as examples of similar type players.
But what LFC supporters need to keep in mind is that none of them are Carroll. I, personally, believe that he is a talent that doesn't come up often these days.
Oh, and by the way, the lad doesn't earn much.
Now let's get to the tactical side of the solution.
I have come up with a possible formation that LFC should deploy for both the club and Andy Carroll to be the beneficiaries.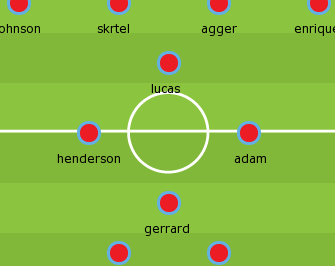 Courtesy: www.footballformation.co.uk
This is it.
The only solution available for Kenny is to play both of the strikers together. This is the best way to improve the goal drought.
There is, however, a little more to it.
Suarez's role should be tweaked a bit to complement Andy Carroll.
Deploying Suarez as the roaming forward will ease out the defensive pressure on Carroll.
Another thing for the coaching staff to correct is the selfish nature of Suarez's play.
Now, I will be the first one to acknowledge that it is one of the best qualities in a good striker. But, that only works if you're the lone man up front.
So this formation has the regular back four with the full backs pushing up at times.
Lucas' inclusion should give you a pointer that this formation is intended for the next season as I've almost given up hopes for a good finish this season.
Henderson and Adam should pick up well as they would have fully integrated with the team by then.
Gerrard should drop off and play just behind the strikers so he can give them the necessary through balls and dipping crosses—in a way only he knows best.
Plus, it gives him the liberty to have a go at the goal himself.
Suarez playing the roaming forward can put his uncanny ability of dragging the defenders along with him to best use and help reduce the marking on Carroll.
If the threat of full backs pushing up is on a good rate and with attacking options present in the midfield in the form of Steven Gerrard and Charlie Adam, the opponent's defence is sure to have a tough time.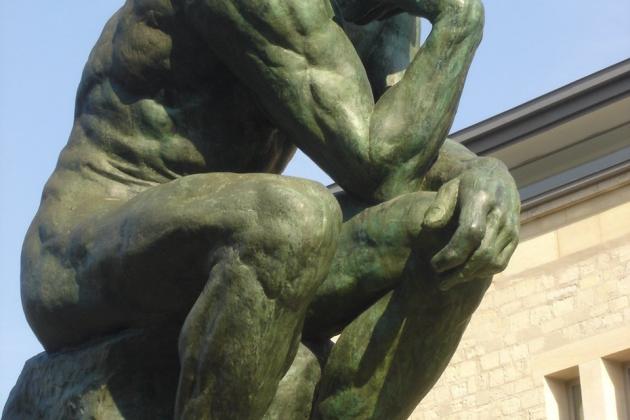 But, with all this said and done, it is up to Carroll to push his game up a notch.
He should understand the simple fact that he now represents Liverpool Football Club, and this club means business in this league.
The supporters, however, should understand the difficulties of their players as well and support them to the hilt.
It will be for the greater good of the club as well. We really don't want to end up in a situation like Peter Crouch and Robbie Keane again.
You see, this one didn't come cheap—comparatively!
Trust in the gaffer to do well and trust in the player to come good. At least, this one has vowed to repay our faith. So, we might as well wait and see.
Even the great man himself thinks so.