5 Teams Standing in Way of Chicago Bulls Winning 2011-12 NBA Championship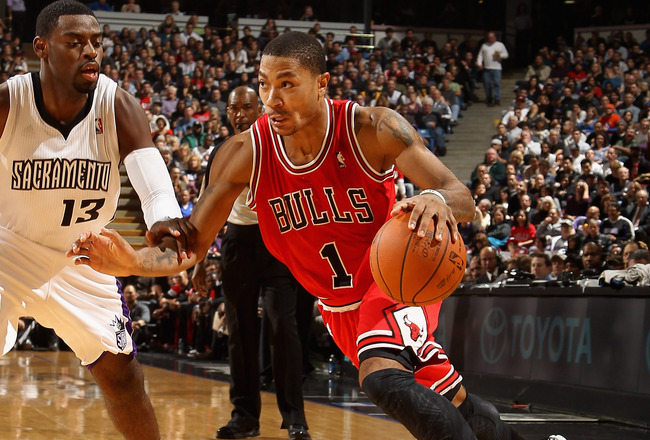 Ezra Shaw/Getty Images
The Chicago Bulls are looking like the team to beat at this point in the season.
They have started off 13-3, despite playing only six of those games in Chicago. Their only losses came against the Golden State Warriors, Atlanta Hawks, and Memphis Grizzlies on the road. In each of those game they were sloppy and turned the ball over at least 19 times, something they certainly need to address as the season moves forward.
The Bulls have beaten both the Los Angeles Lakers and Boston Celtics on the road, and with reigning NBA MVP Derrick Rose leading their charge this year, they have the potential to bring an NBA championship back to Chicago for the first time since the Jordan era.
Chicago has the second-highest scoring differential in the league at +8.523 trailing only the surprising Philadelphia 76ers (+14.92). They average more rebounds than any other team (45.8 per game, a +8.7 differential), allow the fewest points (85.0), and are fourth in blocks per game (6.13).
The starting five for Chicago was solid last year, leading the team to an NBA best 62-20 record before losing to the Miami Heat in the Eastern Conference Finals, and the additional of Richard Hamilton makes them even more dangerous this year.
The question is, who will get in Chicago's way in its pursuit of its championship rings this year?
Denver Nuggets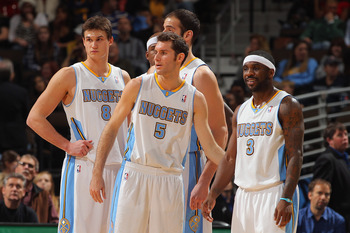 Doug Pensinger/Getty Images
Carmelo Anthony is long gone from the Mile High City, and the Denver Nuggets seem to be happy without him.
Denver is on this list for one reason, depth.
It is hard to find a team that is as deep as the 2011-12 Nuggets. With veterans Andre Miller, Al Harrington, Chris Anderson, and Rudy Fernandez coming off the bench, Denver does not miss a beat when its starters need a rest.
Having experienced players in a second unit is important in a normal NBA season, but this year it is going to be mandatory. By the time the playoffs roll around players are going to be dinged up and the bench is going to be relied upon heavily.
Right now Denver's bench averages 44.3 points per game. Chicago's? Only 28.4.
Put another way, if you had to choose between Denver's Andre Miller and Chicago's C.J. Watson to run your team in the playoffs if your starting point guard goes down with an injury, who do you choose? My money is on Miller. (Full disclosure: I am a Utah grad and have always liked Miller. Not the flashiest player, but definitely a solid backup)
The lack of a production behind the starting five hurts Chicago's chances and is a major reason why Denver could take home the hardware in 2012.
San Antonio Spurs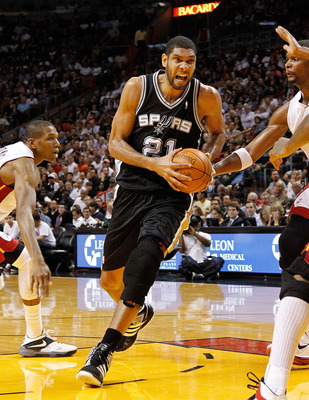 Mike Ehrmann/Getty Images
Can Tim Duncan bring home the NBA Championship in 2012?
Though Manu Ginobli is out six to eight weeks with a broken hand, the Spurs are still sitting at 9-5, good for first in the Southwest Division.
The bench is an asset for the Spurs, and with aging Duncan and Parker along with an injured Manu, who will see limited minutes as he is reintroduced into the lineup, that will be huge for them.
The Spurs' bench ranks seventh in scoring at 35.0 points per game, rank third in rebounding (18.4 per game), and third in blocks (2.6 per game).
Veterans win championships, as the Dallas Mavericks and Los Angeles Lakers have shown the last couple of years, and the Spurs have big game experience. Question is, will it show up during the playoffs?
Oklahoma City Thunder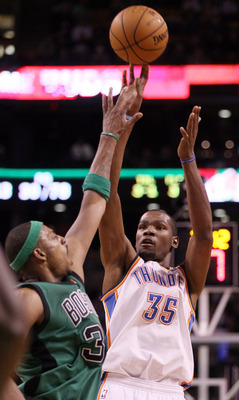 Elsa/Getty Images
The Oklahoma City Thunder have one of the best one-two punches in the game with Kevin Durant and Russell Westbrook. They can score (100.1 points per game, fifth in the NBA), though they need to get better at feeding off one another (they rank 23rd in assists).
Defensively they can protect the rim, a valuable trait for a team come crunch time.
Serge Ibaka leads all forwards in blocks per game (2.36, making him fourth in the NBA) while Kevin Durant ranks 13th among forwards. Kendrick Perkins was a nice addition last year and further strengthens their inside presence, while electric Westbrook is averaging nearly 20 points (19.4) and two steals per game (1.8).
One major concern is Westbrook's lack of assists. After averaging eight-plus assists per game for the last two season, he is now averaging 5.4. That would lend one to believe he is scoring more, I mean if he is not setting up teammates he must be doing it all himself, but his scoring has also dropped.
Unfortunately, Westbrook's ongoing contract negotiations could be a major factor in Oklahoma City's drive for a championship in 2012.
Philadelphia 76ers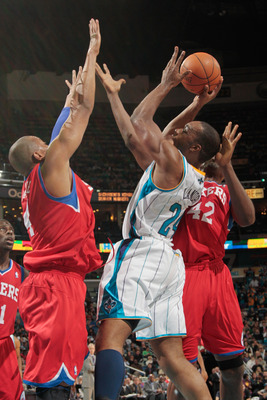 Chris Graythen/Getty Images
The city of Brotherly Love needs to get some here, if not only for its remarkable start to the season.
The 76ers are third in overall scoring (100.8 points per game), first in scoring differential (+14.92), and rank last in turnovers (11.7).
While they excel at defensive rebounding, tied with the Los Angeles Lakers at 34.4 per game, they are abysmal at offensive rebounding (only 9.2 per game, 29th in the NBA).
The lack of second chance points could hurt them over the long-term, but sitting at 10-3 must feel pretty good for a team that went .500 last year (41-41) and got blasted out of the playoffs by the Miami Heat. Speaking of which…
Miami Heat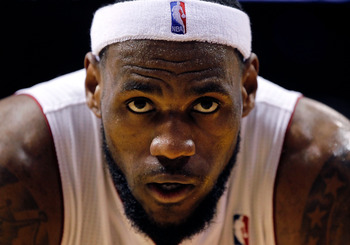 Mike Ehrmann/Getty Images
Miami can put up big points, when healthy.
The Heat are averaging a league high 106.2 points per game, and most of their production comes from the starting five (78.9 points per game, also No. 1).
This is great news for LeBron James fans out there.
He has been on a scoring tear, averaging 29.5 points per game—second only to the recently explosive Kobe Bryant—but this also means they are one ankle, wrist, or…ahem, pressure-filled fourth quarter away from losing much of their production.
Dwayne Wade's injury is a concern for the Heat, both for their immediate and long-term future. Will they rest him later in the season? Will they be able to put it all together in the playoffs?
These are big questions that lie on the road in front of a Miami championship. The Heat certainly have the talent, but what will transpire in the big moments?
Lebron looks good—no, great right now, but he always does during the regular season. It will be interesting to see how he respond to the spotlight this time around.
Keep Reading

Chicago Bulls: Like this team?