Bobcats vs. Magic: Bismack Biyombo's Career Night Not Enough for Charlotte
January 18, 2012

Mike Ehrmann/Getty Images
A career night for Charlotte Bobcats rookie Bismack Biyombo wasn't enough as Charlotte (3-12) fell, 89-96, to the Orlando Magic (10-3) on January 17 at the Amway Center.
Turning Points

The Bobcats got off to a great start again in this one with Gerald Henderson notching 14 points in the first half to secure a 50-47 lead going into halftime. The Bobcats played strong perimeter defense and elected not to double team Dwight Howard in this one.
The defensive strategy paid off as Charlotte was able to limit Orlando's outside shooting while frustrating Howard at the same time. The two teams played to a 67-67 draw at the end of the third period.
Charlotte began to fall behind towards the end of the game, but Henderson hit some big shots down the stretch, including drawing a foul for a three-point play. Orlando forward Ryan Anderson hit a three from the right corner with 1:33 remaining and the Magic never looked back.
Inside the Box Score
Both teams shot about 46 percent from the field, but the difference for the Magic came at the free throw line and around the perimeter. The Bobcats shot 5-of-17 from three-point range and 12-of-17 from the free throw stripe, while the Magic shot 7-of-22 and 17-of-26 respectively.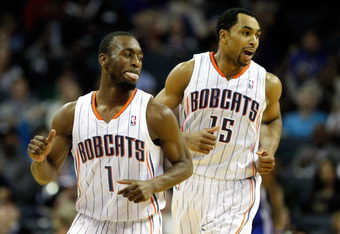 Streeter Lecka/Getty Images
Bobcats Player of the Game
Henderson paced the Bobcats with 22 points on 7-of-10 shooting. He added four rebounds and three assists as he was hitting his mid-range jumper, getting to the rim often and drawing fouls…
Bobcats Reserve of the Game

Biyombo had his best game as a pro with 11 points, 10 rebounds and four huge blocks. Coach Silas used Biyombo to match up against Howard and he made the most out of his 21 minutes by playing tough defense and frustrating Howard.
Magic Player of the Game
Dwight Howard led the Magic with 25 points, 17 rebounds and four blocks for another strong performance against the Bobcats.
Inside the Locker Room
"He played tough. He played Dwight tough and he just backs him in under the basket and lays it in and he is a tough player and he's about the toughest player I have on my team. It worked very well for us tonight.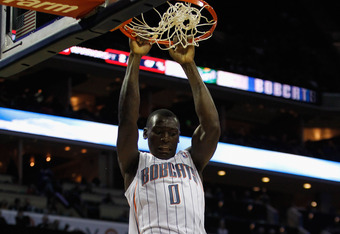 Streeter Lecka/Getty Images
"If we can continue this kind of play against teams not as good as the Magic, then I think we have a good shot."—Bobcats Head Coach Paul Silas on Biyombo
"It (transition to NBA) has been up and down.  I am learning every day and watching a lot of film with my coaching staff and trying to get better every day.  It is a tough league.  It is different basketball from college so I am just trying to adjust. 
"I had to adjust really fast so things are just coming along for me now.  It is everything I expected.  I am just a rookie and it is just a matter of taking things slowly.   We don't have much practice time so I have to watch a lot of film.  I am just trying to get better game by game.  We are a good team. 
"We are just really young.  We just want to get better.  I think we get better every game.  It is a tough league and it is the big leagues.  I think things will come around for us sooner than later."—Bobcats Guard Kemba Walker
Game Notes

Kemba Walker contributed 15 points, six assists, four rebounds and two steals in his third start of the season…D.J. Augustin had a good all around game as well with 13 points, five assists, four rebounds and four steals…Corey Maggette (hamstring), Reggie Williams (knee) and Eduardo Najera (knee) all remained out with their respective injuries.
Next Up
The Bobcats will get three days without games before traveling to Chicago to face the Bulls at the United Center at 8 p.m.  
David is currently a writer for bobcats.com and his writing at Bleacher Report has been featured on other news outlets such as the sports pages of the LA Times.  If you would like to contact him to talk sports, offer an article suggestion, or anything else, don't hesitate to email him at dwalters@bobcats.com or follow him on Twitter @original_DWade. Unless otherwise noted, all quotes were obtained first-hand.