Los Angeles Lakers: Is Derek Fisher More Clutch Than Kobe Bryant?
January 18, 2012

Stephen Dunn/Getty Images
Having missed two game-winning shots this year, Kobe Bryant finally deferred and passed to his longest tenured teammate, Derek Fisher, for the final shot against the Dallas Mavericks.
Fisher fired a rainbow and drilled it in what seemed like the umpteenth game-winning shot of his storied Lakers career.
Let's face it. Derek Fisher has been more clutch than Kobe throughout his career. 
People always compare LeBron James and Kobe Bryant and talk about who they'd rather have take the final shot. However, Fisher is the one who has proved time and time again that he makes the biggest shots. 
It can be easily argued that Fisher gets better looks than Kobe because there are usually two or three defenders on Bryant for the last shot. However, it's not like Fisher doesn't have precedence of hitting big shots. Teams know that he can hit the big one when it matters most so they always have a watchful eye on him.
If anything, Bryant has been a volume clutch shooter. He has sinked numerous buzzer beaters, but that's because he takes a lot of them. The following table shows how often Kobe makes and misses buzzer beaters just in the playoffs.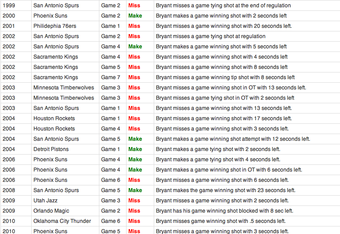 According to the table from chasting23.com, Bryant is just 7-for-25 in his career in playoff game-winning shot. That's just 28 percent.
The same source tells us that Kobe is just 29-for-90 in the regular season in the same situations. This means that Kobe makes less than a third of his game-winning or game-tying shots. How is that clutch?
It's not.
This season he's 0-for-2. He took an ill-advised shot against the Chicago Bulls on opening night and hit a brick during a tie game against the Utah Jazz. He also had crucial turnovers against the Denver Nuggets at Colorado, which eventually led to an 11-0 run for the Nuggets and a Laker loss.
In fact, the last time Bryant made a game-winning shot was during the 2010 season. That season, he had six winning shots, which is undeniably impressive. But he's gone two years without making one, and he's had plenty of chances. 
On the other hand, Fisher has had two opportunities since the 2010 season and he's made both of them. He sank a driving layup against the Los Angeles Clippers last season and he also drained last night's three. 
Let's not forget that Fisher was clutch in the 2009 NBA Finals against the Orlando Magic. He drained an important game-tying three pointer with just 4.6 seconds left to send Game 4 to overtime. He also hit another three pointer which sealed the game for the Lakers and gave them a 3-1 series lead.
In the 2010 playoffs, Fisher came through again against the Utah Jazz when he hit a game-winning three pointer in Game 3 with 28 seconds left.
Then in the Finals, he put up a legendary performance against the Boston Celtics where he scored 11 of his 16 points in the fourth quarter, including a successful layup where he had three Celtics dogging him that will live on in Lakers lore for a long time.
This doesn't even include his most famous shot of all against the San Antonio Spurs in 2004 with just 0.4 seconds left on the clock. And never forget the heroics he displayed when he played for the Utah Jazz in the playoffs when his daughter was sick.
Fisher has come through in the clutch countless times and he's never failed when he's been asked to do the job. 
Kobe, on the other hand, has missed 70 percent of his game-winning or game-tying shots and on numerous occasions it can be said that he tries to do to much to lift the Lakers. He doesn't utilize his teammates as well as he should in those situations and it costs the Lakers some games.
So next time you're caught up in a "LeBron-Kobe: Who's More Clutch?" step back for a second and realize that you'd personally rather have D-Fish taking that final shot.