Los Angeles Dodgers: A Fan's Take on Which New Owner Would Be the Best
January 17, 2012

When I sit down and think about my beloved Los Angeles Dodgers, I usually just Google a word like "sad," "upsetting" or "frustrating," then write down as many synonyms as I can. As I sit here and write this, "Dodger" is synonymous with "sad," "upsetting," "frustrating" and even "broke".
Wednesday, Oct. 21, 2009 seems like decades ago to me. On that day, the Dodgers lost their fourth game to the Philadelphia Phillies in the NLCS and were eliminated from the playoffs for the second consecutive year by the Phillies.
That was the end of a run that saw the Dodgers make the playoffs in three of four years, bring in Manny Ramirez and win the hearts of every baseball fan on the West Coast. It would snowball downhill from there.
In 2010, the Dodgers would flirt with mediocrity day in and day out. They would close the doors to "Mannywood" in August, as they let Manny go, and at the end of the season, would lose their short-tenured legend, Joe Torre. When the season ended and the dust settled, they were 80-82 on the outside of the playoffs looking in.
2011 may have produced a better record than 2010, but every Dodger fan will tell you the same thing: it sucked. What began as a year with hope and the promise of surprising success finished as one of the ugliest years in the history of such a glorified franchise.
Starting on opening day with the tragic beating of San Francisco Giants fan Bryan Stow and continuing throughout the season with the bankruptcy trial of vagabond owner Frank McCourt, the season was one of turmoil.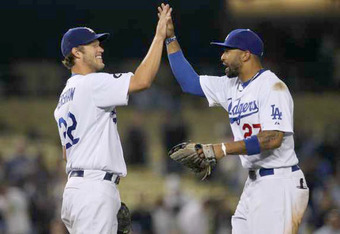 Local sports radio was constantly reporting that Dodger employees (hot dog vendors and parking attendants) could potentially be receiving their paychecks late or not at all, and the players' distrust in management and ownership shined bright on the field (except for two guys who put up some of the best numbers in team history).
When the season ended, the Dodgers found themselves a hair over .500 and proud owners of the NL Cy Young, Clayton Kershaw, and the true NL MVP, Matt Kemp. However, the important issues and questions that were once taken care of will dictate the future of the team were (and still are) up in the air.
Today, 818 days after their exit from the NLCS, the Dodgers are more or less for sale. Dodger fans should be excited about the future, but also nervous. Nothing good ever comes from being overly optimistic this early on in what could be a long, drawn-out, ugly process.
The good part, what fans should be excited about, are the four groups that have emerged as potential buyers and the things each of them bring to the table. The future is bright, but the future is farther off than fans suspect.
Magic Johnson has openly said he wants to purchase the team and has a financial backing as well as a baseball mind, Stan Kasten (former Atlanta Braves' president), in his corner. Johnson has plenty of competition, including the "nostalgia" group led by former Dodger greats Steve Garvey and Orel Hershiser, who are being backed by former owner Steve O'Malley.
CNN legend and Angelino Larry King threw his hat into the race several months ago, claiming that his financial stake in the ownership group is comparatively small. Most of the money would come from a Los Angeles-based investment bank, Imperial Capital. The fourth horse in the race, the newest to join, is former Dodgers manager and former executive vice president of the MLB, Joe Torre. Torre would be joined by Los Angeles real-estate mogul (a man beloved by everyone in the city) Rick Caruso.
Who does Bud Selig want in the owner's box? Who do Kershaw, Kemp and the rest of the guys want in the owner's box? Who do the fans that show up whether the team is winning or losing want in the owner's box? Those are questions nobody can answer with any certainty.
What I can tell you, though, is that as a life-long fan, I want Torre and Caruso to stay the course and pursue ownership. I hope, despite how many strong candidates there are, Torre and Caruso win the bidding and win the team.
What the Torre-Caruso duo bring to the table is something so dynamic none of the other groups can even pale in comparison. Torre has a far superior understanding of the game of baseball than Johnson or King do because quite simply, it is his game. Without insulting Dodger legends Garvey and Hershiser, Torre is a step or two ahead of them.
My entire life, all 20 years of it, I have looked at Torre as this baseball icon, this legend, this mythical figure who walked around Yankee Stadium with this aura about him. His wisdom, skill and character resonated with me from across the country. When he became the Dodger manager, I became enamored even more.
I love Torre and think his baseball mind in a management and ownership position would do wonders.
Now we get to Caruso, one of Los Angeles' most successful businessmen ever and a real-estate mogul who is in a league of his own. His company, Caruso Affiliated, is known for building high-end outdoor shopping and entertainment centers. They currently own and operate nine properties throughout the city, with future plans for two more.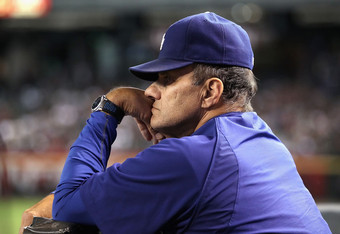 His imprint in Los Angeles reaches far beyond his pretty—and busy—malls. He is a current member of the Los Angeles Coliseum Commission, is commissioner of the Los Angeles DWP, is the appointed president of the Los Angeles Police Commission and sits on the board at both USC and Pepperdine University.
In partnership with his wife, he has been incredibly philanthropic to the kids of Los Angeles by supporting education, child development and the future of their neighborhoods and communities. Caruso is what Los Angeles wants to be: a successful, down-to-earth, giving man who loves the city he lives in and wakes up everyday seeking to better it.
He would take that some embodied spirit into the owner's suite on a nightly basis and more or less said exactly that in a statement he released several weeks ago.
"I am a lifelong Angelino; I love this city and have dedicated my career to creating world-class destinations that support this community and foster great customer experiences. Joe and I believe in the Dodgers and Dodger fans and know that together we will foster a winning culture and deliver a premier, fan-focused baseball experience at Dodger Stadium."
I don't know what more a potential owner could say. Caruso, throughout his life as an established businessman, has done the right things in addition to saying the right things.
Torre showed his full fledged support in Rick by saying,
"In Rick I found a partner who understands consumers and fully appreciates that the Dodgers are a treasured L.A. institution. Since moving to Los Angeles, I have seen firsthand Rick's dedication to business and the people of Los Angeles."
The Torre-Caruso partnership brings the best of both worlds to the table: an outstanding leader with a vast knowledge for the game and how to win it in coupled with a philanthropic businessman that loves the city he lives in. Both Torre and Caruso want to give their fellow Angelinos something to talk about, be excited about and look forward to.
I think they will succeed, and I think every Dodger fan should back them wholeheartedly.